Class 3A Week 4 Rankings, Notes & Picks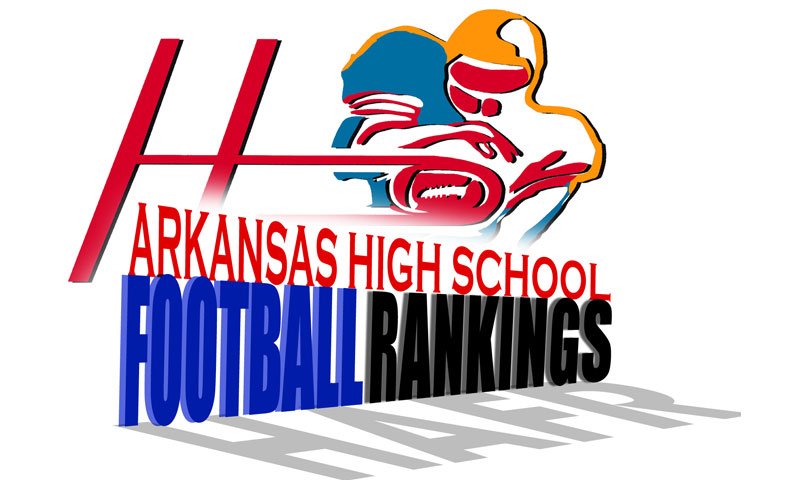 Class 3A Rankings
Week 4, 2022
Copyright Seventy Seven's Publishing
1. Prescott (3-0)
2. Booneville (2-1)
3. Rison (3-0)
4. Charleston (2-1)
5. Melbourne (4-0)
6. Gurdon (4-0)
7. C. Harmony Grove (2-2)
8. Hoxie (2-2)
9. Fordyce (2-2)
10. Mansfield (3-0)
11. Centerpoint (3-0)
12. Greenland (2-1)
13. Glen Rose (1-2)
14. Quitman (1-1-1)
15. Walnut Ridge (3-1)
16. Yellville-Summit (4-0)
17. Lavaca (3-0)
18. Newport (2-2)
19. Salem (3-1)
20. Smackover (3-1)
21. West Fork (3-0)
22. Magnet Cove (2-1)
23. Cedarville (1-2)
24. Osceola (0-3)
25. Junction City (1-2)
26. Perryville (2-2)
27. Fouke (2-2)
28. Hackett (1-2)
29. Bismarck (1-2)
30. Lake Village (0-1)
31. Barton (2-2)
32. Jessieville (1-2)
33. Drew Central (3-1)
34. Corning (1-3)
35. Two Rivers (2-1)
36. Atkins (0-4)
37. Dollarway (0-3)
38. Horatio (1-2)
39. Paris (0-3)
40. Manila (0-4)
41. Piggott (0-4)
42. Palestine-Wheatley (0-3)
WEEK 4 PREDICTIONS (favored team highlighted in yellow, ALL CAPS)
LAST WEEK
Hootens.com correctly predicted 18 of 25 games (72 percent) involving Class 3A teams, and is 87 of 128 (68 percent) for the season.
HOOTENS.COM GAME OF THE WEEK
5-3A: PRESCOTT at Gurdon Sixteen miles and 5 poll spots separate these rivals, who open 3A-5 play with a game that could decide the No. 1 seed for the playoffs. Coach Brian Glass' Prescott Curley Wolves (3-0) are averaging 490 yards of offense and 51 points per game. Senior Avery Hubbard (91 percent grade) anchors Prescott's powerful offensive line, which also includes Rocco Loe, Rocco Patrick, Tanner Jarvis and Caden "Lucky" Dice. Carston Poole accounted for 5 of his team's 9 touchdowns in a 63-20 win over Hope last Friday night. The Gurdon Go-Devils (4-0) are coached by Kyle Jackson, son of legendary Prescott Coach Eddie Jackson. Gurdon overcame a slow start to defeat Class 2A Murfreesboro 18-13. The Go-Devils, averaging 39.8 points per game, are led by Sheldon Smith (140 yards per game) and Jamari Williams (5 TDs).
1-3A
CHARLESTON at Greenland The winner of this matchup will have the inside track to the conference's No. 1 seed. Charleston (2-1) comes off a 27-19 loss to perennial 4A power Nashville. Greenland (2-1) has rebounded from a Week 0 loss to Lincoln by defeating two 4A teams — Berryville and Green Forest — a combined 92-16. Coach May's Charleston Tigers will rally around Reese Merechka and Bryton Ketter, who provide a spark on both sides of the ball. The Pirates will depend on QB Max Meredith (641 passing yards, 7 TDs) and  RB Tucker Meadors (267 rushing yards, 4 TDs).
MANSFIELD at West Fork Points will be difficult to score in this matchup. Mansfield has allowed 2 TDs in 3 games and 340 total yards. West Fork has yielded 3 TDs in the same span.
LAVACA at Cedarville Lavaca, averaging 42.0 points per game, presents a big challenge to a Cedarville team coming off a 10-point loss to Class 4A Green Forest last week.
BOONEVILLE at Hackett Booneville, coming off a 44-14 loss to Class 4A Harding Academy, hasn't lost consecutive games since 2019. Dax Goff (369 yards rushing, 12.3 ypc) leads the Booneville offense. Trace Hall scores a TD every 5 carries. Hackett enters the game after a 40-16 victory over Panama, Okla.
2-3A
SALEM vs Atkins Salem (3-1) suffered its first loss — 36-34 — despite posting a season-high points total against Walnut Ridge. Atkins (0-4) keeps battling despite low numbers. Coach Matt Porter says his team has worked to improve all aspects of their game. Specialist Hayden Duvall has returned 2 kicks for touchdowns in 3 games.
Quitman at NEWPORT Coach DJ Marrs' Quitman Bulldogs (1-1-1) led at the half two weeks ago but couldn't keep up in the second half of a 63-41 loss to Gentry. Senior QB Nassir Donohoo (more than 900 yards, 15 TDs) triggers the Bulldogs' attack. Newport (2-2) averages 29 points per game, with losses to 5A Beebe and 4A Stuttgart. The Greyhounds own wins over Trumann and Osceola.
PERRYVILLE at Yellville-Summit Yellville-Summit, under second-year Coach Justin Crain, is off to its best start since 2011. Landyn Keiter totals 172 yards of offense per game to lead the Panthers. Perryville played without several starters in its loss to Episcopal last week, but most of those missing players are expected to play this week.
OPEN Melbourne
3-3A
Corning at OSCEOLA Osceola (0-3) should get things on the right track against a 1-3 Corning team. Osceola has played one of the more difficult schedules in 3A, losing narrowly to Class 4A Gosnell and Newport, along with a shutout loss to Blytheville.
MANILA at Piggott The Manila Tigers (0-4) played Class 4A Harrisburg tough in a 10-6 loss. Piggott (0-4) hasn't allowed fewer than 37 points all year.
Palestine-Wheatley at WALNUT RIDGE Walnut Ridge (3-1) has scored 152 points in 4 games and may reach 200 points for the season against an 0-3 Palestine-Wheatley team that has been outscored 114-12.
4-3A
4A Bald Knob at MAGNET COVE This game was added last week after Danville canceled its season and left Magnet Cove scrambling for a game. Magnet Cove owns wins over Class 2A Poyen and Baptist Prep by a combined 83-29. Panthers senior RB/ILB Julius McClellan and junior guard/DE Luke Harper are playing well on both sides of the ball. Winless Bald Knob lost to Barton last week by 8 points. "Their record isn't indicative of their talent, they can play," Magnet Cove Coach Caleb Carmikle says of Bald Knob.
 Two Rivers at CENTERPOINT The Knights of Centerpoint have won three games in a row by a touchdown or less, most recently 12-8 at 2A power Bigelow. Two Rivers (2-1) has posted two wins for the first time since 2015.
GLEN ROSE at Paris Glen Rose (1-2) battled back but fell to No. 9 Fordyce 28-20. The Beavers had their opportunities late. Paris (0-3) hasn't scored a touchdown since Week 0.
BISMARCK at Jessieville Bismarck (1-2) rolls into Jessieville with confidence after a 34-31 loss at No. 3 Rison and a 45-0 win over Poyen. Jessieville, playing without three players who were injured in a car accident, dispatched Atkins 48-8. Continue to keep the Jessieville community in your prayers.
5-3A
Fouke at JUNCTION CITY Coach David Carpenter's second stint with Junction City (1-2) has been full of growing pains, but the Dragons have become battle tested. Fouke scored 57 points against Foreman in Week 3.

SMACKOVER at Bowie High School Smackover takes its running attack to Simms, Texas, to fill in an open date. The Buckaroos are led by RJ Boone and Jarius Burgie,  who have combined for more than 400 rushing yards.
OPEN Horatio
6-3A
FORDYCE at Barton Fordyce Coach Tim Rodgers describes Coach Spencer Adams' Barton Bears as "big, fast and physical." Barton is an improved team in Adams' second season, notching wins over Marianna Lee and Bald Knob. Fordyce relies on the combo of Kriston Belin (44 carries, 408 yards, 5 TDs) and Brenton Sledge (34 carries, 239 yards, 2 TDs).
RISON at Dollarway Coach Clay Totty says the Rison Wildcats spent their off week getting back to the basics of blocking and tackling after their 44-28 defeat of Dardanelle. The Wildcats have been led by senior Roger Boswell, who consistently has drawn double- and triple-team blocks at defensive tackle. Bradyn Dupree leads the Rison rushing attack (217 yards vs Dardanelle). Dollarway has worked on shoring its defense.
CAMDEN HARMONY GROVE at Drew Central Drew Central (3-1) is off to its best start since 2019. Camden Harmony Grove Coach Ernie Horstkamp says the key to success in November is testing yourself in September, which his team has certainly done. Harmony Grove (2-2) has lost to Haynesville, La., and Class 4A power Harding Academy, the three-time reigning Class 3A champion.
OPEN Lake Village