No. 24 Hogs torch Texas State 42-3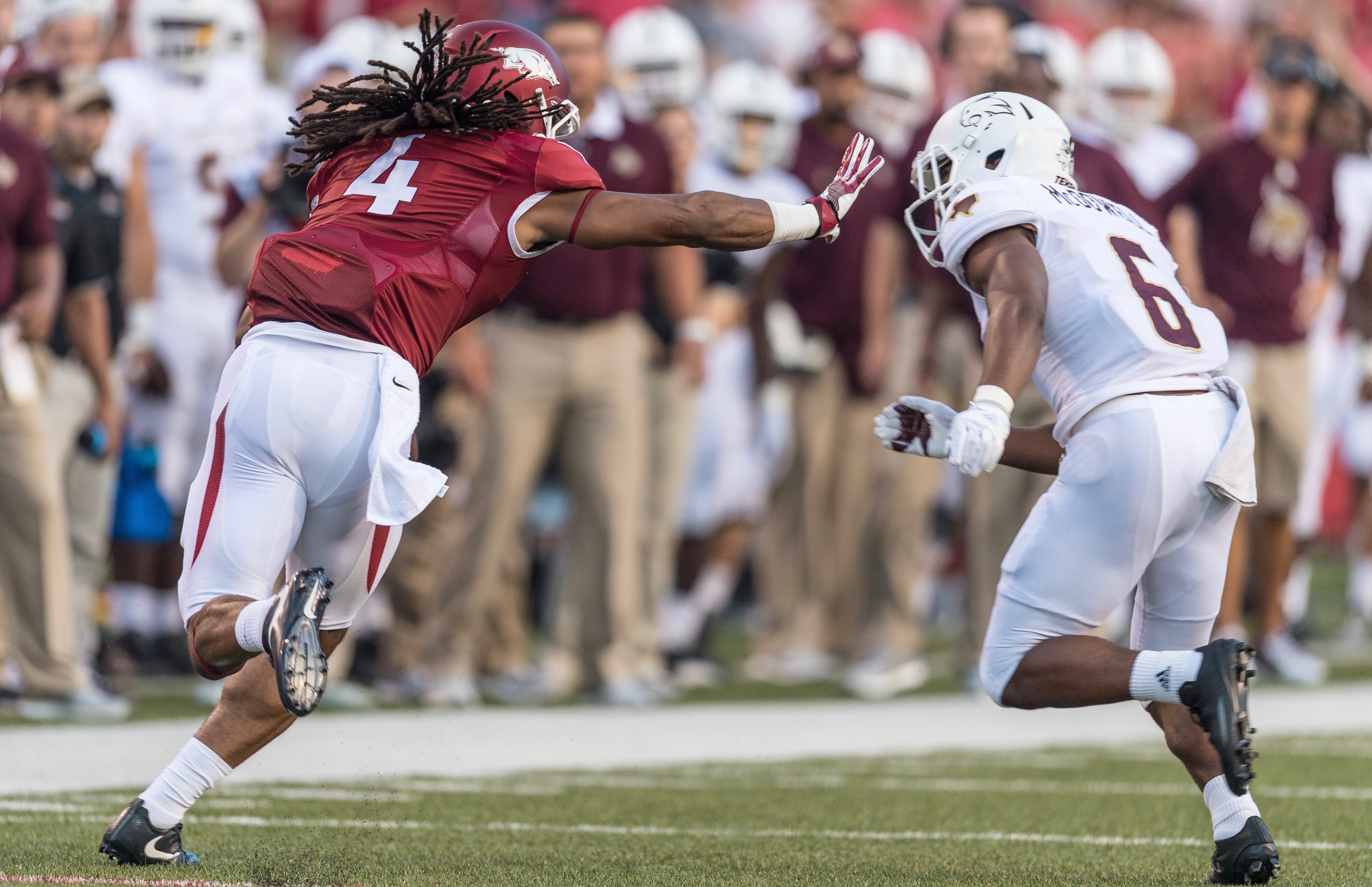 FAYETTEVILLE - No worries about Arkansas throwing their Top 25 ranking away Saturday night as it did in the Septembers of 2012 and 2015 by losing to mid-majors Louisiana-Monroe and Toledo.

This time the 24th-ranked and 31-point favored Razorbacks not only beat their underdog opponent but the spread too, routing the Sun Belt Conference's Texas State Bobcats 42-3 before 72,114 at Reynolds Razorback Stadium.

The Hogs had it in hand at half, 35-0. With it 42-3 and a forecast of possible impending thunderstorms, Arkansas coach Bret Bielema and TSU coach Everett Withers agreed to play just a 10-minute fourth quarter.

Vaulting into the Top 25 by defeating then No. 15 TCU 41-38 in overtime in Fort Worth after escaping 26-point underdog Louisiana Tech, 21-20 on Sept. 3 here, Coach Bret Bielema's Razorbacks take a 3-0 record into their SEC opener against 17th-ranked Texas A&M at 8 p.m. Saturday at the Dallas Cowboys' AT&T Stadium.

Texas A&M (3-0) won its SEC opener 29-16 Saturday night at Auburn.

Texas State (1-1) came in with senior quarterback Tyler Jones touted  as a run-pass threat throwing for 418 yards and rushing for a touchdown in the Bobcats' 56-54 overtime victory Sept. 3 at Ohio University.

Arkansas' defense outscored Jones on cornerback Ryan Pulley's 25-yard interception, while limiting Jones to 11 of 26 for just 83 passing yards and minus 33 yards rushing thanks to sacking him four times.

"Texas State  opened its season scoring  a lot of points and our defense locked in on that and had a good plan," Bielema said. "Texas State is not a SEC team but we wanted to prepare like it's a SEC game and we'll turn the page and get ready for Texas A&M."

"Ryan is an extremely talented, athletic cornerback with good ball skills," Bielema said.

Offensively the Razorbacks rolled with junior starting quarterback Austin Allen completing 16 of 21 for 241 yards and two touchdowns to senior receiver Keon Hatcher (in photo), three catches for 96 yards, and senior tight end Jeremy Sprinkle without an interception. Sophomore running back Rawleigh Williams netted 121 yards rushing and two touchdowns on 19 carries.

In his first extended action, heralded freshman running back Devwah Whaley netted 50 yards on 11 carries.

"We wanted to get him 10 or 15 carries and that happened," Bielema said. "He almost broke a couple. We have three running backs (Williams, senior Kody Walker, a touchdown on seven carries Saturday, and Whaley) we feel really good about."

Bielema had previously starting center Frank Ragnow starting at right guard, and starting right guard Jake Raulerson starting at center against Texas State,. Extensively played sophomore backup center Zach Rogers and alternated starter Colton Jackson with Brian Wallace were at right tackle.

"We changed the lineup a little bit," Bielema said. "We want to get our best five and might have a shared responsibility at right tackle and center. Frank is probably our best guard, center or right tackle.

We decided to put him between them at guard so he can help those two guys next to him."

For Arkansas' 35-0 first half, the defense not only  pitched a first-half shutout but scored one touchdown and nearly tallied two.

Arkansas' third touchdown of the half was tallied by cornerback Pulley picking off a Jones pass and returning it for his 25-yard TD  and a 21-0 lead with 11:32 remaining in the second quarter.

Late in the second quarter with Arkansas up 28-0 it was initially ruled that defensive tackle Jeremiah Ledbetter had jarred the ball loose from Jones and that senior backup defensive end JaMichael Winston scooped it and scored.

However an official's review deemed Jones' arm in forward motion and had thrown an incomplete pass with Ledbetter credited with a PBU.

Arkansas' offense still got the TD that Winston didn't by driving 93 yards on nine plays after punted back to its 7-yard line.

Williams scored the 1-yard TD with 44 seconds off the impetus of  Camden's Dominique Reed catching a 32-yard pass from Allen and Kody Walker running 12 yards with 15 added because he was dragged down by his face mask. Allen started the drive passing 15 yards to Drew Morgan.

Ledbetter's sack of Jones backing the Bobcats to their five preceded Arkansas' fourth TD, Allen's 10-yard pass to tight end Sprinkle, capping a 50-yard drive. Reed ran 15 on a second and 8 flanker reverse after Allen's 12-yard pass to tight end Austin Cantrell opened the drive's festivities.

Arkansas scored its first two TDs its first two possessions of its 14-0 first quarter.

Taking the ball after TSU deferred to the second half upon winning the coin toss, Allen connected a 14-yard pass to Keon Hatcher the first play from scrimmage with 15 added because TSU tackled him by the face mask. Williams broke four tackles on a 15-yard run before Allen found Hatcher in the end zone between two Bobcats defensive backs for an 8-yard TD at 9:15 and the first of four Cole Hedlund first-half PATs.

Arkansas' defense allowed TSU's lone first down of the half before forcing a  punt.

Allen and Hatcher connected again, a bomb initially ruled a 74-yard TD before replay review deemed Hatcher down at the 1. From fullback senior Kody Walker tallied his 1-yard TD with 4:36 left in the first quarter.

Arkansas had 19 first-half downs to TSU's one and amassed 350 yards of first-half total offense on 43 plays to TSU's 26 on 24 plays. TSU exceeded its entire first half production opening the second half with its 16 play, 53-yard drive finally scoring on James Sherman's 39-yard field goal.

Converting two third downs and one fourth down, and netting a 19-yard Allen to Hollister on second and 15, the Razorbacks responded with a 15-play 82 yard drive capped by Rawleigh Williams' 15-yard TD run. The drive consumed 8:54, just 1:06 shy of the entire fourth quarter.

TCU's hurry-up offense caught Arkansas' defense not set a couple of times, but the Hogs Saturday night never were caught out of alignment though  Texas State is reported to hurry between snaps even faster than TCU.

"I thought our guys grew up from last week getting ourselves in the right positions," Bielema said. "We made a huge emphasis on that because they go really, really fast. I thought the plan was great and then we got to play a lot of our guys."

Pulley and Ledbetter, two pass breakups and a sack and half among his four tackles, led the defense.

Bielema reported the Hogs did not appear to suffer any injuries Saturday. Junior receiver/punt returner Jared Cornelius was withheld from the game because of a sore back.