HOGS: QB Storey ready to start; more notes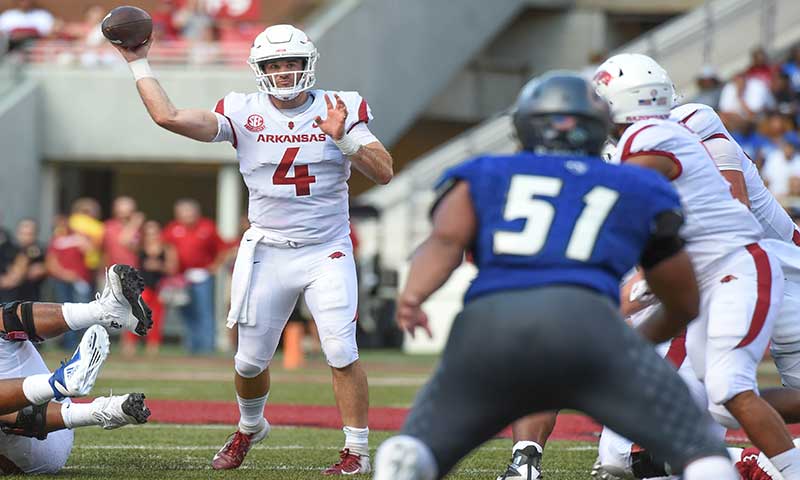 FAYETTEVILLE - Arkansas' most veteran quarterback, who did not play in last week's 44-17 loss to North Texas, will start the SEC opener Saturday at No. 9 Auburn.
Junior QB Ty Storey of Charleston will start (6:30 p.m. kickoff) against defending SEC West champion Auburn, Arkansas first-year coach Chad Morris said Monday.
"We're going with Ty this week, regardless of the practice, regardless of the way things go," Morris said, explaining why Storey vaults from DNP to starting. "I wanted him to know straight up from yesterday (Sunday) that, 'Look, we're going to go with you, and let's respond.'"
How did Storey respond?
"His exact words were, 'Let's go Coach!" Morris said.
With neither QB asserting command during spring drills and preseason camp, Storey and junior Cole Kelley were preordained to split time in Arkansas' first two games.
Kelley started the season-opener, but Storey shined more. Storey threw three touchdown passes during the 55-20 victory in Fayetteville over lower division Eastern Illinois.
Storey started the next game against Colorado State in Fort Collins, Colo., and had a 13-9 halftime lead but threw two interceptions. On came Kelley, responding with two third-quarter TD passes to build a 27-9 lead that Arkansas would lose in a 34-27 defeat.
Kelley soloed Saturday until after his fourth interception led to a field goal for a 37-10 UNT third-quarter bulge.
Morris relieved Kelley with true freshman quarterbacks Connor Noland of Greenwood and John Stephen Jones, while having Storey in mind to open at Auburn.
"I've been saying I wanted to get the freshmen some reps, and that was an opportunity to do that," Morris said Monday. "I just thought that it's time to go with Ty and give him an even slate as he starts the (Auburn) game."
Offensive coordinator/QB coach Joe Craddock, calling plays from the press box, said Morris, before pulling Kelley, informed him of the revised pecking order for finishing against North Texas and starting against Auburn.
"Coach Morris told me on the headset he didn't feel it was gonna be fair to put Ty in when we were down late in the third quarter," Craddock said. "He thought that was a good time to get those freshmen work and see what they could do. And that's what we did."
ROOKIES NOT NERVOUS
Noland and Jones showed promise as each reeled off a good run. Jones' run was negated by a holding penalty, and both threw an interception. Jones' was returned for a TD.
Craddock said both freshmen shrugged off nervousness and were poised for their impromptu debuts, but he joined Morris in saying Storey is the guy vs. Auburn.
"One thing about Ty, like I said all along, is he works really hard every day and gives his teammates the best," Craddock said. "I've seen him really push other guys and lead. I think that the games he's gotten in that he did some good things for us."
INJURY UPDATES
Regarding injuries, Morris said first-team senior weakside linebacker Dre Greenlaw (out with sprained ankle since the first quarter of the Eastern Illinois game), backup defensive end Dorian Gerald (missing the North Texas game with a sprained ankle) and receiver-kick returner D'Vion Warren, also missing the North Texas game, are "day to day" whether they can play against Auburn.
Starting sophomore cornerback Chevin Calloway missed the North Texas game for "personal reasons," Morris said after Saturday's game. Calloway's status for Saturday's game seemed unclear Monday.
"He's out on some family issues that he's dealing with and we're helping him through," Morris said.
Kick returner Gary Cross is "doubtful" this week because of an ankle injury Saturday, Morris said.
However, Morris said he believes freshman receiver Michael Woods (four catches for 61 yards against North Texas), will play against Auburn.
Morris was pleased that fourth-year junior left tackle Colton Jackson of Conway and senior defensive end Randy Ramsey, made season debuts against North Texas. Jackson had been idled by July back surgery, while Ramsey was hamstrung by an August preseason hamstring strain. 
11 A.M. KICKOFF
Arkansas' Sept. 29 game with No. 22 Texas A&M at the Dallas Cowboys' AT&T Stadium will be an early-bird special. Kickoff in Arlington, Texas, is set for 11 a.m. televised by ESPN.