Class 5A Week 4 Rankings, Notes & Picks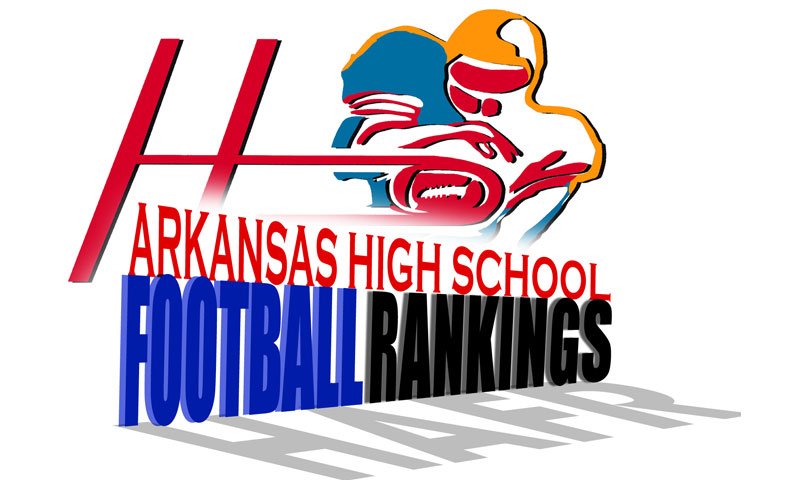 Hootens.com Rankings
Class 5A, Week 4, 2018
Copyright Hooten Publishing, Inc.

1. Pulaski Academy (2-1)
2. LR Christian (3-0)
3. Texarkana (2-1)
4. LR McClellan (3-0)
5. Morrilton (1-2)
6. Harrison (3-0)
7. Nettleton (3-0)
8. Watson Chapel (1-1-1)
9. Maumelle (3-0)
10. Greenbrier (2-1)
11. HS Lakeside (1-2)
12. Camden Fairview (1-2)
13. LR Parkview (0-3)
14. Magnolia (3-0)
15. Wynne (1-2)
16. Valley View (2-1)
17. Alma (0-3)
18. Forrest City (1-2)
19. Farmington (2-1)
20. White Hall (1-1)
21. Batesville (0-3)
22. Blytheville (1-2)
23. Vilonia (1-2)
24. Beebe (1-2)
25. Greene Co. Tech (2-1)
26. Huntsville (2-1)
27. Hot Springs (1-2)
28. Paragould (0-3)
29. Clarksville (1-2)
30. De Queen (0-3)
31. LR Fair (1-2)
32. Hope (0-3)

HOOTENS.COM GAME OF THE WEEK
No. 6 Harrison at No. 5 Morrilton
These teams, along with Alma and Greenbrier, tied for the conference championship last season when Harrison slipped past Morrilton 35-34. Morrilton started the season ranked No. 2 by Hootens.com, but junior QB Jacolby Criswell (1,947 yards and 20 TDs in 2017) detached his MCL in a preseason scrimmage, and back up QB Dylan White broke his foot in the first half of the season opener against Searcy. One of the QBs could return this week, Coach Cody McNabb says. Sophomore QB Tucker Granberry has throw four touchdown passes this season, while junior Xavier Clemmons has rushed for 166 yards and four TDs. "We found our identity in the second half (Week 2) against Russellville," McNabb says. "We need to run the ball and play defense." Senior tackle Hunter DeSalvo and junior Gustavo Santos are the only linemen to start the opening three games.
Undefeated Harrison has outscored its opponents 143-28 this fall, while averaging 460 yards weekly. Junior QB Ben Johnson "is fast and throws it well," McNabb says, while junior running back Gabe Huskey "is as good as anyone in the state." Johnson has completed 29 of 41 passes (71 percent) this year for 595 yards and eight TDs  with one interception, and he's rushed for 91 yards, often turning negative plays into positive ones with nifty footwork. Huskey has 58 carries for 381 yards and seven TDs, and he's caught 14 passes for 360 yards and four TDs. Senior lineman Hayden Vanderpool (6-3, 290) and inside linebacks Brooks Both and Bryant Ulrich pace the defense. Vanderpool averages six stops per game, Both and Ulrich have combined for 51 tackles.

TV SHOW
Hooten's Arkansas Football airs 10:30 a.m. Saturdays on KATV (ABC Little Rock) Channel 7, covering the Razorbacks, high school teams and players to watch.

LAST WEEK
Hootens.com correctly predicted 14 of 18 games (78 percent) last week. For the season, Hootens.com has correctly predicted 69 of 84 games (82 percent).

WEEK 4 PREDICTIONS (favored team in ALL CAPS)
5A CENTRAL
LR Fair at PULASKI ACADEMY (28): Pulaski Academy regroups after last week's eight-point setback at Bossier City Parkway, its first loss in more than two years. The Bruins led Parkway by one point in the fourth quarter but gave up 17 points in the final 11 minutes. They haven't lost to an in-state opponent since 2013, and have beaten LR Fair the past four years by a combined 213-26.
LR CHRISTIAN (10) at Watson Chapel: These teams have never played. LR Christian has outscored its opponents 129-0 in the first half of games this season. Watson Chapel didn't play last week and tied Class 6A Pine Bluff 14-14 (weather shortened game) Week 2. Watson Chapel's defensive line, comprised of Tariq Urquhart (6-4, 225), Adareus Lewis (5-9, 235), Malik Neal (6-2, 230) and Joe Murray (6-1, 240) "carries us," Coach Jared Dutton says. "They've got to get after Little Rock Christian and turn it into a four quarter game."
Beebe at LR PARKVIEW (9): LR Parkview seeks its first win after losing by one point the past two weeks against Class 7A Rogers and Class 6A Marion. Patriot senior Geary Allmon ran 14 times for 127 yards at Rogers. Beebe rushes for 277 yards weekly. Senior Taylor Boyce has 538 yards and five TDs this year.
White Hall at MAUMELLE (7): White Hall rolled up 512 yards in last week's 23-point win at Class 6A Sheridan, with senior Donte Buckner running for 244 yards and four TDs. Undefeated Maumelle led Mills 34-0 at halftime last week. Senior QB Tyler Maxwell passed for 205 yards and five TDs.

5A EAST
FORREST CITY (2) at Greene Co. Tech: Forrest City has won six straight over Greene County Tech. GCT didn't play last week, and the Eagles put up 401 yards per game. Senior Xavier Smith has 64 carries for 447 yards and five TDs ,while senior QB Devin Smith has rushed for 320 yards and eight TDs and passed for 290 yards and a pair of tds. Forrest City gains 326 yards weekly, but the Mustangs lost last week to Class 4A Helena by eight points. Senior QB Randal Moore has passed for more than 400 yards and four TDs this year.
NETTLETON (6) at Batesville: Both teams were open last week. Nettleton's 48-21 win last season snapped a 16-game losing streak in the series. The Raiders have given up just 13 points this fall. Nettleton QB Cade Carter threw three first-half TDs two weeks ago in a 36-point win at Mountain Home. Winless Batesville has scored just 28 points this fall.
WYNNE (4) at Blytheville: Wynne has won 10 of the past 14 in the series. The Yellowjackets had 143 yards and were shutout last week at Class 6A West Memphis 21-0, their first shutout since the 2014 quarterfinals. Blytheville failed to recover an onside kick in the final seconds of last week's two-point loss to Marion. The Chicks managed just 35 yards in the first half, but senior Jaheim "Pee Wee" Carter threw a pair of second half TDs.
Paragould at VALLEY VIEW (8): Valley View has won all eight of its meetings over Paragould by an average of 24-10. Paragould puts up 230 yards weekly. Sophomore QB Cole Duke has completed 22 of 52 passes for 154 yards and two TDs the past two weeks, while sophomore David Williams has ran for 378 yards and three TDs this fall.

5A SOUTH
TEXARKANA (12) at Magnolia: These schools haven't played in more than 30 years, and both were off last week. Undefeated Magnolia allows less than eight points weekly, while Texarkana averages 36 ppg. Texarkana led Texas High in the second half two weeks ago before giving up four late scores in an eight-point setback.
Hope at DE QUEEN (7): A battle of winless teams. De Queen has been outscored 115-35 this season, while Hope has been outscored 158-33. De Queen has beaten the Bobcats the past two seasons, including 40-14 a year ago. Hope rushes for just 39 yards per game.
HS LAKESIDE (2) at Camden Fairview: HS Lakeside has won three straight in the series, and the Rams won their first game of the season last week, downing Malvern 35-7. Senior QB Taylor Gillham passed for 230 yards and a TD against Malvern, and sophomore Issac Echols has rushed for more than 100 yards in each of the past two games. HS Lakeside senior center Jonah Nester is out for the season after tearing his ACL. Camden Fairview returned the opening kickoff for a TD last week against Joe T. Robinson.
LR MCCLELLAN (20) at Hot Springs: Hot Springs has scored just seven points this season, while LR McClellan's D has scored two TDs in 2018. LR McClellan rolled LR Fair 52-0 a week ago, and the Crimson Lions have allowed just 14 points this fall.

5A WEST
HARRISON (1) at Morrilton: Hootens.com Class 5A Game of the Week.
Vilonia at ALMA (10): Vilonia looked much improved last week, beating Beebe by six points. Junior Draven Smith averages 9.3 yards per carry this year, while senior Reed Sadler averages 20 yards per catch. Alma averages just 13 ppg. Airedale junior Grayson Bailey has nine receptions this year for 158 yards and two TDs.
FARMINGTON (8) at Clarksville: Farmington has won seven of the past nine over Clarksville. But the Cardinals were creamed last week by winless Pea Ridge 42-0. Farmington junior Drew Sturgeon has eight catches for 145 yards this fall. Clarksville rushes for 252 yards per game. Junior QB Nicholas Buckner has thrown a pair of TD passes this year and rushed for 267 yards and a TD.
GREENBRIER (14) at Huntsville: Greenbrier has won seven of the past eight over Huntsville. Greenbrier senior QB Andrew Johnson missed last week's 43-point loss at No. 2 LR Christian with a concussion. Johnson has completed 41 of 67 passes this year for 619 yards and two TDs with no interceptions. Huntsville senior QB Sean McCone has thrown three TDs in 2018.