RECRUITING: Fairview big, bad, but is it back?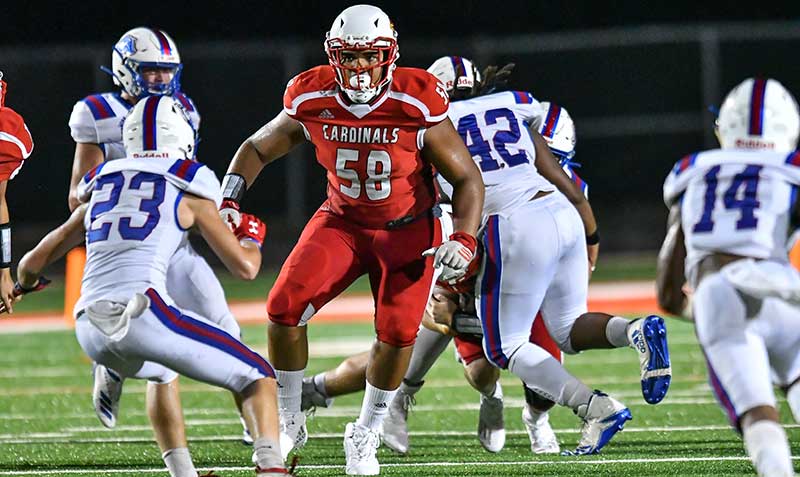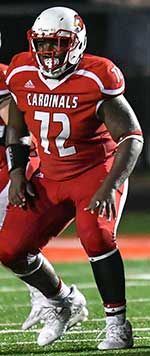 Sr OT Mark Welch
Camden Fairview captured its lone state title in 2012 under current Bryant coach Buck James.
James guided the Cardinals to state runner-up finishes in 2009 and 2010, and the 2011 Cardinals lost a heartbreaker to Greenwood 34-31 in the semifinals. Camden Fairview led 31-10 with four minutes left in the third quarter, and Greenwood kicked the winning field goal as time expired.
Fairview football has been an afterthought since James departed in 2013 following a fifth straight 5A South championship. It has not won a title since.
But the 2021 Cardinals could bring back the swagger to Ouachita County. They beat Class 4A No. 9 Arkadelphia by 20 points in Week 0, holding Badger standout running back Jaishon Davis to 9 yards.
A 40-36 setback to Class 6A No. 4 El Dorado Week 1 "is one we would love to have back," Coach Jake Monden says. "We blew it." The Cardinals failed to score from the 1-yard line in the final minute of the first half and had the ball inside the 4-yard line with four minutes left but dropped the potential game-winning pass in the end zone.
Fairview, ranked eighth in Class 5A this week on hootens.com, handled outmanned Hamburg 52-0 last week. It plays host to Watson Chapel Friday night before starting 5A South play Week 4 at Hot Springs Lakeside.
"We have to take it one game at a time," Monden says. "We aren't in a position to overlook anyone."
Behind offensive linemen Timothy Dawn (6-4, 290) and Mark Welch (6-3, 290), Camden Fairview rushes for 211 yards per game this fall. Dawn committed to Baylor in the spring and owns offers from Arizona State, Arkansas State, Florida State and Missouri. Welch committed to UCA, turning down offers from Middle Tennessee, New Mexico and Louisiana-Monroe.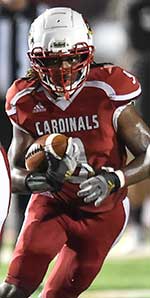 Sr RB Ja'Coriae Brown
On offense, the duo are leaders surrounded by three sophomore linemen.

Dawn 
(#58 in Ted McClenning photo above)
and Welch line up at guard or tackle, "depending on what we want to do," Monden says. Both rotate on Fairview's defensive line. As the weather cools, the coach expects both to play expanded roles on defense. Missouri recruited Welch as a defensive lineman. He registered two tackles for loss, one sack and one fumble recovery in the first half against Hamburg. 
While college coaches lock in on the linemen, they've discovered other talent. Senior running back/linebacker Ja'Coriae Brown (6-1, 210) averages 4.2 yards per carry this year (37 for 155 yards, team-best five TDs). Arkansas-Monticello offered him a scholarship. Senior running back/safety Jatoney McGehee (5-11, 195) has an offer from Northeast Louisiana, while Henderson State and Ouachita Baptist have evaluated. McGehee has carried 34 times for 289 yards (8.5 ypc) and four TDs.
Senior defensive lineman Jacovey Barker (6-4, 225) "is a diamond in the rough," Monden says. "He has the versatility to play inside or outside. On the inside, he gets great extension and separates himself. He dominated El Dorado last year (a 45-20 win). They couldn't block him." Middle Tennessee appears ready to offer Barker, while Arkansas Tech and Ouachita Baptist have recruited him.
Senior receiver/linebacker Brandon Copeland (16 catches, 326 yards, two TDs in 2021) "jumps out to me," the coach says. "He's electric. I think some college is going to get a steal with him." Monden believes multiple in-state D2 schools will offer Copeland. 
Junior quarterback Martavius Thomas (5-8, 160) committed to play baseball at Arkansas but is open to playing both sports in college. Thomas has completed 37 of 66 passes for 722 yards and six TDs this fall, while averaging 7.6 yards per carry. "His first step is as good as anyone I've seen," Monden says. "The dude makes us go. I think he's a big-time college football prospect."