North Texas picks off Hogs 44-17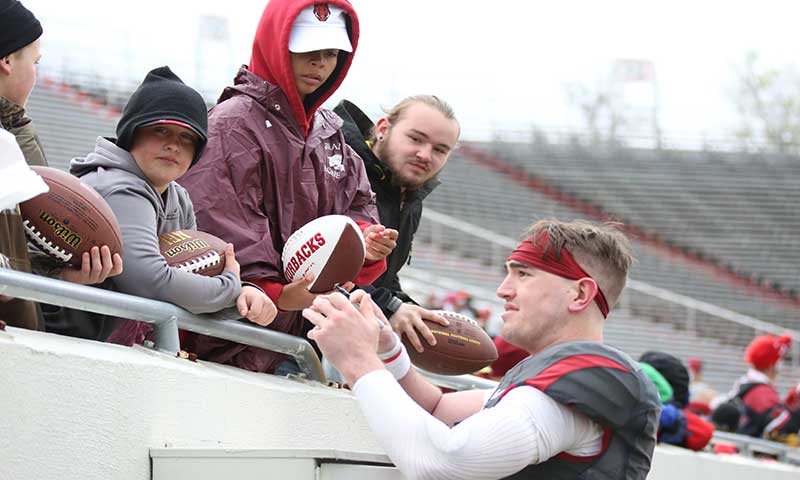 FAYETTEVILLE -  Defeated. Plundered. Fooled. Most of all embarrassed.

All the above described the seven-point favored Arkansas Razorbacks, who were routed Saturday 44-17 by the University of North Texas before 44,306 at their Reynolds Razorback Stadium.

Arkansas of the mighty SEC trailed the North Texas Mean Green of Conference USA 34-10 at half.

Losing 34-27 as 14-point favorites the previous Saturday at Colorado State in Fort Collins, Colo,. new coach Chad Morris' Razorbacks stand 1-2 after three non-conference games, 0-2 against teams in the same FBS division.

"It's disappointing," Morris said postgame. "We took a punch today especially the first half. We have to get our mindset to change and battle back. It's disappointing that we ran 17 or 16 plays in the first half. They stunned us, and we couldn't rally back. You have a locker room of young men disappointed, and the coaches are disappointed. They do care."

After throwing six interceptions, one for a UNT pick six, Arkansas starts an SEC murderer's row the next three Saturdays at defending SEC West champion Auburn, Texas A&M at the Dallas Cowboys' AT&T Stadium and reigning national champion Alabama in Fayetteville.

Coach Seth Littrell's Mean Green start 3-0, routing Arkansas as they did SMU, Morris' old team, 46-23 and lower division Incarnate Word, 58-16 the previous two Saturdays.

Without denigrating Arkansas, Littrell asserted, "I don't think it was an upset, no."

He explained why.

"We're very confident as a football team," Littrell said. "Any time you go on the road in the SEC, play an opponent like Arkansas, it's gonna be very challenging, but we really did feel like we had the best team."

Arkansas ignominiously lost a 27-9 third quarter lead to Colorado State. There was no threat of that repeat Saturday in Fayetteville. North Texas led every minute after scoring its first touchdown with 9:36 left in the first quarter.

North Texas plundered Arkansas in the first half, mounting scoring drives off each of the three Cole Kelley interceptions.

The Razorbacks were fooled when it appeared UNT punt returner Keegan Brewer had called for a fair catch standing motionless upon fielding a punt at his 10 yard line. Grant Morgan, the nearest Razorback to Brewer, and Nate Dalton, the next nearest,  presumed it, too. They pulled up, stopping in front of Brewer lest they  be penalized for a late hit or interference.

But the officials noticed Brewer had not formally signaled for a fair catch. So when he suddenly ran by the startled Morgan and Dalton, they allowed him to keep right on running for a 90-yard TD.

A replay review confirmed Brewer did not signal for a fair catch, officials ruled on a play that Brewer said the Mean Green rehearse.

"You have to play all the way through the whistle," Morris said of addressing the punt team. "That was my message. Some of the guys came down the field and did not have their eyes up. You have to have your eyes up and look for the fair catch signal. He started to put hand up in his face but a true fair catch signal was not given. We stopped late right there in position. But you've got to play through the whistle."

By then, 6:49 of the first quarter, the Mean Green led 14-0. Defensive back Nate Brooks had intercepted a Kelley pass at the Arkansas 44 at 11:26. Nine plays later, NTU quarterback Mason Fine rushed for a 2-yard TD at 9:36.

Cole Hedlund, Arkansas' place-kicker for the starts of the past three seasons before beaten out and coming to North Texas as an immediately eligible graduate transfer, kicked the first of his three first-half PAT's and 24- and 26-yard first-half field goals. The first one followed Kelley throwing an interception.  the last one with 10 seconds left in the half.

Loren Easly, 3-yard run, and Rico Bussey, 7-yard pass, scored UNT's other first half touchdowns.

Fine, the nation's passing leader going into the game, completed 16 of 29 for 196 first-half yards without an interception.

Kelley quarterbacking the entire half, was 14 of 23 without a touchdown against his three picks, but he did amass 161 yards while Arkansas' rushing attack netted but 40 first half yards. Kelley finished 16 of 35 with 185 yards and zero TDs against four picks.

With his 68-yard TD run with 53 seconds remaining, Razorbacks running Maleek Williams' one carry outrushed all the other Arkansas ballcarriers combined.
Kelley did account for Arkansas' first-half touchdown on a 5-yard run capping a 61-yard drive that included his 25-yard pass to freshman receiver Michael Woods.

Connor Limpert, last year's walk-on now scholarship place-kicker beating out Hedlund for the Arkansas place-kicking job three games into 2017, kicked a career  long 54 yard field goal at 9:27 of the second quarter but missed wide right from 37 with 5:47 left before intermission.

Fine responded to the Limpert miss with a first-play 36-yard pass. It launched an 80-yard TD drive.

UNT had forced an Arkansas punt before tallying Hedlund's field goal with 10 seconds left for the 34-10 halftime lead. Hedlund made it 37-10 with a 20-yard field goal at 9:26 of the third quarter after the Mean Green from the second-half kickoff launched a 14-play, 72-yard drive.

Kelley threw his fourth interception off a third-quarter flea flicker after the Hedlund 20-yard field goal.

Splitting QB time the previous games with junior Ty Storey, who was not used Saturday, Kelley heard boos during the third quarter as fans clamored for freshman Connor Noland of Greenwood.

Morris eventually obliged. Noland heard cheers upon his entrance and roars with a 13-yard scramble on third and 6.

However the Mean Green indoctrinated the rookie with successive sacks and  pressured a no-chance for a first down 6-yard pass on third and 23.

Morris explained why Kelley became his first QB this season to solo into the third quarter and why he then went to Noland.

"We went through practice this week and we were trying to stay with one guy," Morris said. "Cole had the better week of practice and we made the decision to go with Cole. We made the decision to stay with him in the second half. I wanted to see if he could rally us back after halftime and we made some adjustments. We  told Cole we are going right back with you. The game situation with the interception I decided to go with Connor Noland. I didn't want to put Ty in that situation with the game down that far. That was my decision to go with Connor."

Arkansas defensive end Gabe Richardson stopped UNT from a fourth-quarter scoring drive. Richardson recovered a Mean Green fumble at the Arkansas 8 for the defense's lone turnover off against UNT.

Arkansas' other true freshman QB John Stephen Jones, quarterbacked after Noland and was deprived of a long run by a Razorbacks holding penalty. Jones then threw an interception the Mean Green's Kemon Hall returned for a 24-yard yard TD at 7:42.

Under new NCAA rules, true freshmen like Noland and Jones can play up to four games and still retain their freshman eligibility as a redshirt the following season.

Noland (four of seven for 25 yards while sacked five times and throwing an interception) returned after Jones' pick six and threw a pick with 6:45 left, the theft for UNT safety Khairi Muhammed.

"That's tough to put a freshman in that situation," Morris said of installing Noland and Jones with the Mean Green free-to-pass rush with reckless abandon.  "John Stephen had that  great run but for that holding call. And the same with Connor (good plays then sacks and such) two steps forward then two steps back. We'll look at the film and evaluate."

Averaging 431 passing yards his previous two games, Fine could have padded his stats, but Littrell pulled him by the fourth quarter after he completed 24 for 45 and 281 yards with a TD against no picks.

Aside from throwing six interceptions, the Hogs offense found their ground game run aground. Netting 299 yards rushing against Colorado State, Arkansas mounted a meager 56 yards rushing until Williams' 68-yard TD with 53 seconds left after  Arkansas had stopped UNT on fourth and 3.