Class 6A Week 3 Rankings, Notes & Picks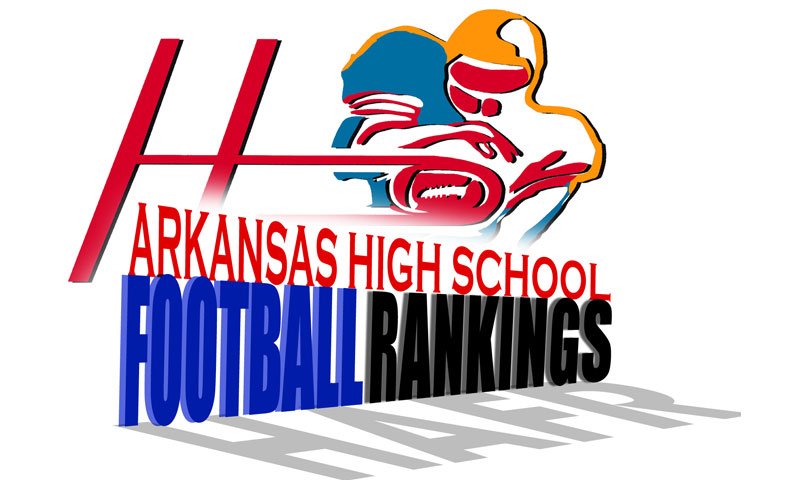 Hooten's Arkansas Football Rankings
Class 6A, Week 3, 2022
Copyright Hooten Publishing, Inc. 
1. Pulaski Academy (3-0)
2. Greenwood (2-1)
3. Lake Hamilton (3-0)
4. Benton (1-1)
5. LR Catholic (2-0)
6. LR Christian (2-1)
7. West Memphis (2-0)
8. Marion (1-1)
9. Greenbrier (2-1)
10. El Dorado (0-2)
11. Sylvan Hills (0-2)
12. Russellville (0-2)
13. Sheridan (1-1)
14. Van Buren (0-2)
15. Searcy (0-2)
16. Greene Co. Tech (1-1)
17. Siloam Springs (1-2)
18. Mountain Home (0-3)
19. Jacksonville (0-2)
WEEK 3 PREDICTIONS (favored team in ALL CAPS)
NOTE: Hootens.com will no longer project a point spread with each game preview. Our writers will continue designating one team as the favorite in each matchup.
LAST WEEK 
Hootens.com correctly picked the winner in 7 of 9 games involving Class 6A teams and is 18-9 (69 percent) in Class 6A for the season.
GAME OF THE WEEK
Benton at LR Catholic: Benton (1-1) has been a traditional Class 6A power for years. LR Catholic dropped to 6A this season after a long run in the state's largest classification. The Panthers beat Sylvan Hills 58-24 last Friday night. QB Jack Woolbright completed 11 of 12 passes for 207 yards and 4 TDs in the victory. 
Catholic is 2-0 after beating Greene County Tech 38-16 last Friday. The Rockets beat former 7A-Central foe North LR 23-6 in the season opener. Sam Sanders scored 3 TDs in the victory. 
6A EAST
EL DORADO at Green County Tech: Defending 6A champion El Dorado is 0-2 after a 27-23 loss at Marion.  The Wildcats had a chance to win on the game's final play but a pass attempt was broken up in the end zone. Greene County Tech throttled Paragould in the opener, then lost to LR Catholic last week. 
Benton at LR CATHOLIC: See Hootens.com Game of the Week, above.
Jacksonville at MARION: Jacksonville has been outscored by an average of 44.5 to 7 in two games. Marion is 1-1 after knocking off defending 6A champ El Dorado. Marion sophomore RB Jalen Smith rushed 27 times for 144 yards. 
SYLVAN HILLS at Searcy: Both teams are winless, but Sylvan Hills looks to have the better resume. The Bears lost to Maumelle in OT in the opener and to fourth-ranked Benton last week. Searcy fell to Sheridan 31-27 last week, but Dede Johnson rushed for 119 yards on 20 carries. 
West Memphis at SHERIDAN: The Blue Devils are 2-0 for the first time since 2018 when they finished 11-1. Sheridan knocked off Searcy last week behind the running of Blin Shumate, who rushed 14 times for 126 yards and a TD.  Jarrett Ashley carried 13 times for 115 yards and 2 TDs.
6A WEST
GREENWOOD at Siloam Springs: Greenwood (2-1) routed Mountain Home 49-0 last week. Javon Williamson scored 3 TDs in the victory. Siloam Springs is 0-3.
Russellville at LR CHRISTIAN: Russellville gave Class 6A No. 1 Pulaski Academy fits before losing 35-17. Quarterback David Reed was 10 of 24 passing for 170 yards and a TD. LR Christian got a taste of Class 6A football last week, falling to Lake Hamilton 34-19. Quarterback Walker White threw for 141 yards and 2 TDs.
LAKE HAMILTON at Mountain Home: Lake Hamilton continued its hot start by knocking off former 5A power LR Christian. Justin Crutchmer (27-156 rushing, 3 TDs) led the way. Chris Hubbard led Mountain Home (0-3) with 47 yards rushing on 3 carries in the loss to Greenwood.
Greenbrier at VAN BUREN: Greenbrier (2-1) beat Siloam Springs 48-18 last week. The Panthers have been led all year by Carter McElahny, who runs with the ball and catches passes as well. Van Buren (0-2) should get a boost from the return of all-state receiver Malachi Henry, who missed the first two games because of injury. He caught 14 TD passes and finished with more than 1,500 all-purpose yards. Last year.
OPEN Pulaski Academy