Class 5A Week 3 Rankings, Notes & Picks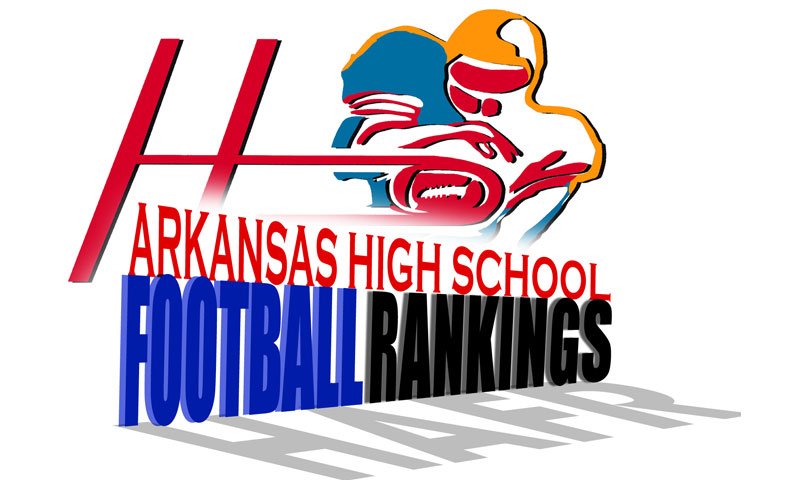 Hootens.com Class 5A Rankings
Week 3, 2022
Copyright Seventy Seven's Publishing
1. LR Parkview (1-1)
2. Joe T. Robinson (1-1)
3. Shiloh Christian (1-1)
4. Wynne (2-0)
5. Farmington (2-1)
6. Camden Fairview (2-1)
7. Magnolia (2-0)
8. Nettleton (3-0)
9. Morrilton (3-0)
10. Mills (3-0)
11. White Hall (2-1)
12. Hot Springs (1-1)
13. Prairie Grove (2-0)
14. Maumelle (2-1)
15. Valley View (2-1)
16. Batesville (2-1)
17. Harrison (2-1)
18. Alma (3-0)
19. Pine Bluff (2-0)
20. Vilonia (0-3)
21. Watson Chapel (1-2)
22. HS Lakeside (0-2)
23. Beebe (2-1)
24. Southside (2-1)
25. Texarkana (1-2)
26. Pea Ridge (2-0)
27. Brookland (1-2)
28. Dardanelle (2-1)
29. Clarksville (0-3)
30. Hope (0-2)
31. Paragould (1-2)
32. De Queen (0-3)
33. Forrest City (0-2)

WEEK 3 PREDICTIONS (favored team in ALL CAPS)

NOTE: Hootens.com will no longer project a point spread with each game preview. Our writers will continue designating one team as the favorite in each matchup.
HOOTENS.COM GAME OF THE WEEK
No. 4 Wynne at No. 7 Magnolia
These teams haven't played since Magnolia's 28-7 victory in the 1998 playoff quarterfinals. Magnolia has beaten Nashville and Crossett this fall by a combined 84-33 and is averaging 408 rushing yards per game. Senior running back Garrion "B.J." Curry has 32 carries for 398 yards and 3 TDs, while senior QB Dalen Blanchard  has run for 2 TDs and thrown for another. Senior MLB Fred Davis led the defense with 17 tackles, and senior OLB Trejohn Parker has 13 stops.
Wynne has victories this fall over Class 6A Marion and 7A Fort Smith Southside by a combined 93-54. The Yellowjackets trailed FS Southside 38-28 in the third quarter last week before scoring 23 consecutive points and easing to a 72-44 decision. It was the most points Wynne has scored since beating Watson Chapel 77-41 in the 2016 semifinals. Wynne also broke the 70-point threshold in 2000 against Greene County Tech. The Yellowjackets gained 577 yards at FS Southside, including 483 rushing. Junior fullback Cobey Davis ran for 225 yards, while senior slotback Alonzo Holmes had 198 yards. Senior Rashod Conley grabbed his first varsity TD catch, then assisted at defensive end with 4 tackles, 1 TFL and 1 interception. Junior Jordan Whiteside posted 8 tackles, while senior Allen Jones had 5 stops.
LAST WEEK
Hootens.com correctly predicted 16 of 21 games (76 percent). Hootens.com has correctly predicted 60 of 74 games (81 percent) this season.
5A CENTRAL
Watson Chapel at MILLS: These teams haven't played since they were members of the former 5A-Southeast in 2010-2011 (Watson Chapel won both of those meetings). Mills junior QB Achilles Ringo played well in last week's 34-21 come-from-behind victory at Beebe. Watson Chapel endured two weather delays in last week's 14-point loss to Pine Bluff. QB Akyell Madison threw a TD pass to Marquez Bentley.
JOE T. ROBINSON at Morrilton: These teams haven't played since Morrilton's 24-0 victory in the opening round of the Class AAAA playoffs in 2005. Joe T. Robinson beat Forrest City 28-0 two weeks ago (game called due to weather in second quarter). Morrilton generated 353 yards in last week's 42-27 victory at Vilonia.
Vilonia at PINE BLUFF: These teams meet for the first time. Pine Bluff overcame two weather delays last week to beat crosstown rival Watson Chapel 36-22 last week. The Zebras continue alternating QBs Will Howell and Landon Holcomb. Courtney Crutchfield caught 3 TD passes at Watson Chapel (2 from Holcomb, 1 from Howell). Vilonia senior QB Wesley McKissack passed for 366 yards and 4 TDs in last week's 15-point setback to Morrilton.
Beebe at WHITE HALL: White Hall has won five of the past six in the series. The Bulldogs rallied from an early 14-0 deficit last week in its 44-24 win over Maumelle. QB Noah Smith ran for 134 yards in the first half, while RB Jaden Smith scored 4 TDs, including 3 in the second half. Ben Redix's 83-yard kickoff return for a TD flipped momentum in the second quarter. Beebe led Mills by 1 point in the third quarter last week before losing 34-21.
OPEN Maumelle
5A EAST
STUTTGART at Forrest City: Stuttgart shook off a 10-point loss at Star City in Week 1 to down Newport 38-28 a week ago. Senior Cedric Hawkins ran 21 times for 144 yards and 3 TDs, while QB Landon Melychuck ran for 2 first half TDs. Forrest City has lost to Mills and Joe T. Robinson by a combined 86-12.
WYNNE at Magnolia: See Hootens.com Class 5A Game of the Week, above.
OPEN Batesville, Brookland, Nettleton, Paragould, Southside and Valley View
5A SOUTH
LR PARKVIEW at Class 7A North LR: LR Parkview has won four of the past seven in the series. The Patriots, No. 1 in Class 5A, trailed Class 7A No. 1 Bryant 14-10 in the third quarter last week before losing by 10 points. LR Parkview sophomore Monterrrio Elston ran for a TD and freshman Salomon Aguilar kicked a 23-yard field goal vs. Bryant. Winless North Little Rock lost its opener at LR Catholic 23-6 and lost at Fayetteville 28-10. LR Parkview coach Brad Bolding coached North LR to a 63-30 record from 2007-2014.
Class 7A LR Southwest at HOT SPRINGS: LR Southwest notched the program's third victory (second on the field) by beating Rogers Heritage 30-29 last week. Junior Jabron Lewis ran 34 times for 247 yards and 3 TDs, scored 3 two-point conversions and threw a 94-yard TD pass. Hot Springs didn't play last week after a heartbreaking 29-28 setback at Arkadelphia Week 1. Senior Perry Jones ran for 59 yards at Arkadelphia and for 81 yards and a TD Week 0 at Vilonia.
WYNNE at Magnolia: See Hootens.com Class 5A Game of the Week, above.
Hope at Class 3A PRESCOTT: Prescott has won 15 of the past 21 meetings over its neighbor. The Curley Wolves, ranked No. 1 in Class 3A, disposed of Fordyce 42-14 last week. Hope has been outscored by an average of 58-25 the past two weeks by Nashville and Ashdown. Junior Tamorrion Lindsey ran 13 times for 223 yards and 3 TDs two weeks ago at Nashville.
OPEN Camden Fairview, De Queen, Hope, HS Lakeside and Texarkana 
5A WEST
Lincoln (Okla.) Christian at SHILOH CHRISTIAN: Shiloh Christian bounced back after a 49-14 loss to Little Rocks Christian in Week 1 with last week's 72-33 win at Victory Christian, Okla. The Saints compiled 735 yards, with senior QB Eli Wisdom completing 26 of 38 passes for 458 yards and 5 TDs. Junior Bo Williams ran for 167 yards and 3 TDs and caught 7 passes for 153 yards and 2 TDs. Senior Bodie Neal caught 13 passes for 189 yards and 3 TDs. Lincoln Christian, regarded as one of the top programs in Oklahoma, has outscored its three opponents by a combined 147-18.
PEA RIDGE at Class 4A Gentry: Pea Ridge has won 11 of the past 16 over its former conference foe. Pea Ridge junior Seth Foster ran 26 times for 159 yards in last week's 29-point win over Huntsville, while senior Kayden Rains caught 3 passes for 36 yards. Gentry senior QB Chris Bell completed 19 of 30 passes for 297 yards and 4 TDs, and ran for 148 yards and 3 TDs in last week's 53-41 triumph at Quitman. Senior Ty Hays ran for 128 yards and 2 TDs, while senior Braedon Warren caught 7 passes for 117 yards and 2 TDs. Senior LB Jonathon Corter led the D with 9 tackles, 2 TFL and 2 interceptions.
PRAIRIE GROVE at Metro Christian (Okla.): Undefeated Metro Christian beat Poteau, Okla., 35-31 a week ago and has outscored its three opponents by an average of 35-18. Prairie Grove senior Ethan Miller ran for 2 TDs in the first quarter and intercepted a pass on defense in last week's 50-28 win over Gravette. The Tigers led 44-14 in the third quarter.
OPEN Alma, Clarksville, Dardanelle, Farmington and Harrison