Class 6A Week 3 Rankings, Notes & Picks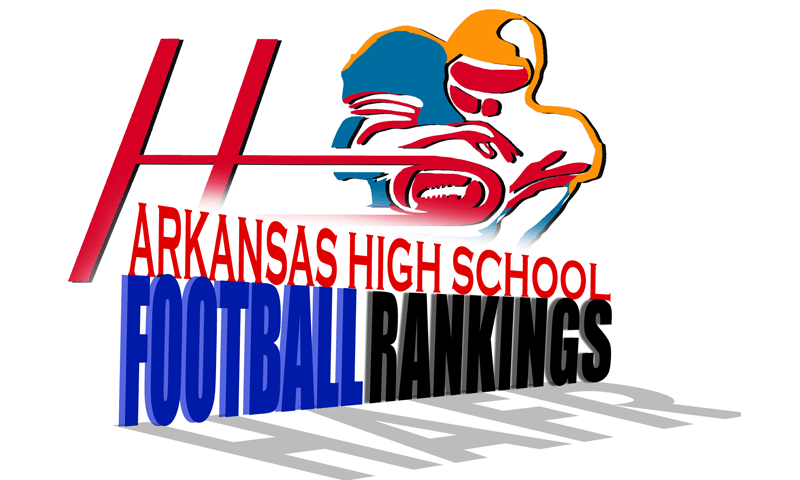 Hootens.com Rankings
Class 6A, Week 3, 2016
Copyright Hooten Publishing, Inc.
1. Greenwood (2-0)
2. Pine Bluff (1-1)
3. Jonesboro (2-0)
4. El Dorado (1-1)
5. Benton (1-1)
6. Russellville (2-0)
7. Searcy (2-0)
8. West Memphis (2-0)
9. Texarkana (0-2)
10. Marion (1-1)
11. Lake Hamilton (1-1)
12. Siloam Springs (0-2)
13. Sheridan (1-1)
14. Jacksonville (1-1)
15. LR Hall (2-0)
16. Mountain Home (0-2)

HOOTENS.COM GAME OF THE WEEK
No. 6 Russellville at Class 7A No. 8 Springdale
Russellville's defense has played extremely well the past two weeks in wins over Morrilton and Heritage. Russellville handled Heritage 28-6 last week. Senior quarterback Cale Fulsom passed for 265 yards and two touchdowns. The Cyclones recorded 15 tackles for loss and six sacks. Senior defensive linemen Layton Bicanovsky (22 tackles), Matt Campbell (19 tackles) and Paul Chiolino (15 tackles) are one, two and three, respectively, on the tackle chart.
Springdale has found ways to win its first two games. The Bulldogs held off Alma 27-26 last week, stuffing Alma on fourth down at their own 28-yard line with nine seconds left. Two weeks ago, Springdale survived Conway 37-30 after losing a fumble with 55 seconds left while trying to run out the clock. Russellville coach Billy Dawson praised Springdale's defensive line, and says junior defensive end Isaiah Nichols could be a D1 prospect. All-state senior receiver Kyler Williams leads Springdale this year with 11 catches for 224 yard and three TDs. Junior QB Lane Hutchins has completed 32 of 50 passes (64 percent) for 450 yards and four TDs with no interceptions. Springdale last started 3-0 in 2005 when Coach Gus Malzahn guided the Bulldogs to a 14-0 finish.

LAST WEEK
Hootens.com correctly picked 11 of 16 games (69 percent) involving 6A teams. For the season, hootens.com has correctly predicted 24 of 32 winners (75 percent).

WEEK 3 PREDICTIONS (favored team in CAPS followed by point spread)
6A EAST
PINE BLUFF (6) at FS Northside: Pine Bluff senior QB Simeon Blair ran 17 times for 134 yards and two TDs in last week's 38-13 win over Watson Chapel. Northside rushed for 339 yards in a 42-14 win at Van Buren. Senior Hunter Pendleton rushed for 100 yards and two TDs. Senior Kedrick Thomas (118 yards rushing) returned a punt 72 yards for a score.
JONESBORO (4) at LR Catholic: Jonesboro edged Conway 41-38 last week. Junior QB A.J. Aycock broke his collarbone midway through the first quarter. Junior Tyson Williams took over at QB, completing eight of 10 passes for 108 yards and two TDs. Junior RB Ji'marcus Bibbs ran 17 times for 125 yards and two TDs. Aycock will miss at least six weeks. All-state senior receiver Jonathan Adams, Jr. paces the Hurricane this season with 10 catches for 219 yards and four TDs. Catholic trailed Jacksonville early and led 14-6 at halftime last week before pulling away with a 31-6 win. Sophomore RB Samy Johnson ran 12 times for 130 yards and a TD. Johnson could develop into a major college prospect.
LR Central at WEST MEMPHIS (4): Both teams are 2-0. Central (3-7 in 2015) has defeated 7A West members Heritage and Bentonville West by an average of 20 points. West Memphis' two wins have been over Class 5A schools Forrest City and Blytheville. The Blue Devils held off a late rally last week to beat Blytheville 35-25. All-state senior RB Devontae Dean ran 22 times for 113 yards and two TDs. Senior Rayshaad Hall returned a kickoff 88 yards for a score. A year ago, West Memphis topped Central 21-14.
SYLVAN HILLS (18) at Jacksonville: Sylvan Hills tops neighbor Jacksonville for the fourth straight season.
LR Hall at LR MCCLELLAN (25): Hall senior Daevon Martin scored the game-winning two-point conversion in overtime in last week's 20-18 win at Mills. McClellan bounces back from a 52-20 loss at North Little Rock.
Marion at BLYTHEVILLE (6): Marion senior receiver Collin Chambers caught six passes for 215 yards and four TDs in last week's 62-35 win over Jackson, Mo. Blytheville lost to West Memphis 35-25. A year ago, the Patriots rallied to beat Blytheville 43-40.
Mountain Home at BATESVILLE (10): Mountain Home lost to 5A East member Nettleton 28-24 last week. Batesville, which has captured three consecutive 5A East championships, wins its first game of the year.
Searcy at MORRILTON (4): Searcy struggled to run the ball last week but got past Batesville 41-35. Junior QB Mason Shucker passed for 329 yards and three TDs. The Lions intercepted four passes. Senior CB Jackson Hall returned an interception 99 yards for a TD. Morrilton coming off an easy 60-0 win over LR Fair. Two weeks ago, the Devil Dogs managed 198 total yards in a 14-11 loss at Russellville.

6A WEST
Russellville at SPRINGDALE (3): See Hootens.com Game of the Week.
BRYANT (15) at Lake Hamilton: Bryant battled well last week, trailing just 13-7 late in the second quarter before falling to defending 7A state champ Fayetteville 43-10. Bryant sailed a snap over its punter's head, setting up Fayetteville at the 7-yard line for an easy TD just before halftime. The Hornet offense could come to life this week. Lake Hamilton gave up more than 400 yards rushing last week in a 35-33 loss to Malvern.

Siloam Springs at VAN BUREN (1): Siloam Springs has lost eight of its past nine games, winning at Van Buren 26-24 Week 6 last year. The Panthers have allowed 42 ppg this year in losses to Rogers and Harrison. Van Buren lsnaps its nine-game losing streak.
EL DORADO (28) at Magnolia: El Dorado hung with Cabot last week in a 28-13 loss. Cabot returned an onside kick for a TD and returned an interception for a score in the final 69 seconds. The Wildcats mercy-ruled Magnolia a year ago.
White Hall at SHERIDAN (1): White Hall has defeated Sheridan seven of the past 12 meetings. Sheridan senior FB McKinley Williams rushed for 189 yards and two TDs in last week's 38-28 loss at Arkadelphia. The Yellowjackets were 0-for-10 on third down.
TEXARKANA (2) at Camden Fairview: Texarkana lost to Pleasant Grove, Texas last week 17-14. Pleasant Grove stopped the Razorbacks on fourth-and-goal from the 2-yard line late in the fourth quarter. Fairview coming off a 34-29 win at Hamburg.
Greenbrier at BENTON (7): Benton has defeated Greenbrier the past three seasons by an average of 25 points.
Alma at GREENWOOD (14): It's the home-opener for Greenwood. The Bulldogs averaged 614 balanced yards the past two weeks in road wins over FS Northside and FS Southside. Greenwood has won 11 in a row over Alma.