Class 4A Week 2 Rankings, Notes & Picks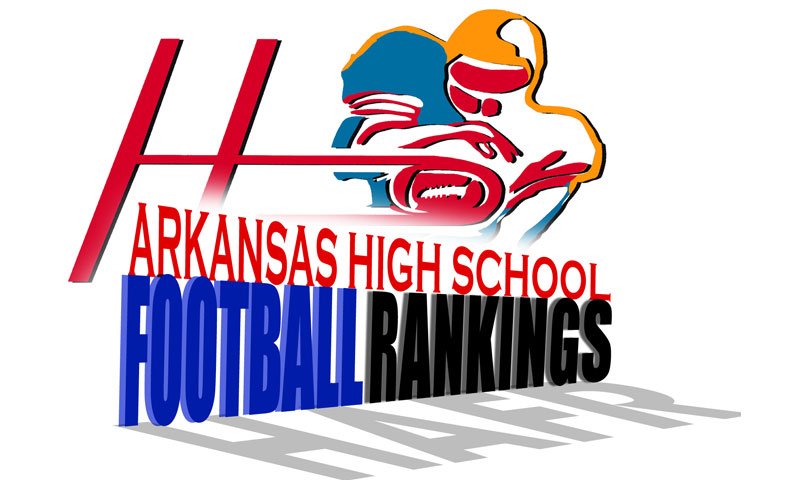 Hootens.com Class 4A Rankings
Week 2, 2022
Copyright Seventy Seven's Publishing
1. Arkadelphia (2-0)
2. Harding Academy (2-0)
3. Star City (2-0)
4. Stuttgart (1-1)
5. Warren (1-1)
6. Ashdown (2-0)
7. Malvern (2-0)
8. Ozark (1-1)
9. Pocahontas (1-1)
10. Rivercrest (1-1)
11. McGehee (0-0)
12. Clinton (2-0)
13. Nashville (1-1)
14. Lamar (2-0)
15. Elkins (1-1)
16. Lonoke (1-1)
17. Gosnell (2-0)
18. Trumann (0-1)
19. H.G. Haskell (2-0)
20. Blytheville (1-0)
21. Jonesboro Westside (1-1)
22. Bauxite (1-1)
23. Pottsville (0-2)
24. Monticello (1-1)
25. Gentry (1-0)
26. Waldron (1-1)
27. DeWitt (1-1)
28. Crossett (0-2)
29. Hamburg (1-1)
30. Cave City (0-2)
31. Mena (1-1)
32. CAC (0-2)
33. Dumas (0-1)
34. Heber Springs (0-1)
35. Lincoln (2-0)
36. Gravette (1-1)
37. Huntsville (0-2)
38. Dover (2-0)
39. Mayflower (1-1)
40. LR Hall (0-1)
41. Berryville (0-1)
42. Riverview (1-1)
43. Helena (0-2)
44. Bald Knob (0-2)
45. Highland (0-2)
46. Green Forest (0-2)
47. Harrisburg (0-1)
WEEK 2 PREDICTIONS (favored team in ALL CAPS)

HOOTENS.COM GAME OF THE WEEK
Class 5A No. 22 HS Lakeside at No. 7 MALVERN (1)
HS Lakeside has won four of the past six meetings between these former conference rivals, including last year by 35 points. HS Lakeside's game at Russellville last week was canceled due to weather. Two weeks ago, Rams receiver Kyler Wolf caught 12 passes for 146 yards in a loss to Lake Hamilton.
Malvern junior Jalen Dupree ran 13 times for 240 yards and 2 TDs and caught 4 passes for 117 yards and a TD in last week's 39-point win at Glen Rose, while senior QB Cedric Simmons passed for 217 yards and 2 TDs and ran for 70 yards and 3 TDs.  Senior Donta Cagle's only 2 carries last week went for 123 yards and 2 TDs. Senior safety Arric Clegg racked up 11 tackles.
LAST YEAR
Hootens.com correctly predicted 25 of 35 games (71 percent). Hootens.com has correctly predicted 54 of 70 games (77 percent) this season.

1-4A

PRAIRIE GROVE (21) at Gravette: Prairie Grove has won 10 straight over its former conference rival, including the past five by a combined 154 points. Prairie Grove amassed 549 yards in last week's 45-8 win over Huntsville. Senior Ethan Miller (7 carries, 120 yards) and fullback Coner Whetsell (7 carries, 157 yards) paced the Tiger ground attack. Gravette intercepted 5 passes in last week's 37-0 win over Inola, Okla.
ELKINS (1) at Class 5A Clarksville: Clarksville trailed Morrilton 21-7 at halftime last week en route to a 30-9 loss. Elkins surrendered more than 400 yards in last week's 20-point loss to Charleston.
Class 5A PEA RIDGE (6) at Huntsville: Pea Ridge has won 5 of 6 over its former conference rival. Huntsville managed 245 yards in last week's mercy-rule loss to Prairie Grove. Senior QB Amos Mayes played well, but the Eagles dropped too many passes, Coach Matt Williams says.
Lincoln at MENA (2): Mena's Jayden Felix ran for 158 yards and a TD in last week's 15-13 setback to Class 3A Centerpoint, while sophomore Brody Peters logged 11 tackles. Lincoln (2-0) gave up 365 yards rushing in last week's 15-point win over Westville, Okla.
Ozark at Class 3A CHARLESTON (6): Charleston has won 13 of the past 17 in the series. The Tigers handled Elkins last week 42-22, behind senior QB Brandon Scott (176 yards passing, 156 yards rushing). Senior Bryton Ketter recorded a scoop and score on defense and 5 of his kickoffs were touchbacks. Ozark had 150 yards (75 on the final drive) in last week's 35-7 loss at Booneville.
Class 3A GREENLAND (2) at Berryville: Greenland has won 3 of the past 4 in the series, but Berryville won by 1 a year ago. Greenland senior QB Max Meredith, sophomore WR Brandon Vaughn and senior LB Tucker Meadors played well in last week's 44-9 win over Green Forest. Berryville is down to its fourth-team RB. Junior OL Talan Hill played well in last week's loss at West Fork.
GENTRY (3) at Class 3A Quitman: These teams have never played. Quitman was tied with Class 2A Hector 28-28 at the end of regulation last week when the officials refused to allow them to play overtime. Quitman senior receiver Trevor Locke caught 10 passes for 114 yards and 2 TDs, while senior QB Nassir Donohoo completed 20 of 30 passes for 210 yards and 4 TDs.
OPEN Green Forest.
2-4A
CLASS 5A SOUTHSIDE (6) at Heber Springs: Heber Springs has won 13 of 16 meetings between these former conference foes. Southside shut out Bald Knob last week 28-0. Senior Colby Harris ran for 2 TDs, while junior Seth Case tallied 123 yards. Junior TE Jaylon Jennings, son of former NBA player Jason Jennings, grabbed 3 balls for 75 yards and a TD.
Class 3A Newport at STUTTGART (14): Both team's coming off close losses. Beebe scored the winning TD in the middle of the 4th quarter to beat Newport 28-26, while Stuttgart had a late kickoff return for a TD called back in a 10-point loss to Star City. Newport senior C.J. Young ran 31 times for 242 yards and 3 TDs, while senior Kylan Crite returned a punt 40 yards for a TD. Newport QB Dejai Marshall broke his wrist on the second play of the game and won't return until late October, Coach Brian Reardon says. Stuttgart senior Cedric Hawkins ran 20 times for 170 yards and 2 TDs, while DE Kameron Harper led the defense with 15 tackles, 1 sack and 1 fumble recovery.
Cave City at Class 3A MELBOURNE (16): Melbourne has won 9 of its 11 games vs. the Cavemen. Cave City yielded almost 400 yards rushing in last week's 34-point loss to Walnut Ridge. Cave City senior QB Jacob Moore threw a TD pass to sophomore Shawn Walling last week, while Matthew King ran for a TD.
BALD KNOB (1) at Class 2A Des Arc: Bald Knob has won 3 of 4 over Des Arc, which failed to score in last week's mercy-rule loss at Hazen. Bald Knob has scored 2 TDs this season and was held to 96 yards in last week's loss to Class 5A Southside.
RIVERVIEW (7) at Class 3A Salem: Riverview beat Salem last season 35-7. Salem picked up a win this past week at Thayer, MO, 20-6. Salem Coach Josh Watson praised junior TB Elijah Romine for scoring twice on offense. The entire defense was special in Watson's opinion. Thayer ended up with 86 total yards and didn't score until the final possession.
OPEN Harding Academy, Lonoke
3-4A
Class 5A Valley View at RIVERCREST (3): Valley View has won 5 of 8 meetings against Rivercrest, including last season by 6 points. Valley View junior QB Carson Turley ran 10 yards for a TD in the second quarter of last week's 16-2 win over Poplar Bluff, Mo. Junior Lejavian Ervin ran 5 yards for a second-half TD and junior LB Brian Huff logged a safety to seal the victory. Rivercrest junior QB Michael Rainer completed 5 of 16 passes for 68 yards and a TD last week at Mills. Rainer also has 16 carries this fall for 110 yards and 5 catches for 100 yards.
CLASS 5A Brookland at POCAHONTAS (6): Brookland was within 12-10 in the third quarter vs. Gosnell before losing 28-17. Senior Joseph Wright ran for a TD in the second half. Pocahontas played well up front in last week's 26-21 setback to Nettleton, while senior QB Connor Baker ran 29 times for 230 yards and a TD.
Blytheville at CLASS 5A NETTLETON (10): Blytheville upended Osceola 26-0 a week ago. Tim Brown ran for 2 TDs, including an 80-yard burst. Derrick King returned a punt for a Chickasaws TD. Undefeated Nettleton outlasted Pocahontas 26-21 a week ago. Curtez Smith ran for 140 yards and 2 TDs, while Kylan Shelton racked up 10 tackles, 1 sack and 1 forced fumble.
Class 3A Osceola at GOSNELL (12): Osceola has won 10 of the past 18 over its Mississippi County rival, but the Seminoles failed to score in last week's 26-point loss to Blytheville. Undefeated Gosnell beat Class 5A Brookland last week 28-17. Gosnell junior Trent Middleton came in late for injured QB Reid Shelton, completing 7 of 11 passes for 181 yards and 2 TDs. Senior Taderian Partee caught 4 passes for 71 yards and 3 TDs, and made 10 tackles on defense. Junior Cam Williams intercepted 2 passes.
Class 3A Palestine-Wheatley at HARRISBURG (18): Palestine-Wheatley hasn't won since beating Manila in Week 7, 2020. The Patriots lost to Two Rivers last week 20-6. Sophomore FB Grant Ball, senior RB P'Caylin Carter, and Lee Wren were named players of the week by Coach Terry Farmer. Harrisburg didn't play last week, and two weeks ago the Hornets' field goal attempt to win on the final play was blocked by Cross County (15-14 loss).
Class 3A Manila at TRUMANN (20): Trumann has won all four meetings with Manila, a 42-0 loser to Class 2A East Pointsett County last week. Coach Cain White says Manila must cut back on penalties and turnovers. Senior LB Gabe Bennett led Manila with 8 tackles. Trumann hung with Hoxie two weeks ago before losing 14-6. The Wildcats gave up 241 yards to Hoxie.
HIGHLAND (3) at Class 3A Piggott: Highland led Riverview in the second half last week of a 13-point loss. The Rebels gained 245 yards, but yielded 267 yards rushing. Piggott has been outscored 81-7 by Gosnell and Paragould this fall.
OPEN Jonesboro Westside
4-4A
CLINTON (25) at LR Hall (Thurs.): This is the first meeting between these teams. Clinton senior QB Jobe Chalk completed 7 of 11 passes for 97 yards and a TD in last week's 16-point win over Heber Springs. LR Hall lost to Dardanelle 43-7 in its opener two weeks ago.
CAC at BAUXITE (14): CAC has won four straight in the series. CAC sophomore QB Grayson Wilson has passed for 306 yards and 5 TDs this fall. Bauxite senior QB Hunter Ferrell threw 2 TD passes and ran for another in last week's 15-point win at Monticello.
LAMAR (16) at Dover: Dover has won 6 of the past 10 in the series, and the Pirates (2-0) are much improved. Lamar's Lee Harkreader ran 13 times for 105 yards and for 2 TDs in last week's 6-point win over Waldron. Damien Hendrix logged 17 carries for 108 yards, while lineman Joe Hilton recorded 5 pancake blocks.
Pottsville at H.G. HASKELL (1): H.G. Haskell opened its season last week with an 8-3 win over DeWitt after trailing 3-2 in the third quarter. The Cardinals ran for 140 yards. Pottsville endured two weather delays in last week's 35-0 loss to Class 5A Dardanelle.
OPEN Mayflower
7-4A
Class 5A HS Lakeside at MALVERN (1): Hootens.com Class 4A Game of the Week.
Class 5A De Queen at NASHVILLE (16): Nashville has won 20 of the past 22 in the series. Nashville ran for 513 yards in last week's 74-42 victory over Hope. Senior QB Sloan Perrin completed 9 of 13 passes for 143 yards and a TD, and ran 12 times for 239 yards and 4 TDs.
Class 5A Texarkana at ARKADELPHIA (21): Arkadelphia never led Hot Springs last week until time expired, pulling out a 29-28 victory with QB Donovan Whitten's 5-yard TD pass to LaTonnieo Hughes and his two-point conversion pass to Carter Babb. Whitten passed for 293 yards and 3 TDs and ran for 138 yards. Whitten passed for 277 yards and 3 TDs and ran for 131 yards, while Babb caught 5 passes for 83 yards and Hughes had 4 grabs for 31 yards. Texarkana dominated both lines of scrimmage in last week's 47-0 win over Dollarway.
ASHDOWN (16) at CLASS 5A Hope: Ashdown has won 6 consecutive over Hope by a combined 273-101 (average of 46-17). The Panthers ran 80 yards for a TD on the first play of last week's 45-0 win over De Queen. Hope gave up nearly 700 yards in last week's 74-42 loss at Nashville.
Lincoln at MENA (2): See above game.
Class 3A Fouke at WALDRON (16): Improved Waldron hung with Lamar last week before losing 20-14. Fouke senior QB Dylan Thornton passed for 194 yards and 3 TDs in last week's 33-27 win over Class 2A Mineral Springs, while LB Lane Lundy made 20 tackles.
8-4A
STAR CITY (17) at Crossett: These teams have split their 10 meetings since Crossett dropped to Class 4A in 2012. Crossett gave up 409 yards rushing in last week's 43-point loss to Magnolia. Star City ran for 349 yards in last week's 10-point win over Stuttgart. Senior QB Mason Taylor logged 17 carries for 228 yards and 3 TDS, while Kevin hJohnson racked up 10 tackles.
MONTICELLO (2) at DeWitt: Monticello trailed Bauxite 29-20 in the second quarter last week before losing 35-20. Quay Rhodes returned a kickoff 89 yards for a TD. DeWitt led Harmony Grove 3-2 in the third quarter last week before losing 8-3. Receiver Gabriel Vega caught 8 passes for 59 yards, while cornerback Jamal Turner racked up 7 tackles.
Hamburg at MCGEHEE (4): McGehee opens its season after two open dates. Hamburg's offensive line played well in last week's 49-20 win over Lake Village. Brent Holland intercepted 2 passes, returning 1 for a TD.
Helena at DUMAS (6): Dumas has won 4 of 5 since Helena dropped to Class 4A in 2018. Helena played well in last week's 8-point loss to Earle. Dumas QB Joseph Jones passed for 219 yards and 2 TDs in a 19-point loss to Rison two weeks ago.
OPEN Warren