HOGS vs E. Illinois in-depth preview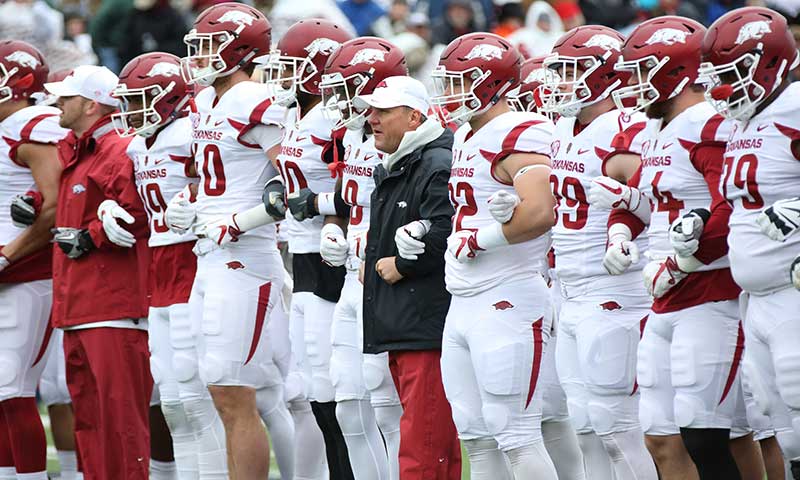 FAYETTEVILLE - Arkansas' new coach and North End Zone renovation debut Saturday with an old Razorback from Rogers coaching the opposition at Reynolds Razorback Stadium.
Chad Morris and his Razorbacks open at 3 p.m. Saturday on the SEC Network against the Eastern Illinois University Panthers.
Morris was a renowned offensive coordinator at Clemson before head coaching SMU the past three seasons. For 16 years, he coached high school teams in Texas where Arkansas is desperate to reestablish strong recruiting ties.
Morris has created excitement for a program that wallowed 4-8 last year, speaking to overflow crowds at various Razorback Clubs and banquets. "It's not about me," Morris said. 
Morris says it's about the State of Arkansas's hunger for the Razorbacks to win again, and the hunger of players to win for the Razorback fans and themselves.
"It's about these guys who are putting all the time and effort in," Morris said. "Obviously, I'll be excited to be on that sideline with these guys as we kick this journey off."
It kicks off with the $160 million North End Zone project that adds luxury seating, including wings dedicated to Arkansas' Southwest Conference history ending with the 1991 season and history in the SEC that began in 1992, the 1964 Frank Broyles-coached Razorbacks national championship team, and a state-of-the-art spacious locker room and a brand new Broyles Center for players present and future.
Kim Dameron, a former Rogers Mountie and Razorback cornerback/receiver for Lou Holtz from 1979-82, enters his fifth year as head coach of Eastern Illinois (FCS Ohio Valley Conference). An Arkansas grad assistant in 1983, Dameron cannot believe the facility's facelifts since his playing days in Fayetteville.
"I've seen video," Dameron said of Arkansas' north end palace.  "It's quite impressive with the SEC section, the Southwest Conference section, which of course I would be most interested in, and also the 64 Lounge. Just all of that, gosh it's unbelievable. I see it as a program trying to compete on a national scale and then hiring Chad to come in there and spark the offense and with Coach (John) Chavis, a legend in the SEC coming in and being the defensive coordinator, it's going to be a formidable task."
Chavis has coordinated SEC defenses since 1995 at Tennessee, then LSU, Texas A&M and now Arkansas.
Dameron has coached at Murray State as defensive coordinator under former Arkansas coach Houston Nutt. He assisted Nutt again at Ole Miss after coordinating defenses at Eastern Illinois, Stephen F. Austin and ULM (Louisiana-Monroe). After Ole Miss, Dameron  coordinated defenses at Cornell and Louisiana Tech. His 2007 ULM defense was a big part of something no Razorback team has ever achieved, beating a Nick Saban-coached Alabama team.
"Coach Dameron is very well thought of," Morris said. "Obviously no stranger to big games. He took that ULM unit into Alabama and beat them."
Dennis Winston knows Arkansas, Dameron and Eastern Illinois.  Winston of Marianna was an Arkansas Sports Hall of Fame linebacker 1973-76 and coached Razorbacks defensive ends in 1997 after starting in two Super Bowls for the Pittsburgh Steelers. He knows Dameron having coached EIU defenses in 2014 and 2015.
"Kim is a great coach," Winston said, "but FBS teams have 85 scholarships and FCS teams have 63. Eighty-five scholarships make a big difference over 63. Especially when you have 3- and 4-star athletes on your (Arkansas) team."
If needed, the Razorbacks ought to win on depth alone, though occasionally in these FBS vs. FCS mismatches, it's the FBS team struggling to tread deep water.
Jack Crowe is the former Arkansas head coach fired after the 1992 season-opening loss to The Citadel, a team from Division 1-AA politically corrected to today's FCS. Crowe's FCS Jacksonville State team in 2010 upset Nutt's Ole Miss Rebels in double overtime in Oxford, Miss.
Crowe warned the Razorbacks.
"Don't go out there and have a guy knock your head around until you figure out they have guys who can play," Crowe said.
Arkansas fifth-year senior safety Santos Ramirez said the Hogs take heed. Last year, they barely subdued underdog Coastal Carolina, 39-38 in Fayetteville.
"No matter how favored we are, we've got something to prove to everybody," Ramirez said to the media. "Including you guys, including the nation. We feel like we've got something to prove."