Class 2A Week 1 Rankings, Notes & Picks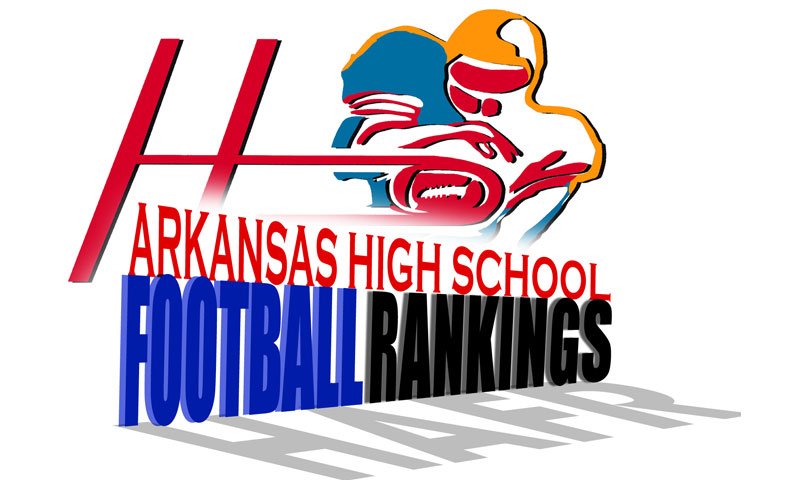 Class 2A Rankings
Week 1 2022
Copyright Seventy Seven's Publishing
1. Hazen (1-0)

2. Des Arc (0-0)
3. Mount Ida (0-0)
4. Marked Tree (1-0)
5. Episcopal (1-0)
6. Bigelow (1-0) 
7. Carlisle (1-0)
8. Poyen (0-1)
9. EPC (0-0)
10. Clarendon (1-0)
11. Mineral Springs (1-0)
12. Hector (0-1)
13. McCrory (0-0)
14. Cross County (1-0)
15. Hampton (0-0)
16. Dierks (1-0)
17. Earle (0-1)
18. Lafayette County (0-1)
19. Baptist Prep (0-1)
20. Conway Christian (0-1)
21. Murfreesboro (0-0)
22. Mountainburg (0-0)
23. Magazine (0-1)
24. Bearden (0-1)
25. England (1-0)
26. Foreman (0-1)
27. J.C. Westside (0-1)
28. Marianna (0-1)
29. Decatur (0-1)
HOOTENS.COM GAME OF THE WEEK
No. 2 Des Arc at No. 1 HAZEN: 
Coach Joe Besancon's Hazen Hornets beat Marianna 50-8 last week. Senior All-State quarterback Luke King (17 of 22 passing, 289 yards, 4 TDs), junior Kolton Tosh (222 yards, 2 TDs)  and junior Justin Schlenker (109 yards, 3 TDs and junior all-conference playmaker Braylon Anderson (9-103 rushing, TD) carried the offense. Sophomore Landen Adkins logged 8 tackles and Cameron Johnson intercepted 2 passes. Des Arc comes off a season during which two of its three losses came against eventual state champion McCrory. The other loss came to state semifinalist Clarendon. Senior All-State fullback Jack Kirby returns after rushing for 1,100 yards and 8 TDs. Des Arc won this matchup 36-0 last year. Besancon enters his 16th season at Hazen, where he stands 129-49-1.


LAST WEEK
Hootens.com correctly predicted 13 out of 19 (68 percent) games involving Class 2A teams.
1-2A

BIGELOW (14) at England: Bigelow beat Class 3A Atkins 41-20 last week. Junior QB Rhett Neumeier (5 of 5 passing, 120 yards, 2 TDs), senior Bennett Johnson (5-129 rushing, 1 TD) and junior tailback Carter Alexander (119 rushing. 3 TDs) led the offense. Defense was led by Gralynn Macon (12 tackles, 3 TFL, 1 PBU). England won its first game since 2020 last Friday, beating Class 3A Two Rivers. Senior Chandler Cheek (196 yards passing, 3 TDs; 5 tackles, 1 sack)contributed on both sides of the ball. Demario Carter returned a kickoff 76 yards for a TD. Sophomore Nehmiah Solee hauled in a 81-yard TD pass and logged 6 tackles. 

CONWAY CHRISTIAN (7) at Baptist Prep: Conway Christian opened the season with a 57-18 loss against Class 3A Quitman. Baptist Prep also lost its season-opener to a 3A team (47-18 against Yellville-Summit). Baptist Prep won this matchup 41-0 last year. 

Decatur at CARLISLE (28): Carlisle beat Class 3A Palestine-Wheatley 47-6 last week. Junior QB Holden Jones (4-5 passing, 47 yards, 1 TD; 3-29 rushing, 2 TDs) and All-State RB Jason Sullivan (9-176 rushing, 3 TDs)sparked the offense. Sophomore Gabe Boyle picked up 3 stops (2 TFL) and a sack. All-conference linebacker Ethan Foster had 5 tackles (4 TFL). Decatur lost to Episcopal 47-0 in its first game back in 11-man ball. 

Class 3A QUITMAN (21) at Hector: Quitman junior WR Greyson Ealy had 5 receptions for 103 yards and a TD against Conway Christian last week. Senior QB Nassir Donohoo had 5 total TDs (3 passing, 2 rushing). Senior Payton Edwards had a 75-yard kickoff return for a touchdown. Junior LB Kyler Like had 16 tackles (4 TFL). Hector was upset by Marked Tree 59-19 in last week's season opener. 

J.C. Westside at Class 3A YELLVILLE-SUMMIT (12): Yellville-Summit (1-0) leads series, 2-0. Yellville-Summit outscored Baptist Prep 47-18, and Dover roared past J.C. Westside, 43-14. Junior RB Landyn Keiter led Yellville-Summit's ground game with 241 yards and 4 TDs on 14 carries. Junior defender Colin Brumley had 5 sacks.

Class 3A LAVACA (20) at Magazine: Lavaca got an extra week to get ready for Magazine, which lost to Mansfield, 41-6. Lavaca leads series, 3-1.

Mountainburg at Class 3A DANVILLE (6): Mountainburg might be alternating quarterbacks with junior Shay Pixley passing, and senior Kai Baldwin running. Class 3A Danville started August practice with 17 players. Second-year coach Kody Hamlin expects 20 by the end of the month. Both schools will have players going both ways.

2-2A
No. 2 Des Arc at No. 1 HAZEN (8): See Game of the Week.
Class 3A Barton at CLARENDON (28): Class 4A DeWitt beat Barton 28-16, and Clarendon defeated Helena, 40-14. Barton has 22 players. Senior RB Jordan Thomas and junior QB Conner Wilson played well against DeWitt. Clarendon junior QB Jaxon Hampton completed 7 of 14 passes for 175 yards and 2 TDs in his team's season-opening win. He also rushed for 161 yards and a score. Senior Tranell Black (16-88 rushing, 2 TDs) and all-conference WR Terrance Hampton (2-90 receiving, 2 TDs helped lead the way for Clarendon. Senior Braylon Hampton led the defense with 7.5 tackles.

Class 3A Corning at CROSS COUNTY (16): Cross County defeated Class 4A Harrisburg 15-14 last week with junior QB Konnor Wilson accounting for 2 TDs (1 passing, 1 throwing). Owen Vanlandingham hit a go-ahead 32-yard field goal in the fourth quarter. Senior Hayden Wilson blocked Harrisburg's field-goal attempt with 15 seconds left in the game to seal the win. Corning lost 38-0 to Portageville, Mo. 

EARLE (1) at Class 4A Helena: Earle lost its opener 20-12 to Class 3A Salem. Helena, which hasn't won a game since 2019, lost to Clarendon.

E. Poinsett County at Class 3A MANILA (20): EPC has eight starters back on both sides of the line, but the Warriors lost to Manila 41-14 last season. Manila (0-1) couldn't keep pace in the second half of its 47-12 loss to Rivercrest last week. Senior FB/MLB Bria Neal is out for the season. 

McCrory at MOUNT IDA (12): Defending state champion McCrory returns 5 starters on offense and 4 on defense for first-year coach Brandon Godfrey, who was defensive line coach last year 6A Mountain Home. Veteran coach Michael White (131-47 record at school) returns to the sidelines for Mount Ida. Both teams were idle last week. 

OPEN Marianna, Marked Tree

 3-2A
McCrory at MOUNT IDA (12): See game preview in 2-2A.
DIERKS (7) at Class 3A Horatio: Dierks leads this series, 11-7. The Outlaws rallied to beat Class 3A Fouke 29-27 last week. Rylan Hill had 106 yards passing and a TD, while Jordan Hill rushed 12 times for 127 yards and 2 TDs. Jordan Hill also recorded 8 tackles. Class 3A Horatio defeated Foreman, 32-24. 

Class 3A GURDON (21) at Foreman: Gurdon leads series, 11-4. Former lost to Horatio 32-24, while Gurdon mercy-ruled Lafayette County, 55-20.

Class 3A JUNCTION CITY (12) at Lafayette County: Camden Harmony Grove beat Junction City 39-0, spoiling David Carpenter's return tot he sidelines. Gurdon mercy-ruled Lafayette County, 55-20. Lafayette County QB ZyQkis Jackson passed for 173 yards and a TD in the loss. 
MINERAL SPRINGS (7) at Class 3A Fouke: Mineral Springs upset Jessieville, 45-30, and Fouke lost to Dierks 29-27. Fluke leads the series 8-6. Mineral Springs was led by sophomore QB Evan Erwin (6-10 passing, 162 yards, 2 TDs), sophomore WR Javeon Fricks (5-122 receiving, TD) and All-State RB K.J. Hayes (8-142 rushing, 2 TDs). Senior Romeo Lucero and sophomore DeKendrick Piggee logged 12 tackles each. Ramahj Ware  tallied 11 tackles and K.T. Thomas logged 10. 

Bearden at MURFREESBORO (3): Bearden comes off its first winless season in 44 years, but that was with a 14-man roster. Former De Queen coach Brad Chesshir succeeds Marc McRae at Murfreesboro. 

POYEN (3) at Hampton: Former Poyen assistant Chris Morphis makes his debut as Hampton coach. Poyen lost to Class 3A Magnet Cove 45-22 last week; Hampton scrimmaged Magnet Cove two weeks ago. 

4-2A

Class 3A Smackover at EPISCOPAL (14): Episcopal dominated Decatur 47-0 last week. Senior QB Gray Lee completed 4 of 6 passes for 108 yards and 2 TDs. Sophomore Jacob Katz threw 2 passes for 16 yards later in the game. Freshman Kollin Robinson (7-144 rushing, 3 TDs) and senior Jack Harbour (81-yard punt return TD) combined for 4 TDs. Smackover beat Class 4A Mayflower 24-21 last week. 
CONWAY CHRISTIAN (7) at Baptist Prep: See game preview in 1-2A section

Bearden at MURFREESBORO (3): See game preview in 1-2A section
Decatur at CARLISLE (28): See game preview in 1-2A section
BIGELOW (14) at England: See game preview in 3-2A section
POYEN (3) at Hampton: See game preview in 3-2A section
No. 2 Des Arc at No. 1 HAZEN (8): See Hootens.com Game of the Week, above.
8-Man Football Rankings
Week 1, 2022
Copyright Seventy Sevens Publishing, Inc.
BIG SCHOOL

1. Subiaco

2. Fountain Lake

3. Mountain View

4. Genoa Central

5. Marshall

6. Parkers Chapel

7. Cutter Morning Star

8. Cedar Ridge

9. Rose Bud

2A
1. Mountain Pine

2. Strong

3. Rector

4. Spring Hill

5. Woodlawn

6. Brinkley

7. Hermitage

8. Dermott

9. Augusta

10. Marvell 
HOOTENS.COM GAME OF THE WEEK
Fountain Lake at MOUNTAIN PINE (1) Mountain Pine returns a solid junior and senior class that powered it to a state runner-up  finish in 2021. Expect talented senior Isiah Miles to build on his breakout junior season. Fountain Lake will lead on a powerful rushing attack led by Abe Rose and Abram Davis. 
Rose Bud at BRINKLEY (21) Jerimiah Harris ran for 196 yards and 3 touchdowns last week against Marvel. Rose Bud will need a strong effort from its defense to slow down the Brinkley rushing attack.
MARSHALL (7)  at Izard County Consolidated Izard County, playing its first 8-Man game, fell to 46-20 to Mountain View.  Marshall lost to Rector 50-18 in its season-opener. 
Hermitage at CUTTER MORNING STAR (14) Nick Finley takes over as head coach at Cutter Morning Star. Expect Payton Mills and Clayton Weldon to handle the ball early and often for the Eagles. Weldon, 6 feet, 5 inches, is drawing looks from some area D-2 schools.
Woodlawn at PARKERS CHAPEL (1) Coach Elliot Jacobs' Parkers Chapel team looks to rebound from a 38-22 loss to Spring Hill in last week's opener. Woodlawn looks to improve on its 2021 record and this is the first opportunity to do it.

Subiaco Academy at SPRING HILL (1) Coach Greg Smith's Spring Hill squad used a Spread attack to beat Parkers Chapel last week. The Trojans look to counter with a smash-mouth running game powered by Giovanni Vargas. The Trojans have three lineman up front — Matt Mayeaux, Camron Raino, and Luke Rainwater combined — who combine to weigh more than 800 pounds.
Genoa Central at STRONG (7) Defending state champion Strong opens its title defense against Genoa Central, which moves to 8-Man after going 4-6 in Class 3A.