Class 3A Week 1 Rankings, Notes & Picks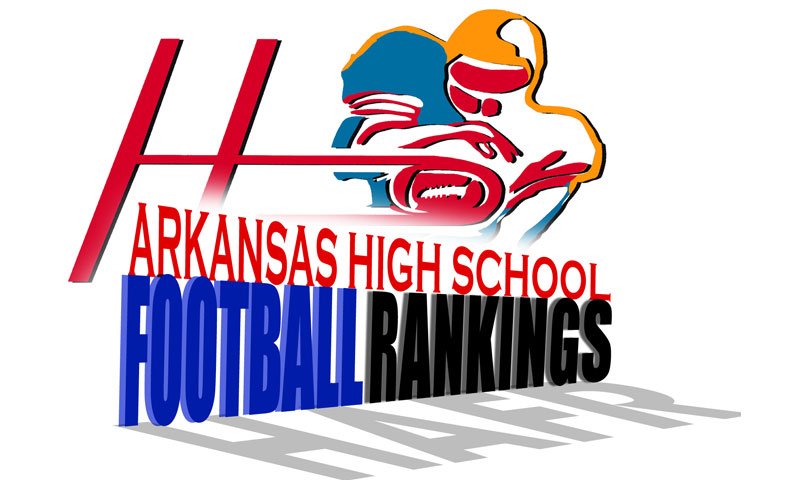 Hootens.com Class 3A Rankings
Week 1, 2022
Copyright Seventy Seven's Football Publishing, LLC
1. Prescott (1-0)
2. Booneville (1-0)
3. Hoxie (1-0)
4. Glen Rose (1-0)
5. C. Harmony Grove (1-0)
6. Charleston (0-0)
7. Rison (1-0)
8. Newport (1-0)
9. Melbourne (1-0)
10. Quitman (1-0))
11. Fordyce (0-1)
12. Centerpoint (1-0)
13. Hackett (0-1)
14. Gurdon (1-0)
15. Perryville (1-0)
16. Osceola (0-1)
17. Bismarck (0-1)
18. Lavaca (0-0)
19. Jessieville (0-1)
20. Manila (0-1)
21. Paris (0-1)
22. Junction City (0-1)
23. Magnet Cove (1-0)
24. Cedarville (0-1)
25. Lake Village (0-1)
26. Dollarway (0-1)
27. Smackover (1-0)
28. Fouke (0-1)
29. Walnut Ridge (1-0)
30. Atkins (0-1)
31. Salem (1-0)
32. West Fork (1-0)
33. Greenland (0-1)
34. Mansfield (1-0)
35. Corning (0-1)
36. Danville (0-0)
37. Barton (0-1)
38. Horatio (1-0)
39. Parkers Chapel (0-0)
40. Yellville-Summit (1-0)
41. Drew Central (1-0)
42. Piggott (0-1)
43. Palestine-Wheatley (0-1)
44. Two Rivers (0-1)
HOOTENS.COM 3A GAME OF THE WEEK
Class 4A No. 4 Malvern at No. 4 GLEN ROSE (2):
A healthy Glen Rose team (1-0) appears ready to win another 4-3A title and make a deep run in the playoffs. The Beavers opened with a 38-28 road win against Crossett. Now, they're at home against Class 4A Malvern, a team Glen Rose beat on the road last season, 30-20. Malvern routed Riverview 35-0 in its opener. Coach Mark Kehner's Glen Rose teams have won at least nine games in each of the past seven years, and as many as 12. Kehner says he believes his current team is more talented than the 2021 team that finished 9-3 and advanced to the third round of the playoffs. Junior RB Heath Balance ran wild against Crossett. Malvern senior QB Cedric Simmons is back for his fourth season, but a knee injury limited him to three games last season. Senior LB Zander May is a three-year starter, and a defensive leader for Glen Rose. The Beavers are off next week before hosting. Malvern is home Sept. 9 against Hot Springs Lakeside. Malvern leads series with Glen Rose, 8-4.
LAST WEEK
Hootens.com correctly predicted 26 of 35 (74 percent) of games involving 3A teams.
WEEK 1 PREDICTIONS (Favored team in CAPS followed by point spread)
1-3A
Class 4A No. 6 Ozark at No. 2 BOONEVILLE (7): Ozark opened with a 49-28 win over Clarksville. Booneville (1-0) whipped Dollarway, 36-6.
HACKETT (7) at) Pocola, Okla.: Junior QB Cole Ketchum completed 18 of 32 passes for 323 yards and 4 TDs in Hackett's 34-32 season-opening loss to Class 2A Mineral Springs. Sophomore WR Brycen Hamilton had 11 catches for 174 yards and 1 TD. Pocola won its season opener over Heavener, Okla., 52-35. Senior QB Dalton Semore completed 23 of 32 passes for 342 yards and 4 touchdowns. Sophomore WR Jay Armstrong had 9 catches for 126 yards and a TD.
BERRYVILLE (2) at West Fork: Berryville holds a 5-1 series advantage, and it was watching from the stands last week as West Fork beat Green Forest, 28-14. Berryville looks for first winning season in seven years.
Green Forest at GREENLAND (3): West Fork beat Green Forest, 28-14, while Greenland (0-1) lost to Lincoln, 58-38. Greenland pulled withing 44-38 but couldn't get a stop in the final minutes.
No. 6 Charleston at ELKINS (1): Charleston opens its season against Elkins, which last week defeated Pottsville 32-14. Charleston leads series, 5-0.
LAVACA (20) at Class 2A Magazine: LAVACA got an extra week to get ready for Magazine, which
lost to Mansfield, 41-6. Lavaca leads the series, 3-1.
Mansfield at No. 10 PARIS (1): Mansfield crushed Class 2A Magazine, 41-6. Mansfield kicker Braxton Byers was 5 for 5 on extra points, and his teams recovered a fumble on one of his kickoffs. Junior QB Fisher Willsey completed 7 of 9 passing for 150 yards and a TD. Sophomore Dakota Deer led Mansfield's defense with 5 tackles. Paris lost 48-7 to 4A Waldron.
2-3A
Class 5A Beebe at No. 7 NEWPORT (6): Newport beat Osceola 34-28; Beebe opened with a 43-6 win over Jacksonville.
No. 9 Melbourne at Class 4A LONOKE (1): Melbourne beat Bald Knob, 34-14; Lonoke trampled CAC, 43-14.
CAC at Class 4A PERRYVILLE (1): CAC lost to Class 4A Lonoke 43-14; Perryville clicked in its 48-18 win against Cedarville.
Salem at THAYER, MO. (14): Junior QB Lukas Downs (136 yards rushing, 2 TDs) was Salem's offensive player of the week in the Greyhounds' 20-12 win over Earle. Elijah Romine had a 20-yard TD run. Junior LB Nolan Bassham (7 tackles, 3 TFL, 3 sacks) and senior CB Dalton Steward (2 interceptions) were Salem's top defensive players. Thayer (1-0) is a perennial Class 1A powerhouse in Missouri. Salem Coach Josh Watson says the teams mirror each other offensively. Thayer leads series, 5-1.
QUITMAN (21) at Class 2A Hector: Senior QB Nassir Donohoo accounted for 5 TDs (3 passing, 2 rushing) in Quitman's 57-18 win over Conway Christian. Junior WR Greyson Ealy (5 catches, 103 yards, 1 TD) and Payton Edwards (75-yard kick return TD) contributed. Junior LB Kyler Like had 16 tackles, 4 TFL.
Class 4A DOVER (3) at Atkins: Coach Matt Porter says Atkins' offense struggled in its 41-20 loss to Bigelow. One bright spot was KR Hayden Duvall (4 returns, 161 yards, including an 87-yard TD). Junior CB Drake Rhinehart (5 tackles, fumble recovery TD) keyed the defense. Dover (1-0) ripped JC Westside, 43-14. Game winner takes home Rivals Cup.
Class 2A JC Westside at YELLVILLE-SUMMIT (12): Yellville-Summit (1-0) leads series, 2-0. Yellville-
Summit defeated Baptist Prep, 47-18; JC Westside lost to Dover, 43-14. Junior RB Landyn
Keiter (14-241 rushing, 4 TDs) led Yellville-Summit. Junior defender Colin Brumley had 5 sacks.
3-3A
No. 3 HOXIE (7) at Class 4A Jonesboro Westside: Hoxie, which leads the series 6-3, beat Trumann 14-6, and came out of the game healthy. QB Sage Treadwell (7-12 passing, 91 yards, 1 TD) and junior RB Camden Brooks (25-125 rushing) led Hoxie. Junior LB Mathias Dobbs had 13 tackles. Jonesboro Westside beat Brookland 6-0.
No. 16 OSCEOLA (1) at Class 4A Blytheville: Osceola lost to No. 8 Newport, 34-28. Blytheville plays its season opener.
Walnut Ridge at Class 4A CAVE CITY (4): Walnut Ridge defeated Highland, 32-22, and Cave City
lost to Clinton, 35-20. Walnut Ridge senior RB Logan Sain tweaked his knee but is expected to play Friday. Walnut Ridge Coach Jeff Blake says Cave City is big up front, and its run game must be controlled. Walnut Ridge had too many offensive penalties last week, Blake says, but still piled up more than 400 yards.
Corning at Class 2A CROSS COUNTY (16): Corning lost 38-0 to Portageville, Mo. Senior TB Landon Lucas (34 yards) led Corning in rushing. LBs Haydon Cox and Jackson Davis led the defense with 6.5 tackles each. Senior TE Eli Mason recovered a fumble. Cross County (20 returning starters) opened with a 15-14 win over Harrisburg.
Class 4A Paragould at PIGGOTT (8): Piggott Coach Don Simmons reports the Mohawks (0-1) had no
notable performances in their 44-7 loss to Gosnell. Senior CB Joe Carpenter did return an interception 79 yards for Piggott's only TD. Simmons says three of Piggott's top players left the game in the second quarter with heat-related issues. Simmons says the Mohawks match up better with Paragould, a 35-0 loser to Greene County Tech last week
Two Rivers (0-1) at PALESTINE-WHEATLEY (16): Two Rivers lost to England 48-12; Palestine Wheatley got beat by Carlisle 47-6.
Class 2A EPC at MANILA (20): Manila (0-1) couldn't keep pace in the second half in a 47-12 loss to
Rivercrest, but Manila faces an East Poinsett County team it defeated 41-14 last year. Senior RB
Gabe Bennett led Manila with 51 rushing yards. Senior LB Eli Lackey had 7 tackles, 2 TFL. Sophomore Trey Platz returned a kickoff 84 yards for a touchdown. Senior FB/MLB Bria Neal is out for the season. East Poinsett County has eight starters back on both sides of the line.
4-3A
Class 4A MALVERN (6) at No. 4 Glen Rose: See Hootens.com Game of the Week above.
No. 3 RISON (1) at Bismarck: Senior QB Ian Smith led Bismarck (0-1) with 77 yards rushing and 180
passing in 47-28 setback to No. 1 Prescott. The Lions' defensive player of the week was senior LB Bo
Bates with 12 tackles. Wilver Ramirez made 4 of 4 extra points and put kickoffs into the end zone.
No. 12 CENTERPOINT (3) at Class 4A Mena: Centerpoint upset 12th-ranked Hackett last week 34-32, with senior RB Jace Clark (223 rushing yards, 5 TDs) getting help from offensive guard Adrian Hernandez. Mena beat De Queen 16-14.
No. 11 FORDYCE (7) at Magnet Cove: Class 4A Monticello beat Fordyce, 36-28. Magnet Cove
cruised past Poyen, 45-22.
Class 2A MOUNTAINBURG (2) at Danville: Zach Dean takes over head coaching duties in Mountainburg, which might be alternating quarterbacks with junior Shay Pixley passing, and senior Kai
Baldwin running. Danville started August practice with 17 players. Second-year coach Kody Hamlin
expects 20 by the end of the month. Hamlin has been busy recruiting players out of the hallways, and
they are expected to make immediate impact. Both schools will have players going both ways.
Two Rivers (0-1) at PALESTINE-WHEATLEY (16): Two Rivers lost to England 48-12.
Palestine Wheatley got walloped by Carlisle 47-6.
5-3A
GURDON (21) at Class 2A Foreman: Gurdon leads series, 11-4. Foreman to Horatio 32-24,
while Gurdon mercy-ruled Lafayette County, 55-20.
Class 2A MINERAL SPRINGS (7) at Fouke: Fouke leads series, 8-6. Mineral Springs upset
Jessieville, 45-30, and Dierks edged Fouke, 29-27.
JUNCTION CITY (12) at Lafayette County: Junction City lost to Camden Harmony Grove, 39-0, in David Carpenter's return to the Dragons' sideline. Lafayette County to Gurdon 55-20 in game that ended with a running clock.

DIERKS (7) at Horatio: Dierks (1-0) slipped past Fouke, 29-27, and Horatio defeated Foreman, 32-24. Dierks leads the series, 11-7.
Smackover at EPISCOPAL (14); Episcopal dominated Decatur 47-0 last week. Senior QB Gray Lee completed 4 of 6 passes for 108 yards and 2 TDs. Sophomore Jacob Katz threw 2 passes for 16 yards late in the game. Freshman Kollin Robinson rushed 7 times for 144 yards and 3 TDs. Senior Jack Harbour returned a punt 81 yards for a TD. Smackover beat Class 4A Mayflower (24-21) last week.
OPEN: Prescott
6-3A
No. 7 RISON (1) at Bismarck: See summary in 4-3A matchups.
FORDYCE (14) at Magnet Cove: See summary in 4-3A matchups.
Lake Village at Class 4A HAMBURG (20): Hamburg lost at Ashdown, 28-13, while Lake Village lost 41-6 to Haskell Harmony Grove.
Barton at Class 2A CLARENDON (28): Barton is coming off 28-16 loss to Class 4A DeWitt; Clarendon defeated Helena, 40-14. Barton has 22 players. Senior RB Jordan Thomas and junior QB
Conner Wilson played well for Barton against DeWitt.
Drew Central at Class 4A MAYFLOWER (2): Sophomore WR Tramond Miller (6 catches, 116 yards, 2 TDs) led Drew Central's offense in its 42-22 season-opening win over Bearden. Tre'Bennett Fuller (12 tackles, 2.0 TFL) led Drew Central's defense. Junior Gabe Butcher had 90 yards total in kick
returns.
Dollarway at Class 5A TEXARKANA (6): Dollarway lost to Boonveville 36-6; Texarkana fell to Watson Chapel 48-0 in Trey Outlaw's debut as the Razorbacks' head coach.  Junior RB Jayvian Cain led Dollarway with 60 rushing yards. Senior QB D'Marion Wallace completed 3 of 4 passes for 88 yards and a TD. Dollarway escaped with no injuries.
Class 4A HARDING ACADEMY (7) at No. 5 Camden Harmony Grove: Camden Harmony Grove beat Junction City, 41-6 last week. Hading Academy has won two of the past three in this series. Harding sophomore QB Owen Miller passed for 394 yards in last week's 16-point win at Class 5A Valley View.