Class 3A Week 1 Rankings, Notes and Picks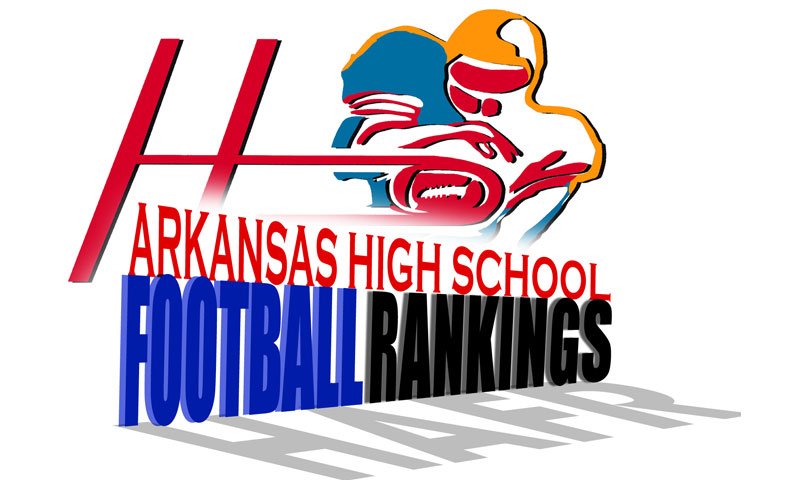 Hootens.com Rankings
Class 3A, Week 1, 2017
Copyright Hooten Publishing, Inc.
1. Prescott
2. Charleston
3. Junction City
4. Harding Academy
5. Rivercrest
6. Glen Rose
7. H. Grove Haskell
8. Clinton
9. Piggott
10. Fordyce
11. Newport
12. Smackover
13. Bald Knob
14. Atkins
15. Elkins
16. Jessieville
17. Mayflower
18. Cedar Ridge
19. Hoxie
20. Mansfield
21. Centerpoint
22. McGehee
23. Mountain View
24. Lamar
25. Melbourne
26. Osceola
27. Fouke
28. Barton
29. Greenland
30. Walnut Ridge
31. Paris
32. Gurdon
33. Marshall
34. Manila
35. Perryville
36. Genoa Central
37. Horatio
38. Episcopal
39. Drew Central
40. Green Forest
41. Marianna
42. Cedarville
43. Rose Bud
44. Lake Village
45. Two Rivers
46. Corning
47. Yellville-Summit
48. Bismarck
GAME OF THE WEEK
No. 1 Prescott vs. Class 2A No. 6 Hampton
This is the fourth and final game of the Arkansas Blue Cross and Blue Shield Kickoff Classic, set for 7:30 p.m. Tuesday, Aug 29 at SAU in Magnolia. Hampton, last year's Class 2A state runner-up, is still stinging over title game loss to Mount Ida with five touchdowns negated by penalties. The returning Bulldogs are determined to prove they were not a one-man (Farm Bureau Insurance Awards 2A Offensive POY Monta' Thomas) team in 2016. Prescott captured the 2016 Class 3A title, the fifth state crown in school history. The Curly Wolves may be even better in the trenches this year. Farm Bureau Insurance Awards 3A Offensive POY (quarterback) Derrick Flynn has departed, but senior QB and future surgeon Cade Haynie (4.0 GPA, 34 ACT) can throw the football. Prescott welcomes Gurdon transfer Thomas Muldrow (2,245 total yards with 19 TDs in 2016).
TV LAND
Hooten's Arkansas Football airs 10:30 a.m. Saturdays on KATV (ABC Little Rock) Channel 7, covering the Razorbacks, high school teams and players to watch. Fountain Lake quarterback Stephen Turner receives the prestigious Arkansas Air Guard Scholar Athlete of the Week award on this Saturday's show.
LAST SEASON
Hootens.com correctly predicted 237 of 300 winners (79 percent).
WEEK 1 PREDICTIONS (favored team in CAPS followed by point spread)
1-3A
Clinton at HEBER SPRINGS (2):
Clinton handled Class 4A Heber Springs 28-20 in last year's Battle of the Lil' Red River, and Clinton eventually shared the 1-3A title. Landers Auto Group Super Team tackle Hunter Passmore (6-0, 230) sports light feet and a high football IQ. Eight Clinton starters return, and its sophomores won consecutive conference titles in junior high. Clinton dresses 36 players, but just five seniors this fall.
Elkins at SHILOH CHRISTIAN (10):
Elkins lost last year's opener to Class 4A Shiloh 35-22 but regrouped to win nine of its final 11 games and first league title since 1993. Elkins receiver Layne Evans (5-10, 155) made 41 catches for 641 yards and five TDs as a junior. Sophomore Quinn McClain (6-2, 180) quarterbacked the 8-2 junior high to a conference title before promoting to varsity the final four games. Two of Shiloh's three losses in 2016 came to Class 4A runner-up Pea Ridge, including a 30-24 thriller in the state semifinals.
Salem at MOUNTAIN VIEW (7):
Mountain View looks for its fourth straight victory over Class 2A Salem. The Yellowjackets scored three TDs in the first quarter of last year's 20-0 decision. Mountain View dresses 28 players Week 1 after a productive summer.
West Fork at GREENLAND (6):
Greenland whipped its rival neighbor and Class 4A West Fork 28-8 Week 1 last year, but the Pirates ended 2106 on a three-game losing skid.
Corning at MELBOURNE (17):
The Bearkatz crushed Corning 49-16 a year ago en route to their third playoff appearance in four seasons. Melbourne chases its first conference title in program history (launched in 2012) this fall. Corning rides a 22-game losing skid, going winless four times since 2009. The Bobcats dress 34 players this fall.
Huntsville (18) at Green Forest:
Huntsville rides a three-game win streak over Green Forest (33-13 average margin). Green Forest dresses 33 this fall with starters back at 11 positions.
HECTOR (21) at Marshall:
Hector manhandles Marshall (31-point margin past three years). Marshall lost four games by six points or less last year. The Bobcats likely start sophomore Isaac Ragland at quarterback after showcasing the ability to run and throw the ball during the summer.
2-3A
Highland at HARDING ACADEMY (6):
Class 4A Highland avenged a 43-6 loss to Harding in 2015 with a 30-26 victory last year. Harding expects to dress 39 players.
DES ARC (3) at Bald Knob:
Bald Knob owns a three-game win streak over Class 2A Des Arc, including 41-30 last year. Bald Knob will dress 33 players, after one contributor a defensive starter quit. Junior all-state linebacker Hunter Woodle (6-0, 180) excelled in the off-season.
BROOKLAND (3) at Cedar Ridge:
Class 4A Brookland has won the past two meetings, including 40-29 last year. Expectations are high at Cedar Ridge with 32 players on its roster and starters back at 16 positions (nine on offense). Junior receiver/defensive end Bryce Brokaw (6-3, 180) moved to Cedar Ridge from Batesville in June. "This is by far the most dedicated group we have had," Coach Danny Brustrom says.
Mayflower vs. CAC (9) (Tue.):
Class 4A CAC mauled Mayflower 48-27 Week 1 last year. Mayflower fourth-year coach Todd Langrell plans to dress 34 players, including all-state running back Deon Simmons (5-7, 155; 4.5 speed).
Marvell at BARTON (10):
Barton dominates this series, winning three straight by a 53-11 average. Coach Clark McBride, a former Wynne assistant, takes over tradition-rich Barton and succeeds Van Paschal (53-29 at Barton), who left for Class 5A Wynne. Class 2A Marvell dresses 22 players Week 1.
Rose Bud at QUITMAN (7):
Quitman has won the past two meetings, including 48-6 last year. Each school debuts new coaches. Rose Bud welcomes Chris Norton, formerly of Lake Village and Marvell, to succeed Michael Perez. Class 2A Quitman hired D.J. Marrs in May after Brian Narretto left for Greenbrier. Rose Bud dresses 24 players Week 1 after forfeiting most of 2016 due to low numbers. The Ramblers lean on two-way linemen Hunter Brown and freshmen Jakob Parks and Canton Moody. Rose Bud last won Week 10, 2015 against Barton.
E. POINSETT COUNTY (12) at Marianna:
EPC expects to dress 26 for the opener, which was originally Augusta before it cancelled its varsity season last week. EPC all-league RB Eric Driver likely touches the football 25 times a game this fall. Driver has moved from cornerback to linebacker and proven to be a superb tackler. EPC junior Andrew Harston (4.7 speed), a transfer from Rivercrest, takes over at QB.
3-3A
GOSNELL (7) at Newport:
Both teams won league titles in 2016. Class 4A Gosnell topped Newport 20-14 in last year's opener, but Newport returns all-conference linebacker brothers Oshae (93 tackles in 2016) and Julius Pruitt (260-pound bench press).
Paragould at RIVERCREST (1):
Class 5A Paragould has won two of past three meetings, ripping Rivercrest 44-6 last season. The Class 5A Rams will dress just 30 players.
Hazen at PIGGOTT (10):
Piggott won 20-6 last season en route to a 9-3 finish. Piggott lost two one-point games during the regular season before getting blown out by state champ Prescott in second round of the playoffs. Pumped-up Piggott dresses 37 players. Class 2A Hazen promotes talented sophomore QB Blayne Tull and enjoys speed at the skill positions.
BLYTHEVILLE (10) at Osceola:
Class 5A Blytheville outscored Osceola 131-18 the past three years. Osceola looks to rebound from its worst season since 1985 under first-year coach Robert Hooks. The Seminoles dress 33 players Week 1.
Hoxie at TRUMANN (14):
Class 4A Trumann won the past two meetings, including 34-0 last year. Hoxie looks to recover after its worst record since 1998, when the Mustangs finished 1-9. Hoxie expects to dress 48 players Week 1. The Mustangs trained to be more physical on the lines this summer.
Manila at JONESBORO WESTSIDE (2):
Manila won the last two meetings by a combined 33 points. The Lions totaled 11 wins the past two years, more than the previous seven seasons combined (nine wins from 2008-2014).
WALNUT RIDGE (14) at Poyen:
Walnut Ridge pounded Class 2A Poyen 38-6 last year and travels 436 miles for another win. Walnut Ridge advanced to the playoffs last November before losing on a controversial finish at Paris. Poyen senior receiver Michael Goodman (6-6, 165) performed well in 7-on-7 camps this summer.
4-3A
CHARLESTON (3) at Dardanelle:
Charleston downed Class 4A Dardanelle 36-23 in 2016. The Tigers hunt their 13th league title since 2000 behind senior all-purpose player Sean Michael Flanagan (4.4 speed). Flanagan committed to Arkansas in June. Junior Brayden Caudle likely starts Week 1 at quarterback.
PARIS (13) at Yellville-Summit:
Paris routed Yellville-Summit 50-12 in last year's opener. Coach Bryan Hudson returns to Paris, where his teams posted a 49-37-2 record from 2007-2014. Lucas Morris debuts at Yellville-Summit after coaching at West Memphis West Junior High.
ATKINS (2) at Dover:
Class 4A Dover outscored Atkins 43-14 annually the past three years. Atkins dresses 28 players Week 1.
Clarksville at LAMAR (1):
Lamar won two of the past three meetings, but Class 5A Clarksville celebrated a 24-19 decision a year ago. The Warriors receive a boost from an 8-1 junior high conference champion class.
Mansfield at WALDRON (7):
Class 4A Waldron whipped Mansfield 45-0 a year ago, snapping a 10-game losing streak in the series. Mansfield's offense goes behind sophomore QB Ethan Stovall and senior receiver Brennon James. Mansfield last made the playoffs in 2011.
Bigelow at PERRYVILLE (3):
Two schools separated by 12 miles in Perry County. Class 2A Bigelow won last year's meeting 14-7. The Mustangs return starters at 16 positions, with four seniors on both lines. Senior Billy Swafford starts his third year at center.
MOUNTAINBURG (21) at Cedarville:
Class 2A Mountainburg has won the past two meetings between the schools, including a 35-0 win last year. Cedarville lost three games by eight points or less in 2016, while Mountainburg has averaged seven wins a year since 2010.
DANVILLE (35) at Two Rivers:
Class 2A Danville advances to 2-0 in 2017, ruining the grand opening of Two Rivers' new football complex. The Gators played every game on the road a year ago after army worms destroyed their turf.
5-3A
PRESCOTT (10) vs. Hampton: See Class 3A Game of the Week.
Glen Rose at MALVERN (1):
Glen Rose mauled Class 4A Malvern 36-13 last year for its first win in the series since 2007. The Beavers shift senior receiver Jarred Rogers to QB in the absence of promising sophomore J.T. Towers. Glen Rose's two losses last year came to the Class 3A finalists, Prescott and Charleston.
H. GROVE HASKELL (16) at Bauxite:
Harmony Grove Haskell boxed Class 4A Bauxite 49-17 last year in the Saline County Showdown. Haskell dresses 43 players Week 1 and Mark Dixon, Logan Whitley, Garret Gregory, Jason Caple and Mason Massey led by example this summer. Bauxite switches to the Dead T and has lost 12 straight games.
Murfreesboro at CENTERPOINT (3):
Centerpoint moves forward after the best two-year run in school history (17-8). All-time leading passer Keenan Owens departs, but junior Owen Bright threw the ball well last year, which included a starting role in a 14-7 playoff win over Clinton. Senior Oscar Flores earned All-5-3A honors a year ago on the defensive line.
Lafayette County at GURDON (9):
Gurdon has won six straight in this series, last losing in 2009. Gurdon's starting QB transferred in the spring, but the Go-Devils return four starters on the offensive line.
JESSIEVILLE (24) at Mountain Pine:
Mountain Pine, with 26 varsity players, could be the turnaround team in Class 2A with Lake Hamilton transfer Dafavion Haywood and talented sophomore Collin Smith in the backfield. Senior end Matt Herron anchors the defensive line. Mountain Pine, which forfeited eight of its 10 losses last year, owns one victory over the past five years. Jessieville is bolstered by Springdale Har-Ber transfer and  senior Oliver Nasilai, a BYU commit.
HORATIO (1) at Dierks: L
ot of unknowns here. After 16 years of stability under former HC David Bennett, Class 2A Dierks enters 2017 with its third head coach in three years. Ditto for Horatio, picked near the bottom of the 5-3A by league coaches. Dierks won last year's meeting 27-20, but underrated QB Zach Izzo returns for Horatio.
Bismarck at SPRING HILL (15):
Class 2A Spring Hill improves on offense with the return of senior quarterback Payton Massanelli (broken leg in 2016), who burned Bismarck in the 2016 opener by rushing for 146 yards and seven touchdowns.
6-3A
Smackover vs. Class 2A No. 3 CAMDEN HARMONY GROVE (6):
Teams meet in the Arkansas Blue Cross and Blue Shield Kickoff Classic presented by hootens.com 5:30 p.m., Aug. 29 at SAU. First-year head coach Mike Baysinger has demanded discipline and intensity at Class 3A Smackover, and the Buckaroos have defensive playmakers in senior NG Hunter Goocher and junior CB Jaqueze Modica. Third-ranked Camden Harmony Grove opens the season without senior flanker Jace Garcia and all-league RB Jordan Hicks, but the junior pass-catch combination of QB Gannon Bearden and Kentrell Hill (6-2, 190) will test Smackover's talented secondary.
FOUKE (28) at Mineral Springs:
New Mineral Springs HC David Bennett, a former DC at Murfreesboro and head coach at Dierks, is very familiar with the team speed at Mineral. That includes 4.5 speedster DeShawn Compton at running back. Fouke boasts two all-state senior running backs in Charley Baker and Jarret Easley.
RISON (5) at Fordyce:
Fordyce should dress 26 players and start three freshmen linebackers and two sophomore defensive backs. Senior Ketric Sledge has shifted from QB to fullback, while senior Billy Ferrell (6-4, 325, 5.0 speed) can line up at either tackle or end slots on defense to combat teams running away from him. Class 2A No. 2 Rison features junior all-league RB Malik Chavis (6-2, 180, 4.4 speed) running behind senior linemen Jared Wilson (6-0, 210) and Ronnie Baumer (5-11, 280).
Bearden at JUNCTION CITY (9):
Junction City welcomes back native son Steven Jones as head coach. While Jones tweaks offensive schemes, the defense stays the same, led by senior lineman Brock McGoogan, all-state senior linebacker Terrell Gibson and a speedy secondary. Class 2A Bearden replaces four offensive linemen, but All-8-2A senior left tackle Gage Word, senior LG Jared Vaughan and sophomore center CJ Quarles proved solid in preseason camp. All-state senior QB/S Tyler Berry may be the Bears' most physical player. Senior Bobby Barker, a reserve in the past, has emerged at running back and linebacker as a probable two-way starter.
Hermitage at LAKE VILLAGE (12):
Lake Village hands new coach Chris Williams a season-opening victory over Class 2A Hermitage, which did not field a team last year but should dress 14 players for the opener.
MCGEHEE (14) vs. Baptist Prep (Tue.):
McGehee rolled Class 4A Baptist Prep 35-7 a year ago. McGehee boasts experience at QB (Cory Smart), wingback (Devonta Haynes) and tight end (Ricky Morgan). McGehee seeks its first league title since winning consecutive crowns in 2011 and 2012.
GENOA CENTRAL (12) at Foreman:
Genoa Central's four wins in 2016 were the most in the school's seven years of varsity football. The Dragons won last year's meeting 35-21, and Class 2A Foreman graduated 2,745 rushing yards in May. Genoa Central looks forward to a healthy year of senior QB Bo Jewell, who earned all-conference honors as a sophomore.
DREW CENTRAL (3) at Episcopal:
Coach Michael Carter (48-24 at Conway Christian) succeeds Richie Marsh at Episcopal. Marsh coordinates the defense this fall. Opponents outscored Episcopal 50-9 last fall. Drew Central tries to end a 16-game losing streak, last winning Week 4, 2015 (42-28 over Lake Village). Veteran coach Mike Cox, father of second-year coach Rob Cox, will coordinate offense for Drew Central.