HOGS: OC Craddock praises linemen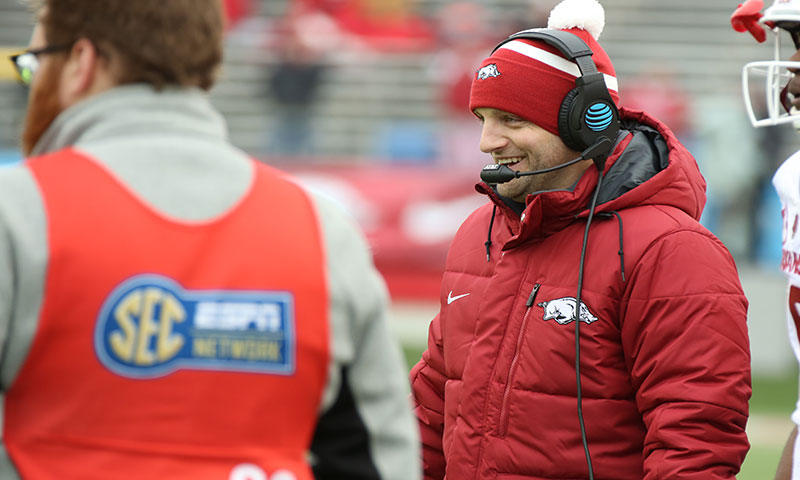 FAYETTEVILLE - Completely closed from the media while practicing Thursday and Friday, the Razorbacks continue their final preseason week.

Sophomore linebacker Grant Morgan of Greenwood was asked after Wednesday's hard practice in pads if time drags before game week starts Sunday for the 3 p.m. opener Sept. 1 at Reynolds Razorback Stadium against Eastern Illinois.

"No," Morgan replied. "I think a lot of players are trying to focus one day at a time. I know a lot of people think we're two weeks away from the game, but for us we are looking at tomorrow. We have a recovery walk-through day, and I think we are going to come into it mentally focused."

E. ILLINOIS ARKIES
Eastern Illinois of the Ohio Valley Conference is Arkansas' lone lower tier (Football Championship Subdivision) opponent, but the matchup will likely have more Arkansans vs. Razorbacks emotions than any Coach Chad Morris' Hogs play this season.

EIU coach Kim Dameron, a former Razorback defensive back and wide receiver lettering for Lou Holtz from 1979-82 and the son of a coach while growing up in Harrison, Rogers and Bentonville, has recruited hard in his native state.

Just from Camden alone, Dameron has Camden Fairview alums Jonathan McCoy, a freshman tight end; and defensive backs Corneliuss Page, Iziah Gulley, both variously starters last season.

The EIU roster also includes defensive back Jordan Jackson of Blytheville, Sylvan Hills grad safety and EIU freshman Darius Waddell of Sherwood; freshman defensive lineman Davion Moore of North Little Rock and redshirt freshman safety Marcus Bornslater of Crossett.

ADCOCK REBOUNDS
Media noticed Tuesday that redshirt freshman left guard Kirby Adcock of Nashville was singled out to do updowns because he jumped offsides.

However, Adcock also was singled out positively for performance last week by offensive coordinator Joe Craddock.

"Kirby Adcock has been getting some reps in there and done some really good things," Craddock said. "One of the things I've noticed about Kirby since the spring is he has gotten a lot more confidence. He was one of the guys I had to refocus yesterday (Tuesday), but he really responded today and had a good practice. He has done a really, really good job at this point and looks a lot differently physically. Mentally he understands a lot more what we're trying to do than in the spring."

Adcock has been getting pushed at left guard by former defensive tackle Austin Capps, the junior from Star City moved to offense during the August preseason as the injury bug repeatedly bit the offensive line.

COLORADO ST. ON TV
Arkansas fans can get two TV previews of the Colorado State Rams before Arkansas kicks off its season.

The Rams, of the Mountain West, play host to the Razorbacks in a Sept. 8 non-conference game at 6:30 p.m. (CDT). CSU plays host to Hawaii at 6:30 p.m. Saturday, then travels to Colorado for an 8:30 p.m. kickoff Friday, Aug. 31, also televised on the CBS Sports Network.

The Rams of Coach Mike Bobo, the former Georgia offensive coordinator for former Georgia coach Mark Richt, just returned to coaching the Rams after being hospitalized since Aug. 11 for neuropathy numbness in his feet. Bobo begins his fourth CSU season off consecutive 7-6, 7-6, 7-6 campaigns.