Hogs: Optimistic Bielema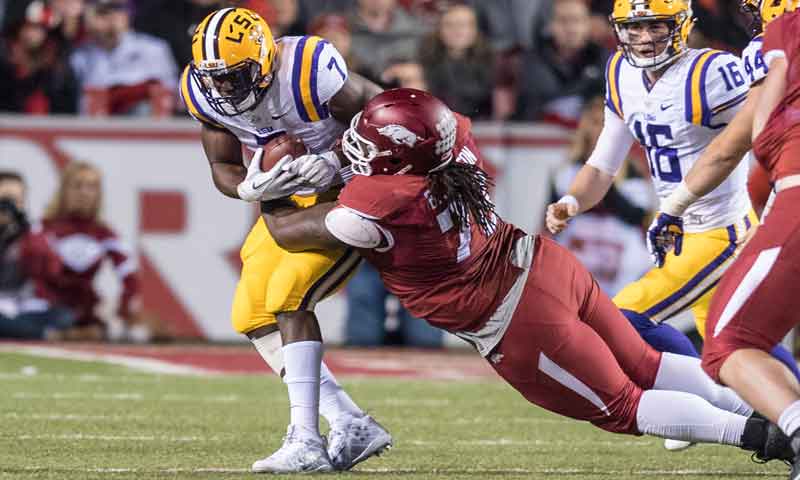 SPRINGDALE - Fittingly, Friday's annual Kickoff Luncheon at the Springdale Holiday Inn's Northwest Arkansas Convention Center began with emcee Chuck Barrett's tribute to Frank Broyles and a moment of silence honoring him.
Broyles, who died Monday at age 92, is a member of the college football coaches and athletic director halls of fame after coaching the Razorbacks to seven Southwest Conference championships and one national championship in his 1958-76 Arkansas coaching tenure. Broyles fashioned the program into an all-sports powerhouse as athletic director from 1973-2007, including the transition from the faltering SWC to the mighty SEC.
A public celebration-of-life memorial service for Broyles is set for 2 p.m. Saturday at Walton Arena.
"Coach Broyles talked so often about the difference-makers in the program," Barrett said. "The truth is, and we all know this, he  was the unparalleled difference-maker. And there will never be another one like him. We will miss his charm and his passion, but his spirit will live on in every Hog call that we hear from this point on."
BIELEMA ON PRESENT, FUTURE
As for the Razorbacks' present and future, Coach Bret Bielema paid tribute to his team, saying it has grown after finishing a 7-6 season in 2016 by blowing 24-7 and 24-0 halftime leads and losing 28-24 and 35-24 in the SEC finale at Missouri and in the Belk Bowl to Virginia Tech.
"When people talk about expecting something from a team that nobody is talking about," Bielema said, "I'm betting on the Razorbacks. I like where we're at. I really do. I'm excited. And I think for those reasons you should be excited, too."
Bielema explained his optimism.
"We played two games at the end of the year that didn't go our way that were very upsetting," Bielema said. "Our guys didn't run away from it. It's been in our hearts daily."

They responded immediately, Bielema said, from the winter off-season through preseason practices.
The 105-man roster expands to 120 with Monday's start of UA fall semester classes, marking the final full practice week before the Aug. 31 season-opener against Florida A&M at War Memorial Stadium in Little Rock. TCU visits Reynolds Razorback Stadium on Sept.9 followed by an open date before the Hogs open SEC play Sept. 23 against Texas A&M at AT&T Stadium in Arlington, Texas.
"Spring, off-season and preseason, we've had a great ride," Bielema said Friday. "But that ride is done tonight. Now we focus on game week, a Thursday night game against FAMU in Little Rock that will be awesome. And then we jump into playing TCU. We have a bye week before we play A&M, and we traditionally do well against our next opponent after a bye week."
Arkansas topped TCU of the Big 12 last year in double overtime in Fort Worth. Texas A&M (5-0 in SEC West football vs. Arkansas) and  Arkansas are old rivals from SWC days.
"I can't wait to play TCU," Bielema said, "and then we go down to Jerry's World and play for a man going into the Hall of Fame against a team we haven't beaten. That's very much on our mind."
COORDINATORS, CAPTAINS SPEAK
Arkansas offensive coordinator Dan Enos and defensive coordinator Paul Rhoads addressed Friday's luncheon as did Arkansas' four captains: Senior starting quarterback Austin Allen of Fayetteville, senior center Frank Ragnow of Victoria, Minn., senior defensive back Kevin Richardson of Jacksonville and fourth-year junior defensive back Santos Ramirez of Shreveport, La.
With the entire coaching staff and most of the team attending Saturday's memorial service, the Razorbacks will use Saturday as their NCAA mandated off day and will practice Sunday, normally their preseason off day.

Once the typical Saturday game-week routine begins, Bielema's Razorbacks traditionally are off Mondays and conduct a light workout on Sundays with a Tuesday hard practice while accelerating preparations.