HOGS: Notes from a wet-ball Tuesday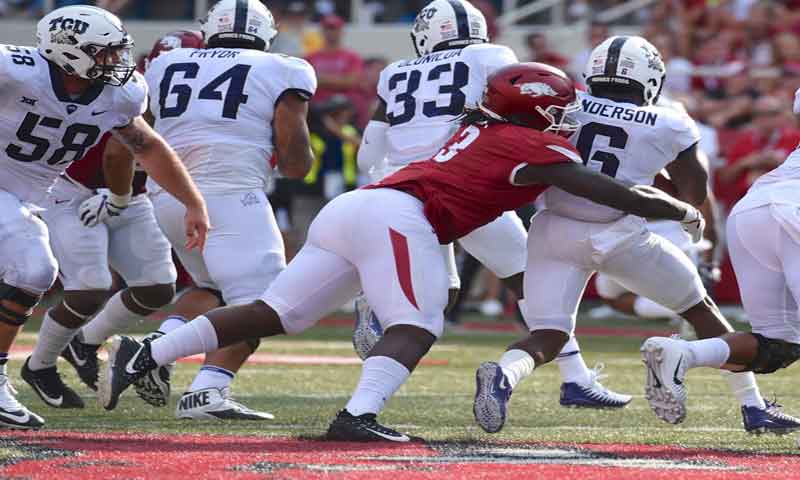 FAYETTEVILLE - The Razorbacks practiced outside in Tuesday's rain but not because Arkansas coach Chad Morris was punishing them more for Monday's sluggish start.
In his first meeting with media since the Razorbacks scrimmaged Saturday and practiced Monday, Morris explained his ire Monday, the team's response and the benefits of Tuesday's wet-ball practice.
"I thought yesterday our energy level was extremely low," Morris said after Tuesday's practice. "That's not our style, not what we're about. So I challenged them really hard yesterday. My message was, 'You either push or I will.' I had to push a little bit yesterday, but that's OK. They responded well today, and I was excited about that. Much better energy today."
HOGS IN SLOP
Apparently they responded like Hogs in slop, just as Morris hoped under the weather conditions. He said back in May he scripted a wet-ball practice for an August deluge.
"Today was a big wet-ball drill all day long," Morris said. "The only disappointment was it let up on us at the end. I was wishing it would have rained a little harder and a little longer.  But guys responded. That was good stuff able to let those quarterbacks handled the wet ball and the running backs handled the wet ball."
Morris called the ball security "decent." 
"I think there might have been one that got on the ground today," Morris said, "but I was more concerned with how the centers (senior first-teamer Hjalte Froholdt and sophomore second-teamer Dylan Hays) were going to get the (shotgun) snaps to the quarterback, and I thought we did some good things there."
PATTON'S GOOD NEWS
Media during the first 20 minutes of practice allowed for their viewing saw senior tight end Jeremy Patton helped off the field during Monday's practice but were told Tuesday that the leg injury shouldn't sideline him a considerable length.
"We actually had some good news on Jeremy," Morris said.  "It's a bruise and Jeremy will be back.  Hopefully we get him back in the next week or so, but we'll see."
WALLACE RETURNING
Senior starting right tackle Brian Wallace, withheld from the scrimmage and Monday's and Tuesday's practices, should resume drills Wednesday, Morris said.
AGIM ON SECOND UNIT
With junior defensive end McTelvin "Sosa" Agim  (in Craven Whitlow photo) practicing at defensive tackle after junior defensive tackle Austin Capps moved to backup left guard on the injury beleaguered offensive line, reserve linebacker Alexey Jean-Baptiste practices at defensive end behind Randy Ramsey, Gabe Richardson, Michael Taylor and junior Jamario Bell of Junction City.
Agim, generally deemed Arkansas' best defensive lineman, actually worked second team while getting reoriented to playing tackle. Agim played there as a freshman in a 4-3 scheme the Hogs will use again the fall under new defensive coordinator John Chavis.
Hard to imagine Agim staying second-team for long.
"He's disruptive and quick and getting off blocks," Morris said.
But the coach said defensive tackles T.J. Smith and Armon Watts, seniors running first-team at the D-tackles, and sophomore Jonathan Marshall have impressed.
Sophomore reserve defensive tackle Briston Guidry is practicing after missing the first two preseason weeks with an ailing back.
"We've got to get a little more out of him," Morris said. "Hopefully, he'll start coming on and getting himself back into playing shape."
FRESHMAN FLASHES
Also on defense, Morris lauded true freshmen Bumper Pool, practicing second-team behind senior Dre Greenlaw at weakside linebacker, and defensive backs Joe Foucha and Myles Mason.
QB STILL TOSSUP
In reply to a question, Morris answered that film of Saturday's scrimmage confirmed his initial postscrimmage assessment that junior Ty Storey and sophomore Cole Kelley remain in a dead heat for the starting quarterback job.
"Watching the film, I thought Ty came out and did some really good things early on," Morris said. "He was in control, and I am very pleased with him running the offense. As the scrimmage went on, I think Cole picked up and did some good things as well, maybe not start as quickly as we wanted, but I think we saw some good things at the finish."