Hogs: senior RT Skipper welcomes shuffle, depth up front; freshman fullback wows; notes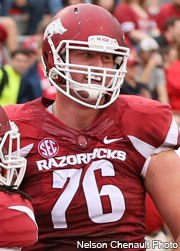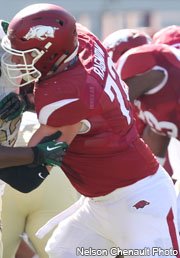 JUNIOR C FRANK RAGNOW
FAYETTEVILLE - In the offensive line carousel to find starters and backups, graduate transfer Jake Raulerson opened Saturday's practice at first-team right guard, while sophomore Zach Rogers practiced at backup center after working Thursday as first-team right guard. 
Johnny Gibson, the third-year sophomore from Dumas, took one turn at first-team right guard early Saturday.
The remainder of the first-team line included junior guard-turn-center Frank Ragnow, sophomore defensive convert Hjalte Froholdt at left guard, redshirt freshman Colton Jackson of Conway at left tackle and senior 3-year starter Dan Skipper at right tackle.
Redshirt freshman Jalen Merrick worked at No. 2 right guard with Raulerson elevated and Rogers moved to center. Sophomore Brian Wallace and new junior college transfer Paul Ramirez work at backup tackles.
Before Saturday's practice was over, Skipper, one of the players available to media after practice, Ragnow and others lined up at right guard, while Raulerson worked some at center.
"We are just trying to find our best five," Skipper said.
It's a notable shift from last year when departed center Mitch Smothers,  left guard Sebastian Tretola and left tackle Denver Kirkland and Skipper and Ragnow started and played the bulk of every game together, but all this shuffling could help later, Skipper said.
"At any point, you're a snap away from being a guy down," Skipper said.  "So it's almost advantageous to have fluidity now, so you don't freak out if someone goes down." 
FROSH FULLBACK OVERWORKED
Media constantly ask about heralded freshmen like defensive end McTelvin Agim and running back Devwah Whaley, but on Saturday offensive players talked more about fullback Hayden Johnson (6-3, 248) of Columbia, Mo.
"Hayden has shocked everyone," Skipper said. "He's taking dang near every rep from ones, twos, everything in there. It's really impressive to see a guy stepping into a role. The only true fullback in camp, and he's taking that and running with it."
Skipper explained Johnson's tasks aren't easy.
"He's been here three months and today was his first day in pads. He's asked to do a bunch of stuff, because our offense isn't exactly simple for a fullback," Skipper said. "For him to just be plugged in and go knock heads, that's pretty impressive."
So he expects Johnson to contribute immediately? "I mean, he has to," Skipper said, laughing. "Right now he's fullback one."
The past five years, Kody Walker, granted a sixth year because he missed the bulk of three seasons with injuries, would have helped with the fullback load, but he's been slimmed from last year's 265 to 240 as a full-time tailback.
Walker loves being a full-time tailback but admitted feeling Johnson's fullback pain.
"Being one of the only fullbacks it's tough for him," Walker said of Saturday's more fullback-oriented practice. "We had a big day of 21 personnel with fullback and I told him, 'It's not going to be like this every day, but you have got to pull through.  He's been doing good." 
WALKER FOOTING BILL
Walker says he, too, "is doing good," and that his broken foot from spring ball has healed.
"I squatted 700 so it's doing good," Walker said. "Cutting this weight down is going to help me with my injuries."
Walker bragged on his bulk when he was a fullback/tailback last year, but says he's much quicker with the weight loss and by his 700-pound squat still strong, too. 
MORGAN COMPARES ALLENS
Despite a spring and summer of fourth-year junior Austin Allen as Arkansas' starting quarterback, media continue to ask players and coaches to compare Austin with older brother Brandon, Arkansas' starting QB the last three years.
Drew Morgan, the fifth-year senior receiver from Greenwood, offered a refreshing take.
"I think Austin thinks 'I am the younger brother, but I've got the better arm,'" Morgan said. "He's competitive. I have a younger brother (freshman linebacker Grant Morgan), too, on this team but thank God he is not a receiver."
The Razorbacks hold their annual media day Sunday then resume practice in half pads Monday before going full pads Tuesday for the first time this preseason.