Hogs: South Carolina transfer RB chasing Whaley; Cornelius slow with sore back, more notes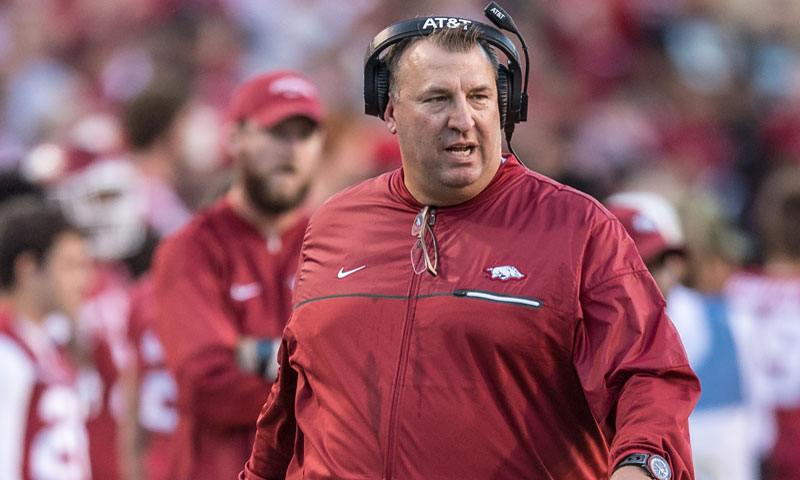 FAYETTEVILLE

-  It's not the hamstring that caused senior receiver Jared Cornelius to miss the final week of spring practice but a sore back now plaguing the Razorbacks' leading returning receiver.
As a precautionary measure, Cornelius (32 catches for 515 yards in 2016) will be limited the first 10 days of preseason drills, Coach Bret Bielema says.
The coach seems convinced that Cornelius (5-11, 212) will be ready for the Aug. 31 season opener against Florida A&M in Little Rock.
"It's a blessing in disguise because it lets us look at the other guys," Bielema says.
The other guys totaled just three catches last season and need extensive evaluations since Keon Hatcher, Drew Morgan and Dominique Reed graduated.
David Williams, the graduate transfer running back and former South Carolina Gamecock, isn't immediately ousting sophomore returning leading rusher Devwah Whaley (75 carries, 602 yards and three touchdowns).
But Williams (794 yards rushing and 27 catches over past three seasons at South Carolina) ran co-first-team with Whaley during practice with no pads Thursday and Friday.
It's Whaley and Williams sharing first-team practice snaps while true freshman Maleek Williams, a December high school graduate who practiced with the Razorbacks in spring, and true freshman Chase Hayden splitting second team snaps.
"We divided the script ones and twos," Bielema says. "Because at running back we ask them to finish 25 yards each play. We thought it would be good to stay with David and Devwah with the ones. (Devwah) knows exactly what he's doing and we could control the reps with David, Maleek and Chase. Maleek knew our entire offense from participating in the spring. We wanted to space him in there. It's not that David is a one necessarily."



RHOADS LAUDS START


Defensive coordinator Paul Rhoads says the mandatory helmets without pads practices proceeded well.
"Energetic, coachable at this point, which is things that you like as you start off," Rhoads says. "Two days, helmets only I'm certainly pleased with how we've started."



CAPTAIN OF DISCRETION


Being a captain demands leadership but common sense, too.
When sophomore left tackle Colton Jackson of Conway (6-5, 298) and sophomore defensive end McTelvin "Sosa" Agim (6-3, 286) from Hope "skirmished" during Friday's practice
, defensive back Kevin Richardson stepped in as a vocal but not physical captain.


"Those guys Sosa and Colton, it's kind of hard with bodies that big," Richardson says. "But I do what I can to motivate them to stop. I can't physically do anything. It might require some different language, but I do what I can to make them stop."
Richardson of Jacksonville was asked if he would apply to the NCAA for a sixth year eligibility in 2018. He redshirted as a true freshman walk-on and played only one-half in 2016 before tearing pectoral muscles in last season's opener against Louisiana Tech.
"If I got it, I'll take it," Richardson said. "That's a year that passed me by that I would take back if I can. But I'm going to take advantage of what I have right now."



JUNIOR CAPTAIN RAMIREZ


Fourth-year junior safety Santos Ramirez joins seniors Richardson, quarterback Austin Allen and center Frank Ragnow as team captains.
Rhoads says players elected Ramirez, who was second team last spring to 2015 starter Josh Liddell, because of his "consistency."
"He earned the No. 1 spot by his level of play, by doing things right and being productive," Rhoads says. "Everybody saw a guy that had a great demeanor every day on the practice field. Everybody saw a guy that was chattering on the field, communication-wise and talking to his teammates in the locker room and in the meeting room."



LIDDELL RESPONDS POSITIVELY


Rhoads also says that senior Liddell of Pine Bluff Dollarway continues battling Ramirez without pouting and additionally backing up Richardson at nickel.
"He's responded like a senior," Rhoads said. "Like a young man of high morals and high character, which he is. With Josh's intelligence, we're able to play him at both spots right now. There's not a bat of an eye of how he's reacted any way other than positive."



MILLER, MORGAN ON HOLD


Safety Reid Miller and Greenwood linebacker Grant Morgan are battling for backup positions but also competing with each other to hold for place-kicks.
The Razorbacks wear shoulder pads and shorts for practices today and Monday after Sunday's mandated off day. The put on full pads Tuesday.