Hogs: QB Allen, OC Enos praise new receivers, running backs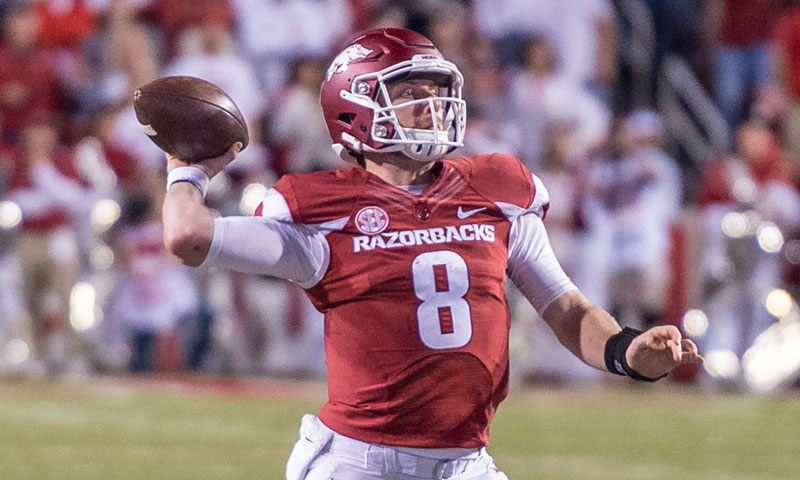 FAYETTEVILLE

-  With senior mainstay receiver Jared Cornelius' ailing back omitting him from the 105 Razorbacks currently practicing, opportunity knocks for a receiving core that last year relied almost totally on Cornelius and four since graduated seniors.

Smackover's Jordan Jones, who apprenticed last year as a redshirt freshman, apparently answers opportunity's knock.
"Jordan Jones has had three days and I think he's had four touchdown catches on deep balls," offensive coordinator Dan Enos says. "He's really flashed and shown speed and run by guys."

Jones has operated both first team catching passes from senior starting quarterback Austin Allen of Fayetteville and the second unit alternately quarterbacked by sophomore Ty Storey of Charleston and redshirt freshman Cole Kelley.

"He's been mostly with the ones," Enos said.  "I think that Michael (Smith, the receivers coach) has been trying to rotate them around so we get good guys that know what they're doing and can play fast, both with the ones and the twos so the quarterbacks all have equal opportunity to play with guys who can play fast. But mostly Jordan's been with the ones. He's made some really, really explosive plays."

Austin Allen concurred, noting Jones' maturity gained from redshirting.

"I saw that guy who took that next maturity step," Allen says. "You can come in as a freshman and you're still in that high school mode where things are pretty easy for you. Then you get to the SEC and it's kind of like, 'Oh, everyone can play.' He's a guy that has all the talent in the world. It's really just up to him, how hard he works, he can be as good as he wants to be. I think he has really taken that step and learned the offense better through the spring and summer. Right now he's a guy that I'm really looking forward to in the fall."

Enos said Jones' speed accelerates because now he knows where he's going.

"When you play fast is when you know what to do," Enos said. "When he breaks the huddle, he knows where to lineup. He's out there and he's lined up quickly. We've really seen his speed in the first three days, and his ability to run by people and really push a secondary."

It's what they saw him from him in high school converting to college.

"I've said since Jordan has been here the sky is the limit for him talent wise," Enos  said. "He's one of the best I've ever been around as far as just the ability to run, body type, the ball skills and all that. If he can match it with his desire and intelligence, which he's shown us here in three days he's on track to do, I think we've got a special player."



OTHER NOTABLE RECEIVERS


"I think Deon Stewart (Highland) has really stepped up and asserted himself here very early, and T.J. Hammonds (Pulaski Robinson)," Enos says. "And then we've got the young guys. And the young guys, they've all had different times to impress. Jarrod Barnes (Cabot) and Koilan Jackson (Pulaski Robinson) have been very good. Gary Cross (Fordyce) has looked very good. So … um, we've got a bunch of guys. Jonathan Nance, I didn't mention. Him and Brandon Martin. Both of those guys continue to come on, too."

Stewart is a third-year sophomore who caught two passes last season. Nance and Martin are junior college transfers who enrolled at the UA last January and went through spring drills. Freshmen Barnes, Jackson and Cross, a transfer from Hutchinson (Kan.) Community College, are practicing as Razorbacks for the first time this preseason.



VERSATILE HAMMONDS


Hammonds, a running back last season, also is practicing at running back behind starter Devwah Whaley  along with true freshmen Maleek Williams and Chase Hayden and David Williams, the graduate transfer from the University of South Carolina.
Whaley was last year's backup gaining 600 yards behind Rawleigh Williams, the 1,000-yard rusher forced to give up football after his second major neck injury.

"Devwah's really stepped up," Enos says. "You know Devwah, having that year under his belt and everything, he knows what to do. He knows the protections. He knows where to go. And then I think the addition of David Williams has been very good. You see a guy that has stepped in. He's mature. He's very bright. He's very good in pass protection. He's good catching the ball. He's very patient as a runner. And Chase and Maleek both have been really good. We've been moving T.J. back there  and he's' a natural back there as well and very explosive. I really, really like the group. As we know, more than one of them is going to play. I think we've got some good options."

The Razorbacks use Sundays as their NCAA mandated off day during preseason drills.