HOGS put a wrap on spring practice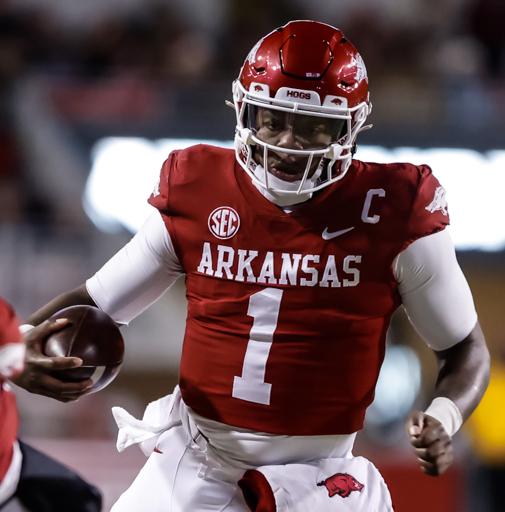 FAYETTEVILLE — Spring football came to an end for the Arkansas Razorbacks with Saturday's Red-White game held at Reynolds Razorback Stadium, but the work has just begun Coach Sam Pittman, his coaching staff and the players as they prepare for the 2023 season.
"I saw a lot of really positive things on both sides of the ball and some things that we need to work on," Pittman said. "But I think our kids are in a really good frame of mind and overall, I thought the day went well."
The first half of scrimmage pitted different groups on the depth chart going against each other, with the first offense going against the second defense, the second offense vs. the first defense and the third offense going against the third defense. The groups mixed and matched for the remainder of the first half of the scrimmage. 
 The second half included situational work such as 2-minute drills, low -and high- red zone drills, and "get the ball back" drills.
One question coming in concerned who would take the field with the first team offensive line alongside returning starters Brady Latham at left guard and Beaux Limmer, who has moved from right guard to center.
Redshirt sophomore Devon Manual (6-9, 310; Sunset, La.) came in at left tackle, redshirt junior Florida transfer Joshua Braun (6-6, 341; Live Oak, Fla.) came in at right guard, and sophomore Patrick Kutas (6-5, 303; Memphis) came in at right tackle. 
 All the quarterbacks impressed in front of an estimated crowd of 10,000, who got to watch the Razorbacks run about 110 plays over a 2-hour period.
The scrimmage was available on streaming services ESPN plus and SEC Network plus.
Redshirt senior quarterback KJ Jefferson, the returning starter, completed 9 of 18 passes for 131 yards and 2 touchdown passes.
The battle for backup quarterback behind Jefferson featured strong performances from redshirt senior Cade Fortin (6-3, 215; Suwanee, Ga.), North Carolina transfer Jacolby Criswell (6-1, 224; Morrilton) and true freshman Malachi Singleton (6-1, 232; Kennesaw, Ga.).
Fortin, who played for the Razorbacks in a backup role last season,  completed 5 of 7 for 55 yards and touchdown; Criswell went 8 of 12 for 87 yards and a TD; Singleton completed 4 of 4 for 61 yards and a TD. 
 "In the quarterback room it's always iron sharpening iron," said Jefferson, who passed for 2,648 yards and 24 TDs last season while rushing 640 yards and 9 TDs. "We created an environment where it's a brotherhood, but when we step out on the field we're competing with one another and trying to be that top guy."
Redshirt freshman wide receiver Isaiah Sategna of Fayetteville High School might have been the scrimmage MVP, if such an award was handed out. Sategna (5-11, 178) not only caught 3 passes for 95 yards and 2 TDs, but he saved the offense giving up a Pick-6 late in the scrimmage when he ran down Ladarrius Bishop inside the 20 after an interception.
 "I'm glad Isaiah got a chance to showcase his talents today," said Jefferson, who completed a 65-yard TD pass to Sategna. "He made some really good catches down the field and across the middle. We always knew he had potential to play in this league and for him to be able to show that is really amazing."
Other notable wide receiver performances included sophomore Sam Mbake (3-25 receiving) and Texas A&M Commerce transfer Andrew Armstrong with 2 catches for 25 yards.
The running attack was split between juniors Rocket Sanders (12-50), AJ Green (8-56, 1 TD) and sophomore Rashod Dubinion (14-47).
Sanders, who rushed for 1,443 yards and 10 TDs last season, said he knows that the running back room, which includes Green and Dubinion, will be ready when Arkansas plays Western Carolina in Little Rock on Sept. 2.
"Whether it's on the field or watching film, I know that they are going to handle their business like they did in the bowl game," Sanders said. "I have a lot of respect for them, and I think it's going to be a big year for me and those guys as well."
The offense had many highlights, but the defense was credited with 10 sacks of the quarterbacks, who wore black jerseys and were not allowed to be taken to the ground.
Defensive linemen Landon Jackson (6-7, 269; Texarkana, Texas); Taurean Carter (6-3, 295; Mansfield, Texas); and redshirt sophomore Jon Hill (6-5, 250; Dumas) each were credited with two sacks.
"There were some mess-ups but that's always going to happen when you're under a new staff and a new defense," Jackson said.
Jefferson said the defensive line has been aggressive since the outset of spring under new defensive coordinator Travis Williams and co-coordinator Marcus Woodson.
"Having those guys on the defensive side of the ball come and bring that edge and that fire each and every day is going to make the whole O-line better," Jefferson said.
Linebacker Jordan Crook (6-0, 223; Duncanville, Texas) led the defense with 10 tackles; freshman linebacker Carson Dean (6-4, 232; Frisco, Texas) contributed 8; redshirt sophomore linebacker Chris Paul Jr. and lineman Carter were credited with 7 each.
Pittman and his coaching staff will be back to work immediately in search of at least seven more scholarship players, possibly more. The transfer portal reopened Saturday and official visits being allowed for more than two months. Pittman said he wants to make sure that everything is good within the program before the coaches begin hitting the road at the beginning of next week.
"I'm going to start talking to the players on Wednesday," Pittman said. "I'm not going to talk to any of the players until they've talked to their assistant coaches first. I made that mistake before and you know you live and learn."
Pittman said there will be a team meeting Monday, and it will be followed with the players meeting with their position coaches on Tuesday.