HOGS counting down to spring game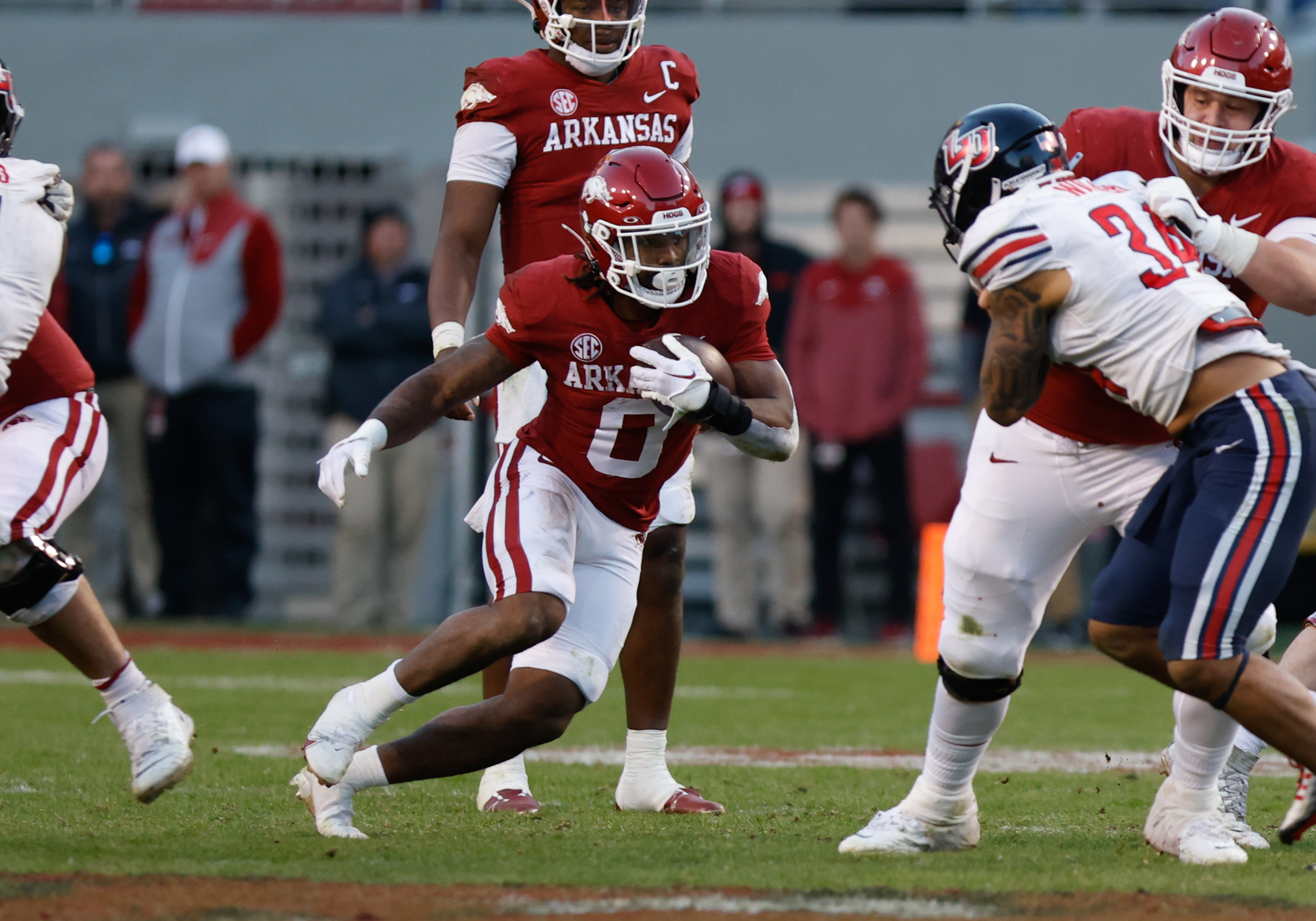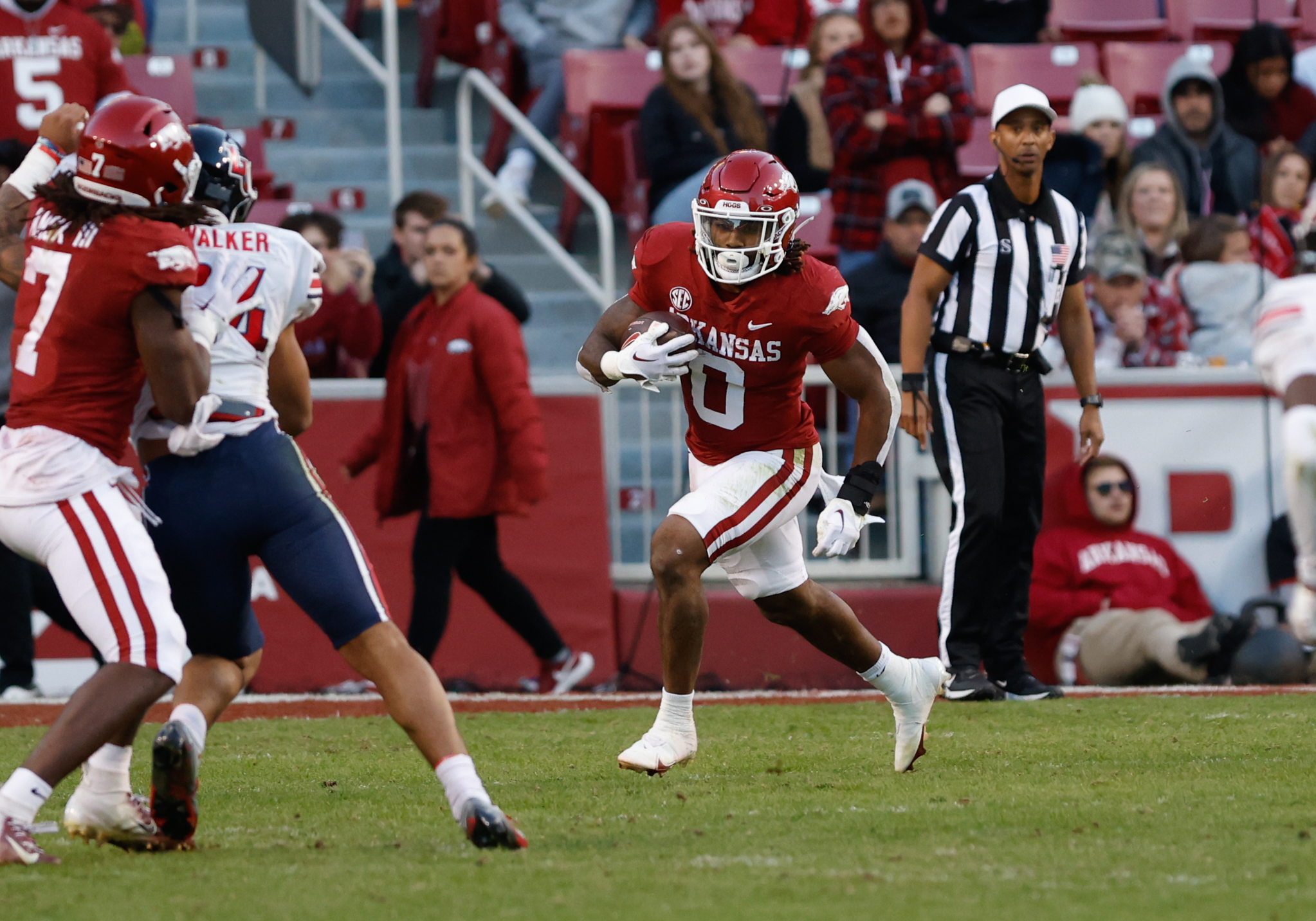 FAYETTEVILLE — The Arkansas Razorbacks completed their 11th of 15 scheduled spring practices Saturday morning at Reynolds Razorback Stadium.
The final week will be a busy week, with practices scheduled for Tuesday, Thursday and Friday, leading up to the 15th and final session — next Saturday's spring game.
Arkansas Coach Sam Pittman did not address the media after Saturday's practice, but Baylor transfer defensive back Lorando Johnson and fifth-year senior lineman Zach Williams spoke for the defense, while redshirt freshman receiver Isaiah Sategna and junior running back AJ Green represented the offense.
Johnson (6-0, 193, Lancaster, Texas) started all 12 regular-season games at cornerback last season for Baylor, totaling 16 tackles, 1 forced fumble and 5 pass deflections.
He entered the transfer portal Jan. 2, and signed with the Hogs Jan. 6, two days before Alfahiym Walcott, Johnson's former Baylor teammate, signed with Arkansas.
"Once we started narrowing schools down, it did become a situation where we wanted to be back together," Johnson said.
Johnson has made his presence known in both conventional and unconventional ways, including a running flow of trash talk with wide receiver Isaac TeSlaa, another transfer into the Razorbacks program.
Texas A&M Commerce transfer Andrew Armstrong said trash talk can be productive.
"We talk about things he can do better and things I can do better, just to make each other better," Armstrong said. "We're competing against each other, but at the end of the day we're going against other teams so that just helps me and helps him when we talk about things like that."
Johnson eyes a contributing role in the secondary next season under new defensive coordinator Travis Williams and co-defensive coordinator Marcus Woodson.
SATEGNA READY TO TAKE NEXT STEP
Sategna (5-11, 178, Fayetteville) was considered the state's top-ranked receiver before signing with the Razorbacks as part of the 2022 recruiting class.
Sategna caught 100 passes for 1,908 yards and 17 touchdowns during his senior season at Fayetteville High School, and at first committed to Oregon before deciding on Arkansas.
 Sategna (2 catches, 12 yards) ended playing in a handful of games, utilized his redshirt, and enters this season with four years of eligibility remaining.
"I had to look at myself in the mirror because being a freshman I wasn't used to not playing," Sategna said. "So, I learned a lot from that year, and I'm glad that I got to redshirt so that I still have four more years. But I'm looking to play this year and that's my goal."
Arkansas head coach Sam Pittman said earlier in the week he believes Sategna has shown enough improvement this spring that he could help fill the void at wide receiver, where the Razorbacks are looking to replace last year's top receivers ‑  Jason Haselwood and Matt Landers, who combined for 106 catches 1,603 yards and 11 touchdowns.
Junior running back AJ Green (pictured above in last season's loss to Liberty) has also noticed Sategna's development.
"You can definitely tell that he has been here," Green said of Sategna. "You can tell that he is experienced now. He knows what he is doing. He knows where he needs to get, how to position a defender to catch the ball and to get in the place for him."
Sategna is one of the handful of wide receivers returning from last year's roster.
"Everybody kind of has a chip on their shoulder," Sategna said. "Everybody has been putting in the extra work, everybody is going hard every play. So, I like what I'm seeing from everybody and not just one person specifically. I wouldn't say there's not just one person that's standing out but everybody's been kind of balling. .... TeSlaa has been catching passes, Armstrong has been catching passes. It's really been everybody."
WILLIAMS EXCITED ABOUT NEW DEFENSE
Defensive  lineman Zach Williams had to make the decision at the end of last season of whether to return for his fifth year with the Hogs, enter the transfer portal, or to declare for the NFL draft. Williams decided it would be best for him to stick with the Razorbacks.
"You know, this is a great team and I felt like I needed one more year to perfect my craft, so I really wanted to come back for that," Williams said. "I really didn't want to go anywhere else because I already had good roots here, and I know the coaches."
Williams (6-4, 256; Little Rock) will still be playing for defensive line coach Deke Adams, but there is a new defensive coordinator — Travis Williams — who replaces the departed Barry Odom, who is now the head coach at UNLV.
Williams said he has enjoyed learning the new defensive schemes being implemented.
"It's a lot of new schemes and stuff like that, but you can relate them to the stuff that you already do," Williams said. "The coaches also break them down one by one, so no matter how you understand things, they fit it towards you. That's something I can applaud them for because you know some people learn differently."
Williams accounted for 34 tackles, including 4.5 sacks, the most among players who were on the roster last season.