Hogs: Morris lauds hard work, needs leaders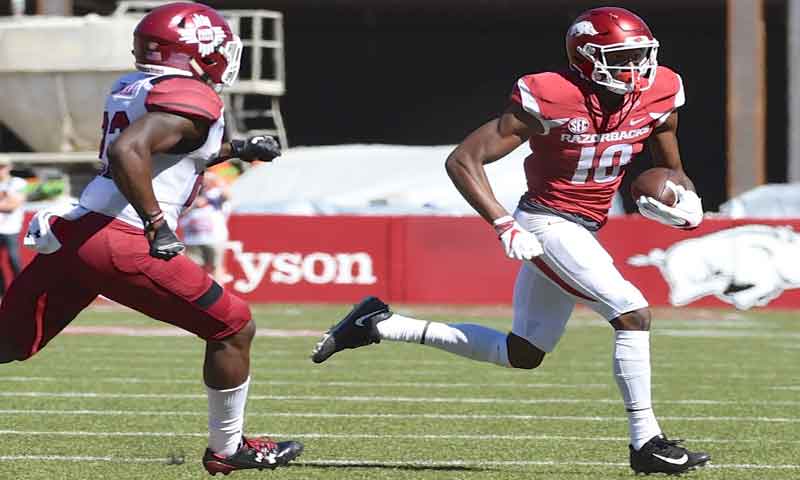 FAYETTEVILLE - Asked Thursday which of his Arkansas Razorback position groups needs most to get better from Saturday's Red-White intrasquad game in Little Rock, new head coach Chad Morris replied all of the above.

"Every position group has got to get better," Morris replied. "We're a long way from where we need to be."

But Morris did praise the Razorbacks he inherited and trying to rebound from a 4-8 season. They prepped Tuesday and Thursday in Fayetteville, leading into Saturday's 1 p.m. Red-White game at War Memorial Stadium in Little Rock. The SEC Network will televise the game.

"Our current football team is working extremely hard," Morris said. "This has been a really good spring. While Tuesday's practice may not have been our best practice, these guys are working hard. They are getting better every day."

Backups at defensive end and tackle will get an opportunity to show improvement Saturday.

Junior McTelvin "Sosa" Agim, the junior out of Hope and the Hogs' best defensive end starting spring ball and their best defensive tackle when moved there last week, is excused Saturday because of a death in his family.

"Saturday's the funeral so he will not be there (War Memorial) Saturday," Morris said. "But if he were, yes, he would play both inside and outside as he's going to do today."

Morris has touted inside linebackers Dre Greenlaw and Scoota Harris  and cornerback Ryan Pulley throughout the spring. He also deemed successful the move of sophomore Kamren Curl from cornerback to strong safety.

The Razorbacks return a bevy of receivers from 2017, but Morris hasn't cited any as taking command thus far.

"At the wide receiver position, Jordan Jones (the sophomore in photo above from Smackover) is a a guy who's got great speed — elite speed — that's got to continue to keep coming on," Morris said. "Mike Woods (the freshman Morris signed and enrolled January at the UA) has done a really good job. De'Vion' (Warren, a sophomore letterman) has done a really good job. (Junior La'Michael) Pettway has had a good spring. He's really kind of come on during about the last three practices. But has there been one guy that says, 'Hey, I'm the guy. I'm the playmaker. I'm the guy, put the ball in my hands right now?' No, not yet."

Morris said in fairness to the receivers, all have been so occupied cross-training in the varied receivers roles in Morris' Spread that taking command of any position has been difficult.

"But they all want the ball," Morris said. "We've just got to keep challenging them."

Sophomores Dylan Hays and Ty Clary contest to succeed All-America center Frank Ragnow.

"Dylan has done a really good job there," Morris said. "Ty's another one who's come on at center. Audry (Horn, a redshirt freshman walk-on from Benton via Little Rock Catholic) has played some center. We're rotating guys around. Moving Shane (Clenin)  some at the tackle position and we're moving him into some guard today. We're moving guys around constantly."

Second-year junior college transfer receiver Jonathan Nance said he caught a touchdown pass Thursday from quarterback Ty Storey of Charleston and that freshman receiver Mike Woods also caught a TD pass.

Woods has impressed media and teammates during the scrimmages.

"Every practice he's making a big play," Nance said. "We need that. We need help everywhere we can get it. I believe he's going to be a big part of our offense."

Redshirt freshman running back Maleek Barkley and junior receiver Brandon Martin (injuries) and sophomore defensive tackle Austin Capps (limited coming off hernia surgery) will not play in Saturday's game, Morris said.

Defensive end Briston Guidry and offensive guard Jalen Merrick, because of a class, did not work out during the first four practice periods Thursday.