Spring battles begin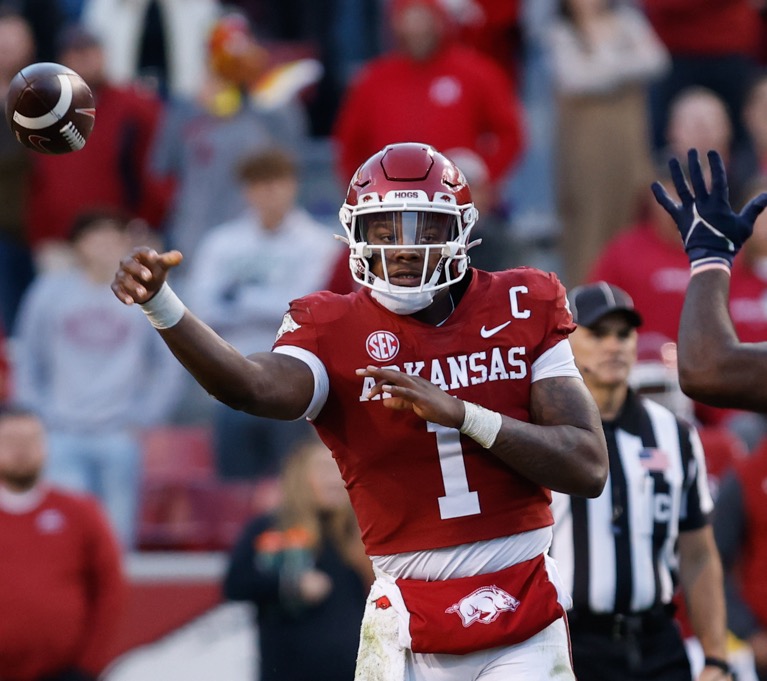 FAYETTEVILLE — Spring football is officially underway as the Razorbacks completed the first of their 15 scheduled practices on Thursday afternoon, and no one was happier with how it went than Arkansas Coach Sam Pittman.
"I thought it was a really good practice to open up," said Pittman. "I thought we were very well organized, and the kids transitioned well."
Pittman said he was impressed by a slew of players, but sophomore defensive lineman Nico Davillier's seemed to catch Pittman's eye the most.
 "I have really liked him in the offseason," Pittman said of Davillier. "I think in his mind he's thinking about how he didn't get to play much last year ,so he's chasing the ball as well as anyone we have."
Davillier (6-4, 273, Maumelle) was a 4-star prospect and the No. 4-ranked player in the state in the class of 2022.
Davillier, who did not record a stat in a Razorbacks uniform last season. He was seen in practice primarily working at the edge position.
 "We're trying to get him ready to play that jack position because he can run so well and can pass rush well," Pittman said.
Pittman said he was open to the idea of moving Davillier into the interior defensive lineman position if it meant he would receive more playing time, but Pittman said he believes the edge position is a perfect fit for Davillier for the time being.
 "Right now, he runs well enough and can rush from a stand-up position or can drop back," Pittman said. "I think we got him right where we want him at this point.
NEW QBs FITTING IN WELL
The Razorbacks already have KJ Jefferson, one the SEC's top quarterbacks, and there is some depth behind him, with North Carolina transfer Jacolby Criswell and 2023 recruit Malachi Singleton taking part in practice.
Criswell (6-1, 225), a 4-star recruit in the Class of 2020 out of Morrilton, signed with the University of North Carolina and played behind Sam Howell during his first two seasons and backed up Drake Maye, the ACC's 2022 Player of the Year, last season.
Criswell entered the transfer portal Dec. 5 and committed to the Razorbacks five days later. Criswell finished his career as a Tar Heel completing 18 of 31 passing attempts for 204 yards in 11 games.
Pittman said Criswell, a former Arkansas Gatorade Player of the Year, has an abundance of talent.
"Jacolby's got a really strong arm and is very accurate," Pittman said. "I think he plays better under the lights as well as under a team setting. He's a gamer."
Singleton (6-1, 232; Kennesaw, Ga.) was a consensus 4-star recruit and the No. 7-ranked recruit in the Razorbacks 2023 recruiting class. 
Singleton established himself as a big-time recruit during his junior season when passed for 2,316 yards and 24 touchdowns while rushing for 1,018 yards with 25 rushing touchdowns as a junior.
His senior season ended after two games because of a broken foot. He completed 23 of 43 passes and rushed for 197 rushing yards and 1 score.
Singleton signed with Arkansas on Dec. 21, choosing the Razorbacks over home-state schools  Georgia and Georgia Tech.
 "Malachi threw some really nice throws today," Pittman said. "I think he's really worked his tail off trying to learn the offense. He's tough and he's competitive as well."
Singleton and Criswell will battle for the backup spot behind Jefferson after last season's backup, Malik Hornsby, entered the transfer portal and signed with Texas State.
PITTMAN SUPPORTS NEW CONFERENCE FORMAT
Changes are coming to SEC football once former Big 12 powerhouses Texas and Oklahoma join in 2024, with a nine-game conference schedule being considered.
Three of the opponents would be permanent, the other six rotating.
Multiple sources have reported the Razorbacks would have Missouri, Ole Miss, and Texas as their three permanent opponents.
 "I think it's outstanding," Pittman said. "I think renewing the Texas rivalry will be great for our fans, and I'm supposing Texas fans as well. Obviously I think Coach Drinkwitz [Missouri coach] feels the same way, but I didn't want to lose the rivalry game with Missouri. I think it's a great rivalry and the other one was Ole Miss or Oklahoma or someone else and they gave us Ole Miss."
The Razorbacks would no longer play LSU and Texas A&M every season if this format is adopted.
SEC Commissioner Greg Sankey has expressed interest in revealing each team's permanent opponents during the SEC Spring Meetings in May.
Alabama Coach Nick Saban has said he likes the expanded conference schedule, but not so much if the Crimson Tide's permanent opponents are Auburn, LSU and Tennessee.
"We got three teams and two of them are in the top 10 and the other is in the top 10 a lot," Saban said during a recent Sports Illustrated interview. "Look historically over a 25-year history and the three best teams in the East are Georgia, Tennessee, and Florida. You look historically at 25 years and Alabama, LSU and Auburn are the three best teams in the West. So, we're playing them all."