Hogs: Pulley pickin', Storey grinnin' after Day 2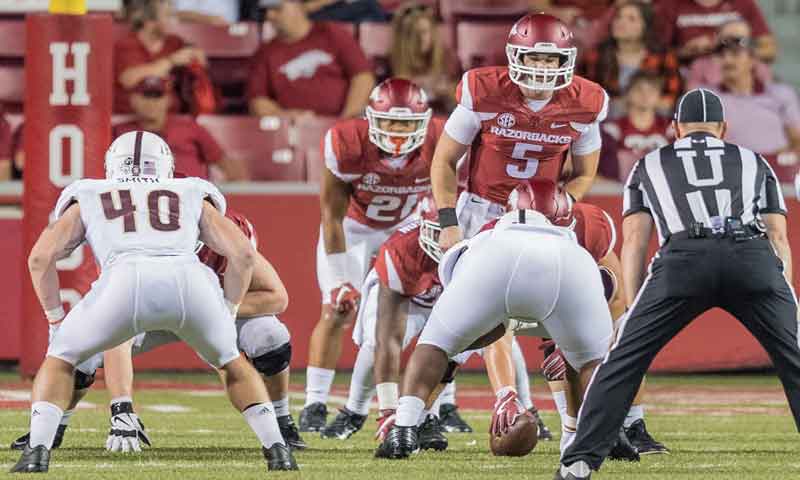 FAYETTEVILLE - Arkansas' best cornerback, Ryan Pulley, has picked up this spring where he left off in the 2017 season opener when a torn pectoral muscle sidelined him for the season.
The Razorbacks, under new head coach Chad Morris, waged their first two spring practices Friday and Saturday, and Pulley picked off a pass in each.

Saturday's interception was in full pads with contact after the Razorbacks fulfilled NCAA obligations with Friday's opening practice in shorts or sweats.
Pully picked off sophomore and first-team quarterback Cole Kelley's pass during Saturday's two-minute drill.
"Oh yeah, I ended it with a pick," Pulley said. "I told the defense I was going to do that. I think we were in press coverage, and the receiver ran like a dig, and I just jumped it."

Did he tell Kelley about it?
"I didn't tell him about it," Pulley said. "I didn't tell him, yet."
Pulley must feel back in the groove with an interception the first day in pads after being out so long.
"It felt good," Pulley said. "This was my second one actually. I had one yesterday before you guys left. It felt good coming back and competing with the guys. I think we're going to be pretty good this year."
The torn pectoral muscles are no longer an issue, the senior from Fort Myers, Fla., said.
"I think I've been healthy since we left before Christmas break," Pulley said. "I'm 100 percent."
The offense had a shining moment, too, in the two-minute drill, Morris said, recounting  a touchdown pass that December signee and freshman receiver Michael Woods caught from junior second-team QB Ty Storey of Charleston.
"Mike Woods made a catch to win the two-minute drill, a true freshman, and so that was good to see," Morris said. "They had to go the length of the field with two groups. The first group had an interception (by Pulley). Defense won that one. And the second group drove down and Mike Woods caught the game-winner. It was good. Great competition, I will say that. Ty  threw it and he has been doing well this whole spring, throwing some great balls having great posture and doing it with great leadership."|
Morris lauded the senior leadership and practices of guard Hjalte Froholdt and receiver Jared Cornelius.
This time last year 2017 senior Cornelius was starting what he presumed would be his final college spring practices and would have participated in this month's NFL Combine.
Instead Cornelius returns as a fifth-year hardship because of last year's season-ending Achilles tendon injury Game 3 that even now has him practicing in a limited workout green jersey.
"I feel good," Cornelius said. "Really, they are holding me off on a lot more stuff because I feel like I can do pretty much everything and be able to go full. But they have me taking it slow, and I'm fine with that. I think I have a month left on my rehab, but we are ahead of schedule."
Last year's curse of the Achilles may be this year's blessing, Cornelius said, given the change in offensive philosophies that Morris brings.
"Looking back on the injury and how everything played out last year all I could do was say, 'Everything happens for a reason,'" Cornelius said. "If that's not evident now … you look at the offense we're going to run. I'll have more opportunities to catch more balls in one game than I did in a season (five catches for 43 yards last year after 32 for 515 in 2016) last year. It happens for a reason, and I'm here for a reason right now."
Cornelius could not curtail his enthusiasm.
"What isn't exciting?" Cornelius said. "It's a high-powered, speed, moving fast, explosive offense. And when other teams are getting tired, we are just getting started. We are looking forward to that."

Speeding most everyone up has been a point of emphasis for Morris' Hurry-Up, No-Huddle offense and the defenseo. But there's one player that Morris says he sometimes requests to slow down: junior defensive end and Hope High School grad McTelvin "Sosa" Agim.
"His motor runs full, full wide open," Morris said. "I mean, I'm trying to slow him down in walk through. Man, Sosa, slow down. Just get to where we're trying to accomplish. He's very much respected among his peers.  He's been around and shared some things with me and wanted to talk about a few things. That's important. It takes an older guy to approach the head coach and just come and talk. That's been impressive."