A-State signing class features nine O linemen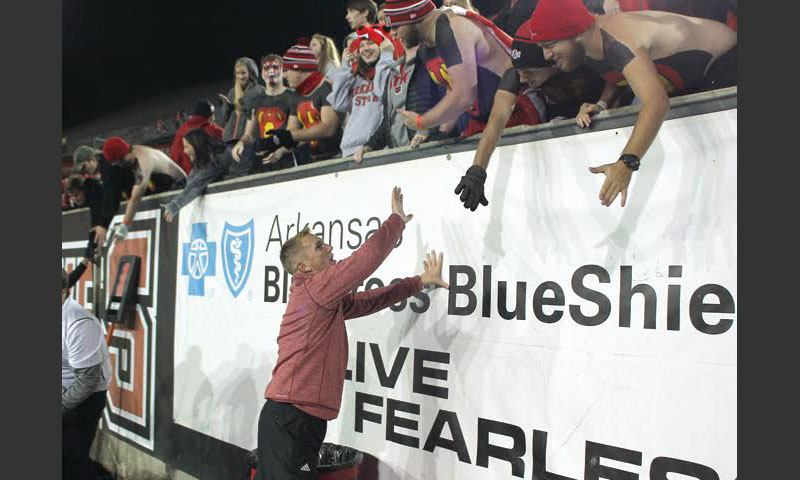 JONESBORO – Arkansas State head football coach Blake Anderson announced Wednesday that the Red Wolves, winners of five of the last six Sun Belt Conference championships, have signed 27 players from 12 different states as part of their 2017 recruiting class.
"Big day for us. I am really pleased with the group that our staff put together and excited about the guys in this class," said Anderson. "It's been a long process.  We haven't really taken a breath since the season started. All the way from our (Cure Bowl) game until now, it has been a lot of hard work to hang on to guys we had committed and, honestly, close out guys that we were battling on." 
A-State's latest recruiting class, the fourth under Anderson, is made up of 13 defensive players, 12 offensive, one specialist and one "athlete" that could play on either side of the ball.  The Red Wolves put a large focus on its offensive front by signing nine linemen, while also adding five safeties, two cornerbacks and a nickelback to its secondary.
"I think you can look at the signing class and find out real quick that we had a huge need at the offensive line position," Anderson said.  "It's rare that you have five starters and seven guys total graduating from one (position) group, so we knew this challenge was coming up.  How to address it and how to effectively go out and repair the hole that was going to be created was a huge challenge. I have to say, looking at what we've done and who we've got signed and committed to be here for us, our staff did a phenomenal job.  It's a group effort to get that done – not just (offensive line) coach Rudolph, not just an area coach – really a collective effort to bring in a massive amount of size, power and skills to fit our needs.
"We were facing similar issues at safety, and I think defensive tackle was another key concern," continued Anderson.  "You can look at what we did at safety with some quality players coming to us who have speed, great range and have played at high levels. Then you take a guy like (defensive lineman) Waylon Roberson out of the mix – a guy like him and Jake Swalley who both graduated – that's hard to replace.  But I really like what we've done to bring in some veteran guys in those two spots too."
Six of the nine offensive linemen signed are either junior college or NCAA FBS transfers to help replace the departure of all five starters from last year's team.  The group was part of 16 junior college or FBS transfers inked by A-State, which also signed 11 high school players.
All 11 high school players were part of the 17 total A-State inked on National Signing Day.  The remaining 10 players included five midyear signees and five who were already on campus and enrolled at the university.  Those 10 student-athletes will all be available to participate in the Red Wolves' spring camp.
Joining the nine linemen on the offensive side of the ball will be two wide receivers and one quarterback.  In addition to the eight defensive secondary players, the Red Wolves also signed three interior linemen, one defensive end and a linebacker.
The entire class features 21 players named all-state, all-conference, All-American or rated as at least a 3-star prospect by one of the major recruiting web sites.  The most signees came from the states of Alabama, Kansas and Mississippi as four players from each one inked with the Red Wolves.  The class also includes three players from both Arkansas and Georgia, two from both Louisiana and Oklahoma and one from Arizona, California, Iowa, New York and Texas.
A-State collected its second consecutive Sun Belt Conference championship in 2016 and is the only FBS program in the nation to win five league titles over the last six seasons.  Dating back to 2011, the 2016 Cure Bowl champions have made a school-record six straight bowl-game appearances and also piled up 52 victories over that span, which is tied for the 23rd most in the nation.
2017 ARKANSAS STATE FOOTBALL SIGNING CLASS
1.  Jonathan Adams, Jr.:  6-3, 185, Fr., WR, Jonesboro, Ark. (Jonesboro)
2.  *Tony Adams:  6-0, 344, DL, Jr., Fannin, Miss. (Jones County (Miss.) Junior College)
3.  *Ronheen Bingham:  6-2, 222, Jr., DE, Bennettsville, S.C. (Hutchinson (Kan.) Community College)
4.  Caleb Bonner:  6-1, 194, Fr., DB, Reform, Ala. (Pickens County)
5.  ***Lanard Bonner:  6-5, 330, Jr., OL, Birmingham, Ala. (Highland (Kan.) Community College)
6.  Marvis Brown:  6-3, 337, Jr., OL, Orange, Texas (Tyler (Texas) Junior College)
7.  AJ Cayetano:  5-10, 181, Fr., CB, Atlanta, Ga. (Benjamin E. Mays)
8.  Aldon Clark:  6-2, 180, Fr., QB, New Orleans, La. (Edna Karr)
9.  Josh Curry:  6-2, 305, Jr., DL, Columbus, Ga. (Arizona Western College)
10.  Justin Dutton:  6-4, 305, Fr., OL, Guthrie, Okla. (Guthrie)
11.  Dwayne Fisher:  6-4, 345, Fr., OL, Marrero, La. (John Ehret)
12.  **Kendrick Edwards:  6-5, 212, Jr., WR,  Miami, Fla. (Arkansas)
13.  *Tyler Flathau:  6-0, 185, P, Jr., Hattiesburg, Miss. (Mississippi Gulf Coast Community College)
14.  Jefferie Gibson:  6-4, 195, Jr., S, Hope Mills, N.C. (Arizona Western College)
15.  Chad Gooden:  6-1, 175, Fr., S, Douglasville, Ga. (Douglas County)
16.  Andre Harris:  6-5, 330, Fr., OL, Oklahoma City, Okla. (Putnam City North)
17.  Darreon Jackson:  6-0, 200, So., S, Derby, Kan. (Coffeyville (Kan.) Community College)
18.  *Chase Johnson:  6-3, 286, Jr., OL, Olive Branch, Miss. (Northwest Mississippi Community College)
19.  Michael Johnson:  6-0, 180, Jr., S, Hialeah, Fla. (Mt. San Antonio (Calif.) College)
20.  ***Kyle Martin:  5-10, 175, Sr., CB, Wichita, Kan. (Dodge City (Kan.) Community College)
21.  Hunter Moreton:  6-1, 275, Fr., DL, Fort Smith, Ark. (Southside)
22.  ***Alex Novak:  6-2, 266, So., OL, Fairhope, Ala. (Southwestern Mississippi Community College)
23.  Jaypee Philbert:  6-5, 314, Sr., OL, Atlanta, Ga. (Iowa State)
24.  *Nour-Eddine Seidnaly:  6-5, 300, Jr., OL, Silver Spring, Md. (ASA (N.Y.) College)
25.  Zach Thomas:  6-1, 181, Fr., ATH, Reform, Ala. (Pickens County)
26.  ***Antwon Turnage:  6-3, 205, Jr., LB, Columbia, Mo. (Dodge City (Kan.) Community College)
27.  Larry Wooden:  6-0, 180, Fr., S, Hoover, Ala. (Spain Park)
*midyear signee available for spring practice
**already enrolled and sat out 2016 season due to NCAA transferring rules
***enrolled fall 2016 and participated in the 2016 season, but counted toward the 2017 signing class

BY STATE:
Alabama (4):  Caleb Bonner, Lanard Bonner, Zach Thomas, Larry Wooden
Kansas (4):  Ronheen Bingham, Darreon Jackson, Kyle Martin, Antwon Turnage
Mississippi (4):  Tony Adams, Tyler Flathau, Chase Johnson, Alex Novak
Arkansas (3):  Jonathan Adams, Kendrick Edwards, Hunter Moreton
Georgia (3):  AJ Cayetano, Josh Curry, Chad Gooden
Louisiana (2):  Aldon Clark, Dwayne Fisher
Oklahoma (2):  Justin Dutton, Andre Harris
Arizona (1):  Jefferie Gibson
California (1):  Michael Johnson
Iowa (1):  Jaypee Philbert
New York (1):  Nour-Eddine Seidnaly
Texas (1):  Marvis Brown
BY POSITION:
Offensive Line (9):  Lanard Bonner, Marvis Brown, Justin Dutton, Dwayne Fisher, Andre Harris, Chase Johnson, Alex Novak, Jaypee Philbert, Nour-Eddine Seidnaly
Safety (5):  Jefferie Gibson, Chad Gooden, Darreon Jackson, Michael Johnson, Larry Wooden
Defensive Line (3):  Tony Adams, Josh Curry, Hunter Moreton
Cornerback (2):  AJ Cayetano, Kyle Martin
Wide Receiver (2):  Jonathan Adams, Kendrick Edwards
Defensive Back (1):  Caleb Bonner
Defensive End (1):  Ronheen Bingham
Quarterback (1):  Aldon Clark
Athlete (1):  Zach Thomas
Linebacker (1):  Antwon Turnage
Punter (1):  Tyler Flathau
HIGH SCHOOL SIGNEES:  11
JUNIOR COLLEGE TRANSFERS:  14
NCAA FBS TRANSFERS:  2