Hogs: turnovers fuel turnaround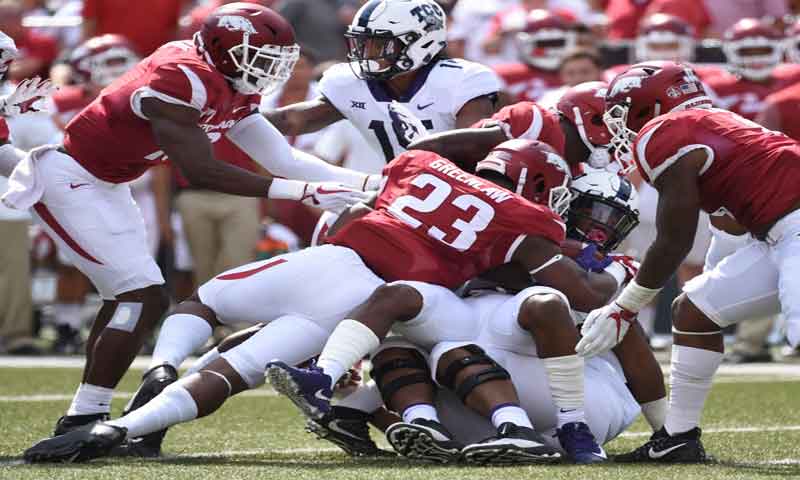 By OTIS KIRK
FAYETTEVILLE - With 1:08 remaining before halftime last week at Ole Miss, Arkansas senior safety Josh Liddell intercepted a Jordan Ta'amu pass and returned it 54 yards to the Rebel 21.

Three plays later, Arkansas quarterback Cole Kelley passed 23 yards to wide receiver Deon Stewart for a touchdown with 13 seconds left before intermission. Liddell's interception sparked the Hogs and cut Ole Miss' 24-point lead to 31-21 at half.

The Razorbacks forced three turnovers, starting with safety Santos Ramirez forcing a fumble when Arkansas trailed  31-7 early in the second quarter.
"It was huge," Liddell said. "In that second quarter, first with Santos making the play and then with the interception, guys making plays. With that momentum you can carry that over to the offense. We saw them convert those turnovers into scores, and it helped as a team, as a whole. Building that momentum in the second quarter was big.
"On the sideline guys had a positive attitude. Guys weren't getting down on each other. We made the decision to stay together. Our coaches were making adjustments. It was stressed to continue playing hard and maybe a play will go our way here or there. And it did with that Santos play. He made a play and the offense went down and scored and we kept playing. That's all we did."
Ole Miss took over the football at its 21 with 2:40 remaining in the half and leading 31-14. Liddell was not surprised Ole Miss passed the ball on last drive before halftime.
"Not really," Liddell said. "They're an aggressive offense. They have really good receivers, and it had been working for them. They were being who they are, an aggressive, attacking downfield team."
One of Liddell's blockers on the interception return was senior noseguard Bijhon Jackson.
"Yeah man, I was tired," Jackson said smiling. "I just wanted to go down there and give Josh the best opportunity to try to put it in the end zone and I gave all I had. It wasn't much because I was already gassed, but I gave him what I had."
The 24-point deficit Arkansas overcame to win was the biggest comeback in UA history.

"I think one of the big things was the mood on the sideline never changed," Jackson said. "There was just a certain vibe that even when we were down 31-7 that we weren't down. It was just a certain vibe, a little more positivity than normal. As soon as Santos got that fumble, everything changed. A lot of positive energy, a lot of encouragement. Offensive guys encouraging the defense, defense encouraging the offense. We fed off each other. We kept fighting and we came back."

Arkansas head coach Bret Bielema said Wednesday the Hogs will have the services of three additional linebackers on Saturday. All three have missed the season to this point, but since they have used their redshirt years, they will play now. Sophomore Jamario Bell, junior walk-on Josh Harris and redshirt freshman Alexy Jean-Baptiste are practicing this week.
"First, I think the part that has brought up about every opportunity has been when someone has an injury and the next guys steps up," Bielema said. "Jamario Bell had a really good spring and was doing some good things in the fall. Unfortunately he had a foot injury. He got final clearance and is 100 percent ready to play on Saturday, so expect him in the lineup in some capacity on defense and probably through special teams.
"Alexy had a much more significant injury but got cleared to play about a week, maybe two weeks ago. We couldn't travel him last week with the 70-man, but he'll dress this weekend and hopefully get his first opportunity to be on the field. Josh actually traveled with us (to Ole Miss). He became cleared two weeks ago. We took him with us last week. I don't believe he actually got in the game. He was No. 2 on several different phases of the kicking game. Resilient player. I believe he's on three of our four core units on special teams. He's working with the second-team defense and will probably show up on Saturday."
Bielema also provided an update on senior quarterback Austin Allen and his availability for Saturday's 3 p.m. homecoming game against first-year FBS member Coastal Carolina.
"Yeah, actually threw quite a bit [on Tuesday] during skelley and certain segments of practice, but didn't go through the whole practice," Bielema said Wednesday. "Met with the training staff early this morning. We had a medical update this morning at 8 after they'd been in for treatments at 6. So everything was very, very positive this morning, no regression. Continues to move forward. I'm excited about where he is. Whether it's this weekend or next weekend, but I think he's definitely on that road to getting back on the field."