Hogs: No. 22 Va. Tech favored in Belk Bowl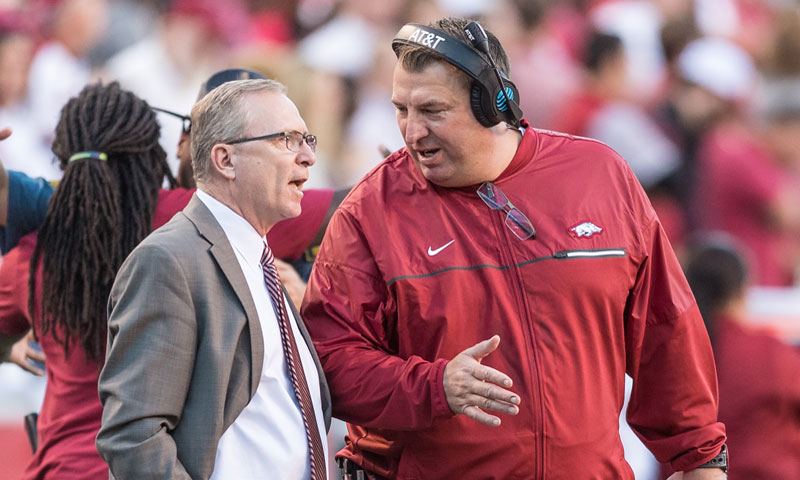 ARKANSAS hopes much can change in a month while Virginia Tech mostly yearns for the status quo.


Coach Bret Bielema's Razorbacks (7-5) and Coach Justin Fuente's Hokies (9-4) finish 2016 on Thursday at the Belk Bowl in Charlotte, N.C. Kickoff is 4:30 p.m. CST telecast on ESPN from the NFL Carolina Panthers' Bank of America Stadium.

In their regular season finale Nov. 25 in Columbia, Mo. the Razorbacks led SEC underdog Missouri 24-7 at halftime and lost, 28-24. Though the Razorbacks were walloped, 56-3 this SEC season at Auburn, the Missouri loss seems the most galling not only this season but the entirety of Bielema's four years at Arkansas.

"Never been involved in a  game my time here or really in my coaching career where there was such a difference in two halves in performance," Bielema, starting as a 1994 grad assistant coach at Iowa and  a head coach starting in 2006 at Wisconsin, said. "I have been in parts of ones where maybe we didn't start off the right way or end it the right way but never one where you went into the locker room at halftime and felt you were clicking in all phases and then to come out and lay the clunker we did in the second half. Very disappointing. Also a good education not to let it happen again."

ACC COASTAL DIVISION CHAMP
Virginia Tech can take pride in their last game played, a 42-35 loss Dec. 3 against No. 2 Clemson in the ACC Championship Game. Clemson is set to play No. 3 Ohio State on Saturday in the national championship semifinal but nearly got derailed from the playoffs by the No. 22 Hokies' furious fourth-quarter comeback.

For confidence, the comparative last game advantage clearly rests with Virginia Tech.

The incentive advantage paints a murkier picture. Fuente's senior-laden Hokies strive for a 10-win season but could suffer a letdown. They going from playing the nation's No. 2 team for the ACC championship to the Belk Bowl against unranked Arkansas (SEC West No. 5) last beaten by Missouri (4-8).

No doubt Fuente and esteemed Virginia Tech defensive coordinator Bud Foster show film of the Razorbacks defeating SEC East champ Florida and TCU and Ole Miss. Teams raanked in the Top 15 when Arkansas beat them.



OFFENSIVELY, EACH COULD BEDEVIL THE OTHER


Statistically the Razorbacks impress.

Sophomore running back Rawleigh Williams leads the SEC in rushing with 1,326 yards and 12 touchdowns while freshman backup Devwah Whaley netted 601. Each averages  5.7 per carry.

Junior quarterback Austin Allen, a first-year starter, has completed 227 of 370 (61.3 percent) for 3,152 yards and 23 touchdowns vs. 12 interceptions. The first-year starter has thrown to seniors Drew Morgan (61 catches for 664 yards and three TDs), Keon Hatcher (38 catches for 638 yards and seven TDs), tight end Jeremy Sprinkle (33 catches for 380 yards and four scores), and junior receiver Jared Cornelius (32 catches for 515 yards).

The Razorbacks have struggled significantly in the red zone, a fatal second-half flaw at Missouri. Also, the Hogs have struggled to protect Allen especially when they trail and can't rely on the play-action passing game and the defensive respect it affords.



TECH 8-0 WHEN EVEN OR BETTER IN TURNOVER MARGIN


Foster's defenses are always respected and inevitably among the national leaders in tackles for loss, including 103 for minus 367 yards this fall. Tech end Ken Ekanmen, tackle Woody Baron, linebackers Andrew Motuapuaka and Tremaine Edmunds, and defensive backs Chuck Clark, Greg Stroman, Brandon Facyson and Terrell Edmunds all received some kind of All-ACC recognition.

The Hokies are without starting defensive end Vinny Mihota (shoulder surgery).

Big, mobile run-pass QBs have been Kryptonite to this Arkansas defense. Another potential super dose awaits. Hokies QB Jerod Evans (6-3, 238) is big, strong and fast. Evans leads Tech in rushing 759 yards and 10 TDs and has completed 63.4 percent of his passes for 3,303 yards and 27 touchdowns vs. seven interceptions. The juco transfer QB was named ACC Newcomer of the Year.

Evans favorite targets include receivers Isaiah Ford (73 catches, 1,038 yards and seven TDs, Cam Phillips (70-868 yards) and tight end Bucky Hodges (43-640 yards and seven TDs).



TECH IS 5-0 WHEN IT RUSHES FOR 200 YARDS


Two years ago defense was Arkansas' strength, posting consecutive SEC shutouts over LSU and Ole Miss.

Preseason confidence that the Hogs righted themselves from last year's defensive dip evaporated with opponents running up record numbers. Auburn gashed the Hogs for 543 yards rushing Oct. 22.

However, senior end Deatrich Wise, Arkansas' best defender last season playing impaired breaking his hand during the Sept. 3 season-opener, has healed the past month. Coaches assert he practices again like last year's force.

The 7-point underdog Hogs would seem to need all in top form but then these Hokies aren't always in top form either. Their resume includes a clunker the size of Missouri, losing, 31-17 at 4-8 Syracuse.