Hogs brace for another dual-threat QB; RG Gibson earns scholarship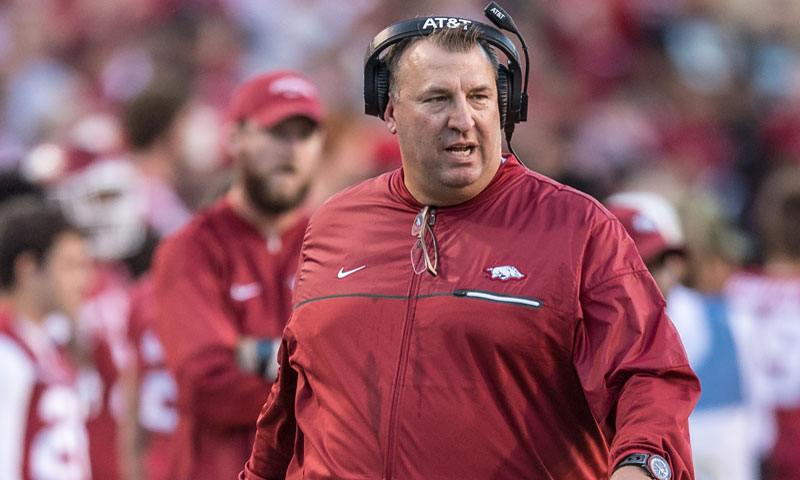 FAYETTEVILLE
-  From the opener against Louisiana Tech to Thursday's Belk Bowl against Virginia Tech in Charlotte, N.C. it seems Arkansas' coaches say the same about nearly every opposing quarterback.
"A big quarterback that can run," Arkansas linebackers coach Vernon Hargreaves said. "Here we go again, right? A big quarterback that can run and some really good skill guys."
Other than Florida, no coincidence Arkansas' best defensive game against the seven nationally-ranked opponents when the Razorbacks played them, defensive coordinator Robb Smith, D-line coach Rory Segrest, defensive backfield coach Paul Rhoads and Hargreaves have said the same things about those QBs plus Nick Fitzgerald of Mississippi State and J'mar Smith of Louisiana Tech.
Virginia Tech's Jerod Evans (6-3, 238) not only leads the Hokies (9-4) in passing (247 of 389 for 3,303 yards and 27 touchdowns with seven INTs) but rushing, too. Evans netted 759 yards on 182 carries with 10 TDs.
From his days coaching Miami Hurricanes linebackers, Hargreaves said he's accustomed to Virginia Tech QBs having it all.
"I was at Miami all those years," Hargreaves said. "So trust me I know what they are all about. I played them when they had Michael Vick."
New Virginia Tech coach Justin Fuente capitalizes on Evans' talents much like retired Hokies coaching icon Frank Beamer capitalized on Vick's talents.
"They have got all kinds of different runs for him kind of like the Mississippi State quarterback (Fitzgerald)," Hargreaves said. "We have got to be ready to defend that and defend him. And he can also throw it. He's got some good weapons on the edge so we will have our hands full for sure."
Evans certainly provides a focal point for Smith coordinating the defense.
"I tell you he makes them go," Smith said. "He's an excellent passer in their RPO (run, pass option) game. He is a runner. By all means they do a great job in the scheme for him. They formation you a lot to try to thin you out in the box. A really good football player. We are certainly going to have to bring our A-game to stop him."
PRESSURE  WITH CAUTION
Segrest said his linemen must apply pressure yet be aware that what appears to be a pass can turn into a big run.
"In the pass game you've got to account for him pulling it down and scrambling," Segrest said. "I would say like Fitzgerald as well as the guy at Texas A&M (Trevor Knight). I mean he's obviously fast and breaks tackles. He can throw the ball. He does a little bit of everything."
Rhoads most likens Evans to Fitzgerald, who accounted for 459 yards (131 yards rushing and four TDs plus 23 of 33 passing for 328 yards and two scores).
"Fitzgerald would be the first guy to come to mind by comparison," Rhoads said. "My first exposure was the ACC championship game (the Hokies lost to No. 3 Clemson 42-35) that I watched on television and I saw how fast his release is and the velocity of the ball getting from point A to point B. He's got a big arm and he's a dangerous runner. He can go."
FLASHBACK TO DAK

Arkansas senior defensive end Deatrich Wise also compared Evans to a Mississippi State QB but not Fitzgerald.
" I don't know if I should say this ... but  he's a little Dak (Prescott) in a sense," Wise said, referring to the now starting QB for the Dallas Cowboys. "He's agile  and can run and pass. He's like a big statue, hard to take down. We've gotta make sure we affect him most of the game."
Most of these run-passers have affected Arkansas more than the Hogs have affected them.
But the Hogs didn't have the prep time for them that they have had before this bowl game.
MORE PREP TIME
"It's been a struggle for us (against dual threat QBs)," senior middle linebacker Brooks Ellis said. "But we've been practicing really hard against it. So I think we'll be ready."
The Razorbacks started their bowl week practices Sunday in Charlotte with their most physical session of the week and practiced again Monday at the Charlotte Latin School.
Coach Bret Bielema announced Sunday that third-year sophomore walk-on offensive guard Johnny Gibson of Dumas will begin the spring semester on a football scholarship.
At the Belk Bowl, Gibson is set to start his fifth consecutive game at right guard.