Hogs: Skipper named All-American; SEC snubs Morgan; notes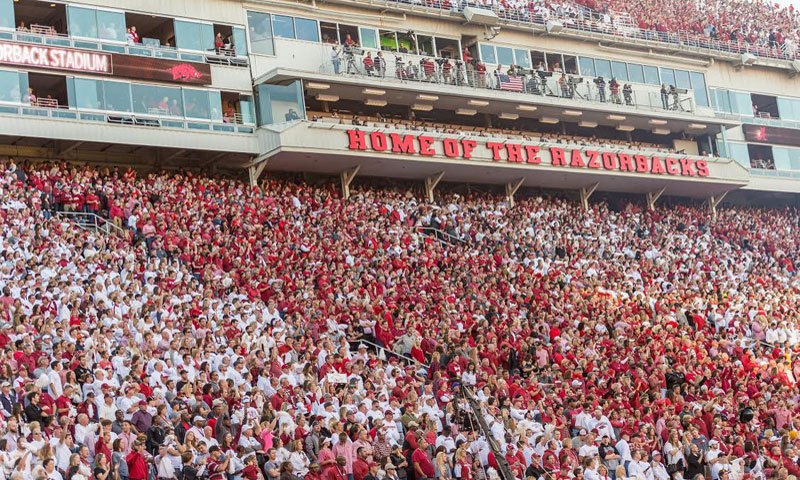 FAYETTEVILLE - Dan Skipper wasn't the only  Arkansas Razorback honored Wednesday.
For while senior left offensive Skipper of Arvada, Colo., was named All-American by the American Football Coaches Association, senior receiver Drew Morgan of Greenwood received the first Bequette Award voted by Arkansas media covering the Razorbacks on a daily basis to the player deemed most interesting and cooperative to cover.
In honor of the media cooperative Bequette family, the late George Bequette, a 1954-56 letterman and a starter on Arkansas fabled 1954  "25 Little Pigs" Southwest Conference championship team, was long known to media as he continued following the Razorbacks that included his media cooperative sons Jay Bequette, the starting center for Lou Holtz's 1980-82 Razorbacks, and Chris Bequette, a 1984-87 lettering lineman for Ken Hatfield's Razorbacks, and Jake Bequette, Jay's son starting at defensive end for Bobby Petrino's Razorback from 2008 through 2011.
Obviously Skipper, named first-team All-SEC by both the SEC Coaches and Associated Press, received an honor of national renown as a Coaches team first-team All-American.
"It means a lot to me," Skipper said.  "Having the coaches respect me as much as that is a huge honor."
GRADUATING WITH AWARDS
It's a whirlwind week with Skipper continuing practicing for the Dec. 29 Belk Bowl  against  Virginia Tech in Charlotte, N.C. Skipper and Morgan have a more compelling landmark to measure Saturday than a football practice.
"I am graduating Saturday," Skipper, All-SEC academically as a biology major. "How it's worked out has been awesome."
Morgan also has the option to walk in Saturday's commencement graduating as a marketing major.
The media award likely isn't what coaches had in mind for Morgan. Arkansas coach Bret Bielema, offensive coordinator Dan Enos and receivers coach Michael Smith expressed disappointed that Morgan was overlooked on All-SEC teams after caching 61 passes for 664 yards.
"That's not my choice," Morgan said of who gets selected All-SEC. "I go out there and try my best to help the team win. As long as we are winning, I am doing my job. All-SEC and all that kind of stuff - that's great. I applaud the guys who make it. I reflect on what could I do better? But there is not a next year for me here. I'll take my playing time to the next level."
As for the media honor, he said he relishes it and expressed surprise to field a lot of bowl game related questions before the first Bequette inquiry as he was among several Razorbacks made media available Wednesday night after practice.
"I thought that would be the first question," Morgan said smiling. "I was like 'Don't talk about Virginia Tech. I just won this award! I wanted to say 'Thank you' because I have a lot of really good relationships with people in here and know the time and effort you guys put into your job. I just graduated with a business marketing degree and I have written a lot of papers, but none of them compare to what you guys write. You get these little bitty quotes and turn them into like a huge bible of a book. I have a lot of appreciation and am very thankful to get the first Bequette Award."
Both Skipper and Morgan spoke to the bowl game as an NFL audition.
"I am not worried about the league right now," Skipper said. "I'll let people in higher places decide that. I'll just go out there and play."
Morgan expressed a similar sentiment.
"It can build your draft stock, definitely," Morgan said. "But as a player, as a receiver and a leader on this team I have got to get everybody's mind right, these seniors' minds right to win the game first and worry about that later."

RAGNOW PONDERS
Junior center Frank Ragnow, who has put his name into NFL draft consideration with the option of withdrawing his from the draft and returning to the UA in 2017, and sophomore  starting linebacker Dre Greenlaw of Fayetteville, resuming practice after missing the season's final six games with a broken foot, were among Wednesday's media available.
"Right now I'm just trying to gather all the information," Ragnow said. "It's one of, if not the biggest decisions I'll ever make in my life, so I'm trying to get as much information, soak it up from all the people that have been through the process. I'm just trying to gather it all so I can make the right and educated decision."
Ragnow has gone through an emotional ringer this season playing every game despite the sudden death of his father from an Oct. 1 heart attack. The Minnesota native said he greatly appreciated the Arkansas outpouring of support.
"You know, it's been a tough one," Ragnow said. "It really makes you realize how precious everything is and how much this game really means to me, how much it's been such a getaway for me to get away from the tough things I'm going through right now. I'm just so thankful to have this team, Coach B, the fans. It's just been unbelievable. It's been quite the season."

GREENLAW TESTING
Greenlaw was asked how his foot is doing and his prospects of playing.
Bielema, defensive coordinator Robb Smith and linebackers coach Vernon Hargreaves have monitored Greenlaw's practices and said they won't play him if there is significant re-injury risk.

"It's going good," Greenlaw said. "Last week was my first day of practice. I practiced today, did a little more than I did last week. It felt good."

What are his prospects to play in the bowl game?

"I definitely want to be out there with my teammates," Greenlaw said.  "It kind of really depends on how I feel. The coaches want to make sure it's 100 percent before I even try to commit to playing. But if I feel good and they feel good about putting me in there, then hopefully I'll be able to get some reps."