12th annual Farm Bureau Awards finalists and families honored, winners named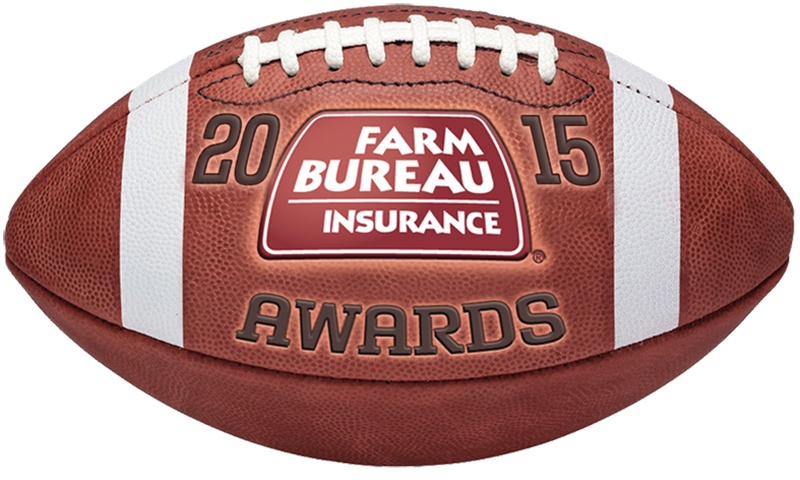 NORTH LITTLE ROCK - Farm Bureau is pleased to announce the winners of the 2015 Farm Bureau Awards.
The Farm Bureau Awards honor Arkansas' top offensive player, defensive player and coach of the year for each classification. The veteran staff at Hooten's Arkansas Football selects three finalists for each category, and those 45 finalists and their families are invited to attend the Farm Bureau Awards in North Little Rock.
Farm Bureau senior vice president-state manager David L. Moore said, "We congratulate our 15 winners. All 45 finalists represent some of the best coaches and student-athletes in our state. Farm Bureau is proud to honor excellence as the title sponsor of this outstanding event."
Farm Bureau Insurance has supported education and
community involvement in Arkansas for more than 50 years.
2015 FARM BUREAU AWARDS (winners in CAPS)
7A/6A OFFENSE
LUKE HANNON, HAR-BER
Kasey Ford, Bentonville
Romar Reades, Pine Bluff
7A/6A DEFENSE
DEONTRE HARDWICK, FORT SMITH NORTHSIDE
Grant Morgan, Greenwood
John Tate, Pine Bluff
7A/6A COACHES
RICK JONES, GREENWOOD
Chris Wood, Har-Ber
Jamie Mitchell, North Little Rock
5A OFFENSE
TRE BRUCE, PULASKI ACADEMY
Damarea Crockett, Little Rock Christian
Zack Kelley, Pulaski Academy
5A DEFENSE
MCTELVIN AGIM, HOPE
Dylan Hays, Little Rock Christian
Maurice Bradford, Hot Springs Lakeside
5A COACHES
MAURICE MOODY, LITTLE ROCK MCCLELLAN
Jeff Weaver, Little Rock Christian
Jared McBride, Hot Springs Lakeside
4A OFFENSE
LEONARD SNELL, NASHVILLE
Chris Kershner, Dardanelle
Braylon Harris, CAC
4A DEFENSE
D'ANGELO MCCOY, WARREN
Austin Capps, Star City
Billy Stewart, Nashville
4A COACHES
DANNY ABSHIER, PRAIRIE GROVE
Tony Travis, Pea Ridge
Bo Hembree, Warren
3A OFFENSE
CECIL LANGSTON, RIVERCREST
Allie Freeman, Episcopal Collegiate
Trevor Pipkin, Prescott
3A DEFENSE
KEIANDRE PURIFOY, SMACKOVER
Jermarcus Arnold, Marianna
Jordan Johnson, Glen Rose
3A COACHES
RODDY MOTE, HARDING ACADEMY
D.J. Crane, Danville
Kelly Chandler, Rivercest
2A OFFENSE
KAIGEN ROGO, MCCRORY
Tre' Burks, Lafayette County
Jackie Harvell, Gurdon
2A DEFENSE
DONOVAN GURLEY, HAZEN
Holden Byassee, Cross County
Matthew Freeman, Junction City
2A COACHES
CHRIS KENNON, MCCRORY
Michael Carter, Conway Christian
Clay Totty, Rison

"