Hogs: Greenlaw practices as bowl prep begins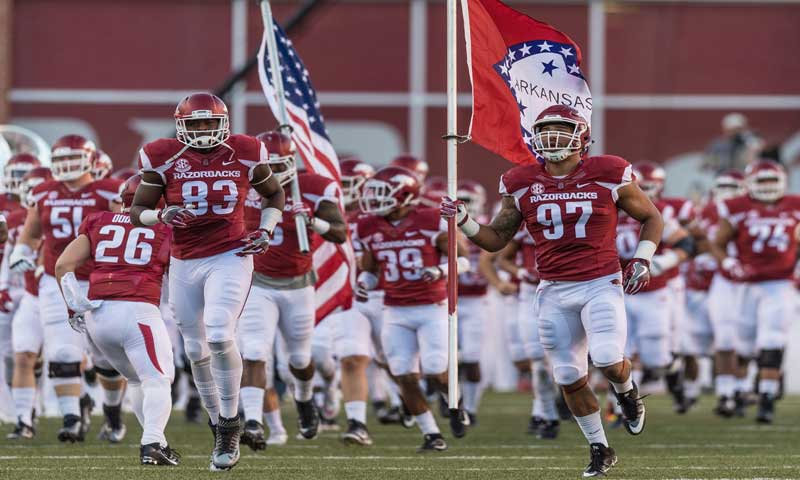 FAYETTEVILLE - Perhaps by Sunday morning or Monday, Arkansas will know if sophomore linebacker Dre Greenlaw will be available for the Dec. 29 Belk Bowl against Virginia Tech in Charlotte, N.C.
Missing the season's last six games with a broken foot, Greenlaw has been sorely missed. His 36 tackles still rank eighth on the team.
Greenlaw, of Fayetteville, was named to the Football Writers Freshman All-America team last year after playing every game for the 8-5 Razorbacks, including starting the last 11.
Arkansas linebackers coach Vernon Hargreaves wants to check out how Greenlaw feels Sunday after the sophomore practiced the most Saturday since his injury.
"He did a (pass) little skelly today so that was good," Hargreaves said after Saturday's practice. "He ran around a little bit. We'll see how sore he gets and then kind of play it by ear from there."
Is Hargreaves optimistic Greenlaw could play in the bowl game?
"If the day went good then that will help us in terms of knowing what we need to do something," Hargreaves said. "So yeah, I am hoping he might be able to get some in."
With Greenlaw, is it more physical or mental having confidence he can play since the injury?
"It's a little bit of both," Hargreaves said.  "Obviously he has been out so long now the football part will come back. Whether he feels good about how it feels will depend on how it heals and all sorts of things but obviously they wouldn't let him out here if they didn't think it was healed enough. He is going to have to get over that hump. Probably tomorrow morning will tell the tale."
For Saturday's practice did junior Dwayne Eugene or freshman D'Jon "Scoota" Harris do the most first-team weakside linebacker work alongside senior starting middle linebacker Brooks Ellis?
"They have both been doing it," Hargreaves said. "I tend to go back and forth with both starting with Gene and then I'll put Scoota in and then today Dre got a little bit of work."
How much was Greenlaw missed these past six games?
"I'd say quite a bit, you know what I'm saying," Hargreaves said. "Then again, not that the other guys didn't do what they were supposed to do. We had some guys step up and do some good things. I just think he brings something different to the table. And any time you've got a guy who was a freshman All-American and almost led your team in tackles, you miss that. We're looking forward to hopefully getting him back. "
Like Greenlaw did last season as a starting linebacker, Harris was named to this season's All-SEC Freshman team, though he was a reserve behind Greenlaw and then behind Eugene.
Harris did play 11 games for the 7-5 Hogs and made 34 tackles, including a sack. He also forced a fumble.
"Dre made it last year, and I think he played every snap," Hargreaves said. "I don't think Scoota played quite as much but good for him. He's a good freshman."
The Razorbacks are off Sunday, studying for final exams that begin Monday. They will practice Monday and the week around the exams.