New Hog coach Morris adept at turnaround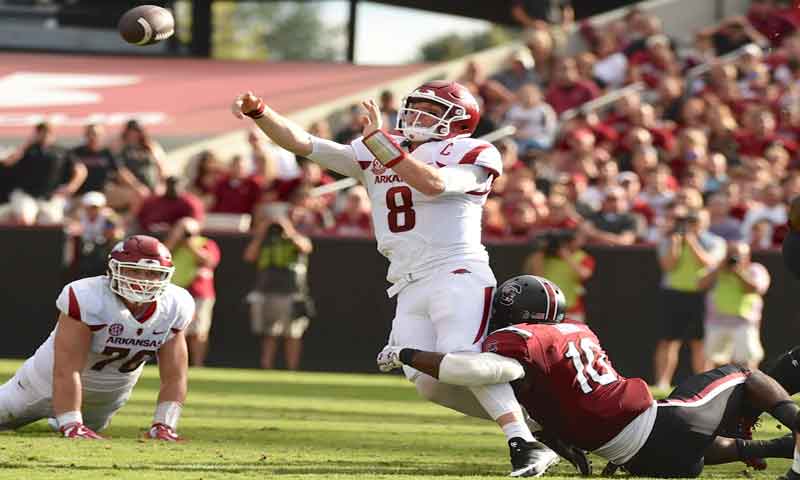 FAYETTEVILLE - The University of Arkansas has announced the hiring of SMU coach Chad Morris as the Razorbacks new head football coach.
Morris agreed to a six-year contract paying $3.5 million annually with the new coach "eligible for additional compensation through retention payments and incentives," the UA announced in a Wednesday afternoon press release.
Morris succeeds five-year Arkansas coach Bret Bielema, who was fired Nov. 24 after the Razorbacks concluded a 4-8 overall/1-7 SEC campaign.
A Dallas native and Texas A&M graduate, Morris has extensive experience in the neighboring state of Texas recruiting area, having coached six Texas high schools for 16 years with three state championships, closing with  consecutive undefeated state championship teams at Lake Travis.
Morris first coached college ball in 2010 as the University of Tulsa offensive coordinator and quarterbacks coach for the 10-3 Golden Hurricane. He then stepped up from 2011-2014 to be the offensive coordinator/quarterbacks coach for the Clemson Tigers, achieving  10-4, 11-3, 11-2 and 10-3 seasons and consecutive berths in the Orange Bowl, Peach Bowl, Orange Bowl and Russell Athletic Camping Bowl.
Morris became the SMU head coach in 2015, inheriting a team low on talent and motivation that went 1-11 in 2014. The Mustangs improved only to 2-10 in 2015 but jumped to 5-7 in 2016 and this season are 7-5 and bound to play Louisiana Tech Dec. 20 in the Frisco Bowl in Frisco, Texas.
Offensively, Morris has galloped the Mustangs from 128th of 128 the year before he arrived to this season ranking eighth nationally, averaging 40.1 points per game.
At his Arkansas introductory press conference Wednesday morning, new Arkansas athletic director Hunter Yurachek, formerly the University of Houston athletic director, commented on Morris turning around the Mustangs in the American Athletic Conference, which also includes UH.
"When he took over the SMU program, it was at the bottom of the American Athletic Conference," Yurachek said. "I remember the day after Thanksgiving 2014, Houston played SMU and probably 1,000 people were in that stadium there. Now that SMU program is going to a bowl game, and I think they're in the top 10 in the country in scoring offense. So, I think it speaks volumes for what he's done at a tough place to build a program."
Without Morris by name since the hiring wasn't official, Yurachek said he was "100 percent comfortable with the results of the coaching search" conducted by Julie Cromer Peoples, Arkansas' senior associate athletic director serving as interim athletic director since the Nov. 15 firing of Arkansas athletic director Jeff Long.
Yurachek, only 36 hours on the Arkansas job, Julie Cromer Peoples and UA chancellor Joe Steinmetz were quoted in the press release officially announcing Morris as Arkansas' coach. Morris addresses Arkansas media Thursday morning for the first time.
"The future is tremendously bright at the University of Arkansas with the addition of Chad Morris," Yurachek was quoted in Wednesday afternoon's press release. "I am confident that Chad will bring an exciting brand of football, phenomenal student-athletes and championships to Fayetteville, and do it all with high integrity. We all owe a debt of gratitude to the incredible work of Julie Cromer Peoples in leading a comprehensive search and helping to bring a high caliber coach to Arkansas."
Although Arkansas was known first to approach Auburn coach, Fort Smith native and former Arkansas offensive coordinator Gus Malzahn, an approach helping enrich  Malzhan with an Auburn raise and contract extension, Morris was prominently mentioned as a candidate of Arkansas interest since Bielema was dismissed.
"As we began our search for the next head football coach of the Arkansas Razorbacks, Chad Morris was a name that quickly emerged as someone who would be an excellent choice for our program," Cromer Peoples said. "Coach Morris aligns with the priorities we sought to find in our next head football coach including relentless work ethic and the ability to maintain good relationships within our state and beyond to attract the nation's top talent. Chad is demanding but still relatable to the student-athletes of this generation. He was identified by several closely connected with our program as someone that our state would embrace and would fit the fabric of our university and our program."
Steinmetz, approving the coaching hire as chancellor and heading the search hiring Yurachek as vice chancellor/direct of athletics, said of Morris in the press release:  "I am confident that he is the right coach to lead us back to competing for SEC and national titles. Julie Cromer Peoples did an outstanding job conducting the search in her interim role and on behalf of the Razorbacks everywhere, I say, 'thank you' to Julie. I am pleased that Hunter Yurachek had the opportunity to be involved in the final decision and offer and we cannot wait to have Chad leading our program."