Hogs draw 9-4 Va. Tech in Belk Bowl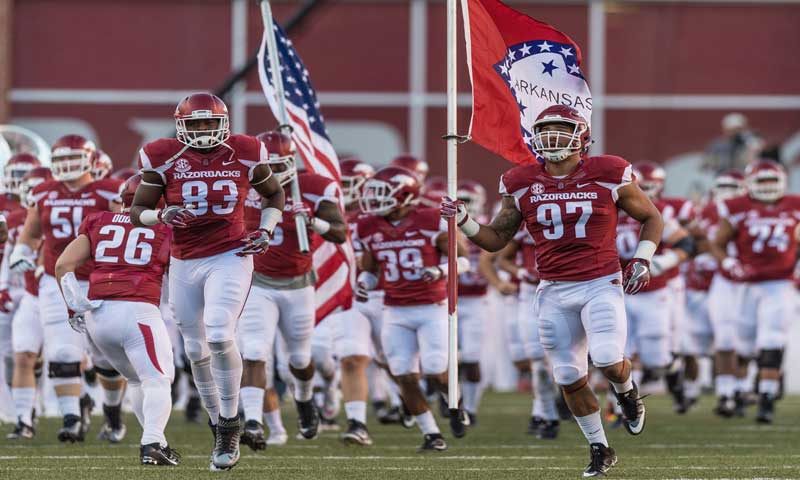 FAYETTEVILLE - Those Virginia Tech Hokies, who ended Saturday's long day of conference championship games, will battle the Arkansas Razorbacks Dec. 29 in the Belk Bowl in Charlotte, N.C.
Kickoff is set for 4:30 p.m. on ESPN.
Arkansas, ending a 7-5 season after losing 28-24 to Missouri after leading 24-7 at half, takes on a 9-4 Virginia Tech that lost 42-35 in the ACC Championship game to the Clemson Tigers now ranked second by the College Football Playoff Committee and bound to play No. 3 Ohio State New Year's Eve in the Fiesta Bowl.
The Clemson-OSU winner will play for the national championship against the winner of No. 1 Alabama vs. No. 4 Washington.
Clemson faced the toughest fight of any league champion from Virginia Tech.
"To play a quality opponent that was swinging swing for swing with the No. 2-ranked team in the college football playoff, I think that speaks volumes," Arkansas coach Bret Bielema said in a Sunday evening press conference after finishing a recruiting week and practicing his Razorbacks.
Bielema touted the Hokies offensively and defensively and cited first-year Virginia Tech coach Justin Fuente and Bud Foster, the the Hokies' veteran defensive coordinator under retired Coach Frank Beamer, who stayed on Fuente's staff.
"To play an ACC opponent that played in a championship game," Bielema said. "To see one of that caliber … obviously a quarterback (Jerod Evans) who is very gifted thrower and a good runner, got a great tight end (Bucky Hodges).   Defensively I have known Bud Foster for a long time, and he presents a lot of unique challenges and preparations. So, we have a really great opponent to prepare for and play against."
Bielema said he got a sneak preview, watching Saturday night's Virginia Tech vs. Clemson game.
"I had heard a rumor that Virginia Tech might be a possible opponent," Bielema, Wisconsin's coach from 2006-2012 before coming to Arkansas,  said.  "So I watched the game last night.  Coach Fuente obviously has been very impressive. We first crossed paths that I know of when he was at TCU.  We played them in the Rose Bowl when I was at Wisco. A tremendous talent.  I am very, very impressed with what he did in Memphis (Fuente's head coaching job before Virginia Tech)  and then obviously the things they have done this year when they took over in transition to be where they were  and play as well as they did last night."
Bielema will practice the Hogs intermittently through this last week of classes and next week's final exams and then accelerate the practice time before leaving Christmas Eve or Christmas Day to practice in Charlotte.
Bielema announced that sophomore starting linebacker Dre Greenlaw, missing the season's final six games with a broken foot, has a chance to play in the bowl game but will be constantly.
"I think if we can get him (cleared) two weeks out from bowl game date, I feel really good about it," Bielema said.
Nickel back/safety Kevin Richardson, sidelined by a torn pectoral muscle, won't be cleared for the bowl, Bielema said.
Bielema announced that while they will remain with the team through the bowl game that already graduated reserve running back Damon "Duwop" Mitchell will transfer with 2017 eligibility to another school as a graduate transfer and that Ricky Town, a scout-team quarterback in 2015 and third-team quarterback in 2016 after transferring following one spring at the University of Southern California, intends to transfer to a junior college with hopes of eventually transferring to another major college.
Also graduating walk-on fullback Chris Jones of De Queen will exit for more playing time as a graduate transfer after the bowl game.