Recruiting: No. 4 Poyen on historic run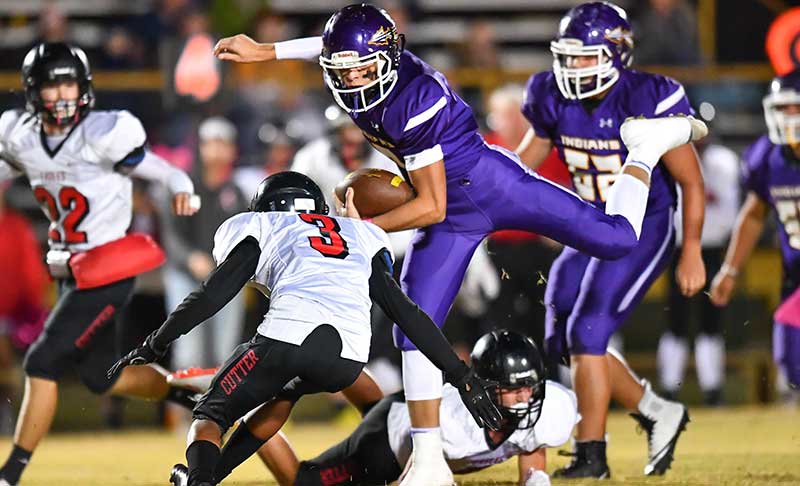 Varsity football debuted just 11 years ago at No. 4 Poyen. On Friday night, Class 2A's newest program plays host to third-ranked Junction City in the quarterfinals.
From its inception, most connected to this school in rural Grant County would've dismissed the mere suggestion of playoff football here on Thanksgiving week.
Poyen's first varsity football game, Sept. 3, 2010 at Harmony Grove Haskell, ended in a 21-point loss to another start-up program. Poyen beat Hector the following week, but it recorded just one more victory in 2010. The Glen Rose JV mercy-ruled the Indians in the finale.
With three wins in 2011, Poyen qualified for the playoffs for the first time, but Mineral Springs buried the Indians 62-0 in the first round.
Football was still an afterthought in a basketball-crazed community, but that did not deter Vick Barrett. Then a youthful Hot Springs High assistant, Barrett applied for Poyen's heading coaching job in Spring 2012.
"Before (now-retired superintendent Jerry Newton) hired me, he said 'we either have to change something or get rid of the program. It isn't working,'" Barrett says.
"I don't know what had gone on, but it wasn't good," Barrett says. "My first goal was to get kids excited to play. Since I've been here, the support from the community and players has been second-to-none. Even when we went 2-8 (2013) and 1-9 (2016), we had as much support as we do now. This season is a reward for all those guys who laid the foundation."
Barrett revamped the entire program, but the Indians lost their opening seven games in 2012. Poyen didn't even score until Week 4, but it posted wins in late October over Quitman and Mountain Pine before losing to traditional power Mount Ida 21-20 in the regular-season finale. The next week, Poyen played solid defense and hit two big pass plays to notch the program's first playoff win, an 18-13 decision at 4-2A champion Hackett.
"That set everything in motion," Barrett says.
Two years later in 2014, Poyen hosted its first playoff game (a six-point win over Marked Tree), but the program hadn't won again in the postseason until clobbering Cedar Ridge 42-8 two weeks ago. The Indians led 42-0 less than 15 minutes into the game.
Poyen's 2020 season turned historic last week with a 48-26 win at Dierks. (Watch extended highlights of Poyen's win over Dierks during the regular season HERE.) The Indians led 14-0 in the opening minutes and never trailed.
Immediately after the game, Barrett huddled players and asked, 'Who's ready to practice on Thanksgiving?!'
"That was one of our top goals this year," the coach says. "I was glad to see at practice Monday that the players aren't satisfied. They want more."
Senior quarterback Jaxson Carter (6-3, 185) is Poyen's undeniable leader, statistically and emotionally. Carter has completed 55 percent of his passes this fall for 1,324 yards and 20 touchdowns with six interceptions. He sparked the rushing attack with 105 carries for 961 yards and 15 TDs. Last week at Dierks, Carter hit four of six timely passes for 138 yards and two TDs, in addition to 14 tough runs that netted 157 yards and two TDs, including a 68-yarder.
Carter (in Ted McClenning photo above) earned respect from coaches, fans and teammates last fall after fracturing his shoulder Week 3 and breaking his foot Week 10. He never missed a game. Carter removed a protective boot just hours before kickoff in the playoffs and almost willed the Indians to an upset at Parkers Chapel (lost 29-28). 
Most in-state Division II schools have inquired about Carter. Barrett expects his team captain to play defense in college. "I tell every college coach that we would let him play more defense, if he would not try to make every tackle. His hat is around the ball on every play."
Carter, who lines up at safety in important games and situations, made an open-field tackle on Magnet Cove's top running back on fourth down late in the fourth quarter to preserve a 27-20 triumph two weeks ago. Last Friday at Dierks, Carter shot a gap on fourth down and tackled the Outlaws' top 'back behind the line scrimmage.
"He's a game-changer, on both sides of the ball," the coach says.
Senior Brandon Sanchez (5-9, 150; 4.4 speed) lined up at running back most of his career. The past two seasons ended prematurely for Sanchez due to injuries, prompting coaches to move the playmaker this fall to receiver, "so he wouldn't take a beating every game," Barrett says.
Sanchez (#18 in Ted McClenning photo) has emerged as one of Class 2A's more dynamic receivers with 32 receptions for 1,005 yards (31.4 yards per catch) and 16 TDs. Sanchez caught a 76-yard TD on the second possession at Dierks "that set the tone," Barrett says.
Sanchez, who logged 229 carries last year for 1,798 yards and 19 TDs in nine games, got limited carries this fall with 27 attempts for 329 yards (12.2 yards per carry) and four TDs.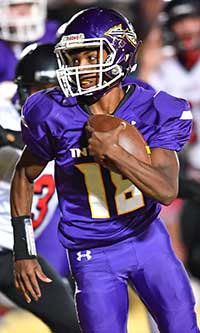 The coach expects Sanchez to play either receiver or defensive back at the next level. "I compare him to (former Episcopal and Ouachita Baptist receiver) Allie Freeman," Barrett says. "He's so explosive and can jump. He has great ball skills and breakaway speed."
Senior guard Sean Craig (6-5, 325), one of three senior offensive linemen, draws interest from D2 schools. Craig power cleans 300 pounds and parallel squats 500 pounds. "He's shocked me how at how strong and flexible he's gotten," Barrett says. Craig played on Poyen's Class 2A state runner-up golf team in 2019. Craig and Carter helped the Indians return to the state golf tournament in 2020.
A trio of juniors, running back Blake Rhodes (5-11, 165) and linebackers Colton Lowe (6-1, 195) and Anthony Nannemann (5-11, 195), could play in college. Rhodes tops Poyen's rushing chart with 146 carries for 1,130 yards and 10 TDs this season, while Nanneman paces the team with 120 tackles. Lowe has almost 100 tackles and emerged during the past month as a short-yardage fullback with 24 carries for 129 yards and a pair of TDs, including a 6-yarder at Dierks.
"Blake and Anthony are tough guys who've played through injuries," Barrett says. "Lowe is a special kid and a freak athlete." Lowe power cleaned 285 pounds just four days before playing Dierks.
"At the 2A level, you can win with one really good group," Barrett says. "But we have two groups, back-to-back, with great players and attitudes. Depth has been an advantage for us. Only one guy (lineman Lorenzo Agular) starts both ways. We haven't had to play iron man football until this point, and that's helped."
Barrett believes depth and enthusiasm (more than 100 fans lined Highway 270 at midnight Friday to greet players after the Dierks victory) could propel one of the state's younger programs into the upper echelon.
"Everything we've done set this up," the coach says. "From our first playoff win, to taking over the pee wee program a few years ago to help increase our numbers, everything has been a building block into making our program respectable. We are playing this week for everyone who's had anything to do with our team."  (Watch extended highlights of Poyen's win earlier this season at Drew Central HERE and its loss at Gurdon HERE).