Hogs: Underdog Mizzou coach regrets player's smack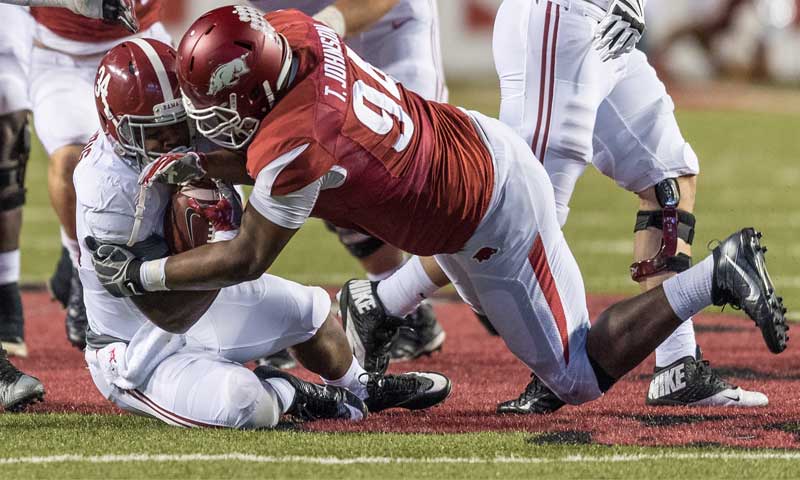 FAYETTEVILLE - Arkansas coach Bret Bielema muffled his Razorbacks' response to trash-talking Missouri linebacker Eric Beisel because Missouri coach Barry Odom had already called him to apologize.
Odom probably wished he had pressed a mute button on Beisel before he popped off to the Columbia Tribune.
Bielema's Razorbacks (7-4 overall and 3-4 in the SEC West) and Odom's Missouri Tigers (3-8, 1-6 in the SEC East) close their SEC seasons at 1:30 p.m. Friday on CBS television at Faurot Field in Columbia.
Pronouncing Arkansas, Ar-Kansas, Beisel, despite Mizzou's defense strafed in a 63-37 loss Saturday at Tennessee, told the Columbia Tribune Monday: "We're going to take some aggression out on Ar-Kansas this Friday, this Black Friday.  It's going to be a black-out game. They're not going to see what's coming. If they do decide to show up, like I said, it'll be a huge mistake."
The huge mistake obviously was Beisel's, Odom said on Wednesday's SEC teleconference after Bielema confirmed on his teleconference portion that Odom had called him Tuesday morning apologizing.
"The reason I addressed it to our players afterwards, I got a very good message from Coach Odom," Bielema said. "He and I are I think fairly good in our profession as friends. He reached out early yesterday morning making reference to it. He said the young man wanted to get on the phone and apologize. I said, 'Hey, we fully accept and understand it's not the first time this (player popping off) has happened. I did tell Barry, 'Hey, tell them that the Razorbacks accept the apology fully as long as he learns how to pronounce Arkansas.'
"It's something that strikes a chord with everybody here in the state. Me not being from here but understanding what that means, and he agreed whole-heartedly, so I think it's water under the bridge and obviously a game gets played on Friday."
Odom said he understands well because he has family ties to Arkansas. His sister-in-law lives in  the Rogers area, Odom said, and he said he grew up visiting an aunt in Rogers.
"We have so much respect for Bret and his program and the state of Arkansas," Odom said. "I have family there and grew up visiting there a lot. Obviously Eric and I have had a few conversations on this. This is not something I am really interested in one of my players making bold statements. He said it, and we can't get it back and we apologized."
POTENTIALLY ANNUALLY ADVANCING
If the Razorbacks defeat Missouri it means, after 3-9, 7-6, and 8-5 records his first three Arkansas seasons, Bielema would conclude November with an 8-4 regular season. That would mean the chance to finish 9-4 should bowl eligible Arkansas win a bowl game in December or January.
"As long as we're moving forward," Bielema said of the opportunity to finish his first eight-win Arkansas regular season. "If we get better every week, we're moving forward. That's not gonna change. Obviously, we've got four losses and they all sucked. It didn't matter who they were, what the score was, obviously certain things (a 56-3 embarrassment at Auburn) hurt more than others, but we've lost against against four quality teams."
Arkansas lost to top-ranked Alabama, 10-0 and already SEC West champion, Texas A&M, LSU and Auburn, which were nationally ranked and favored over Arkansas. Arkansas upset then-ranked TCU, Ole Miss and Florida.
Last week, unranked Mississippi State generally rated a one or two-point favorite before Arkansas won the 58-42 shootout in Starkville.
Las Vegas books generally rate Arkansas a 7.5 to 8-point favorite over Missouri.
"Somebody said this is the first time by the outside world we were favored in an SEC game," Bielema said. "Unchartered water for us, holy cow! That means we're playing against the odds and playing better than people think we can play. To me, it's a challenge, and I think our players play with that same thing."
HAYDEN JOHNSON COMES HOME
Precocious freshman Hayden Johnson began the season as the starting fullback but gradually got beaten out by sophomore letterman Kendrick Jackson.
Jackson of Haynesville, La., opened last fall at linebacker and moved to fullback and did the same thing this season.  Johnson, going home to Columba Friday, played about everywhere but fullback at Columbia Rock Bridge High, Bielema and his staff immediately moved him there.
"To have those two guys in that position for us is a luxury," Bielema said. "I've never really had to have two quality fullbacks. They're both in the beginning of becoming really quality players. Kendrick is really good. Hayden has done some things for us on special teams. He's got really, really good hands. I do think going over to Columbia, though, we're going to try to involve him in the game plan even more than he has been in the past. He's a kid with tremendous upside and potential."