Hogs: streaking Mizzou visits on SR Day; more notes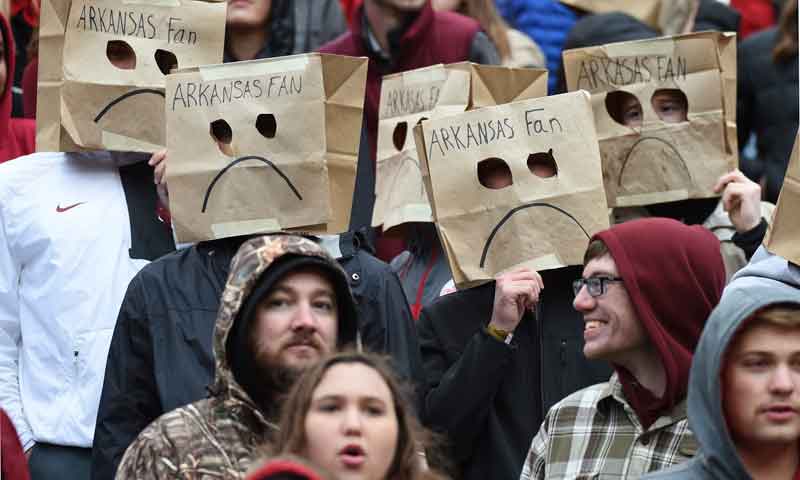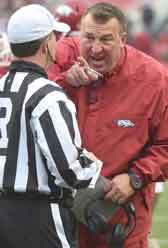 Hog HC Bret Bielema
FAYETTEVILLE - Kevin Richardson and Bijhon Jackson  play their final collegiate game Friday in "lockdown."
Arkansas nickel back and defensive co-captain Richardson of Jacksonville and noseguard Jackson of El Dorado are among 16 Arkansas seniors to be honored before Friday's 1:30 p.m. kickoff of Arkansas' nationally televised (CBS) game against Missouri at Reynolds Razorback Stadium.
Coach Barry Odom's Missouri Tigers, a bowl eligible 6-6 overall and 3-4 in the SEC East, will play a bowl game somewhere in December or January. For UA coach Bret Bielema's Razorbacks (4-7, 1-6), it's a season finale and curtain call for the Razorback seniors.
BIELEMA UNDER FIRE
Friday likely will be Bielema's (in Craven Whitlow photo) final Arkansas game off a losing season and the firing of Jeff Long, the athletic director who hired him in December 2012.
"We're playing for Coach B," said Richardson, originally a 2013 redshirted walk-on under Bielema vaulting all the way to scholarship team captain.  "He's done some great things for us. He let me come  and do what lot of people didn't think I could do. I came up here and lived the dream that I've had since peewee football. For him to give me an opportunity means a lot to me. That's going to be something I remember the rest of my life."
TO PICK A LOCK
To achieve their Friday goal, Jackson and fellow D-linemen must pressure while Richardson and fellow defensive backs and linebackers must cover against Missouri junior quarterback Tyler Lock, who has passed for an SEC-leading 3,247 yards. Lock has completed 199 of 343 passed for an NCAA-leading 38 touchdowns with 10 interceptions.
"I think they're throwing for 300 yards a game," Richardson said. "Drew Lock's got a strong arm. So we know they're going threaten us deep. He's got some threats, and we're going to do what we can to defend them."

Jackson vows the D-linemen must harass Lock and help the secondary, but that's not easy. While not a classic dual-threat scrambler, Lock maneuvers to extend plays and delivers passes so quickly he's been sacked just eight times in 11 games.
"They have a good quarterback," Jackson said. "A really accurate quarterback. Really good receivers, probably some of the best in the SEC. The O-line holds up good enough for him to get the ball out and do what he needs to do."
The Tigers aren't one dimensional. They average 195 yards rushing per game.
OFFENSE VS. OFFENSE
Missouri has scored 68, 52, 45, 50 and 45 points on its current five-game winning streak over Idaho, UConn, Florida, Tennessee and Vanderbilt. The Tigers score so prolifically they pressure opposing offenses to match Mizzou.
"When it gets going like that (a shootout) in the game it certainly does," Arkansas offensive coordinator Dan Enos said of an offense feeling Mizzou's offensive heat. "You don't want to waste any possessions against a team like that. I think one of the things we can do to help our defense, help our team is to get first downs, stay on the field and melt the clock. We need to win the possessions and time out there. I do think that will be a real key to the game."
Fifth-year senior QB Austin Allen will quarterback his final Razorback game with redshirt freshman Cole Kelley reinstated from disciplinary suspension to serve as backup.

"Yeah, that's one of our keys to victory this week, to be able to control the ball, control the clock and kind of limit their opportunities at the big play and finish our drives with points," Allen said. "That way we get the momentum, keep the momentum. That's one of our keys."
MIZZOU'S DEFENSE IMPROVES
Moving against Mizzou was no problem during the Tigers' 1-5 start. The Tigers yielded 43, 31, 35, 51, 40 and 53 points to Missouri State, South Carolina, Purdue, Auburn, Kentucky and Georgia.
But Mizzou's D turned stingy the past five weeks, yielding 21, 12, 16, 17 and 17 points.
"They're playing well right now," Allen said. "They've got 11 guys flying around to the football. Right gaps. Right assignments. They're just playing good football."
So will the Hogs, Allen vows, a senior first committed in 2012 to former Coach Bobby Petrino and interim Coach John L. Smith, and sticking to sign with Bielema's debut 2013 recruiting class.
"We all came here for Coach B.," Allen said. "He's the one who recruited us all here. He's our guy. A lot of people say all those things. But that's our coach. We're going to play the first snap to the last whistle for him on Friday. Whatever happens, happens. But that's our coach."
SCOUTING ARKANSAS
This week in Columbia, Missouri, redshirt freshman QB and Fayetteville High graduate Taylor Powell has impersonated Arkansas QB (and former Fayetteville High QB) Austin Allen on the Missouri scout team. Powell is the son of Razorbacks team orthopedist Dr. Mark Powell.
"I'm sure it's a fairly unique situation," Odom said. "Taylor's got a great skill set. He prides himself in watching the other quarterback and using the same body language, the same mannerisms. He tries to do that each week as the quarterback we're going to face. He's done a heck of a job and he's a tremendous young player that's going to have a great career."

INJURY REPORT
Arkansas starting left offensive guard Hjalte Froholdt and starting center Zach Rogers, both injured during the 28-21 loss to Mississippi State, are practicing and will play in Friday afternoon.
"From an injury standpoint, I do believe we get Hjalte Froholdt back," Bielema said Wednesday. "He practiced yesterday (Tuesday) with no regression today full go. Zach Rogers as well."
Backup center Rogers has started since senior All-America candidate Frank Ragnow's season-ending ankle injury during the season's seventh game. Senior reserve Jake Raulerson filled in for Rogers against Mississippi State while Dylan Hayes, recently converted from the defensive line, replaced Froholdt during the Mississippi State game.
"The O-line in particular, getting Hjalte back will be really huge," Bielema said. "Last week we were realistically down to our third or fourth-string guard and our third-team center. We were paper thin before the game and got extremely thin during the course of it. But those guys have battled well and stepped up to the challenge. Everybody has handled the moment."
Bielema said junior receiver Jonathan Nance, injuring both his ankle and knee during last week's fourth quarter, tried to practice Wednesday and his Friday availability won't be decided until kickoff. Freshman kick-returner/reserve receiver D'Vion Warren is on the recovering from a concussion.
"De'Vion Warren is going through concussion protocol and will do everything (Wednesday)," Bielema said before Wednesday's practice.
Although redshirt freshman backup quarterback Cole Kelley has fulfilled a one-game disciplinary suspension, he's still hampered by a toe turf toe injury.
Sophomore Ty Storey of Charleston, last week's backup to senior starter Austin Allen, also is taking second unit snaps this week.
"Ty has had a really good week of practice again, and Cole is still a little bit limited with that foot," Bielema said. "We'll make a final  decision Thursday."