Class 4A Week 13 Rankings, Notes & Picks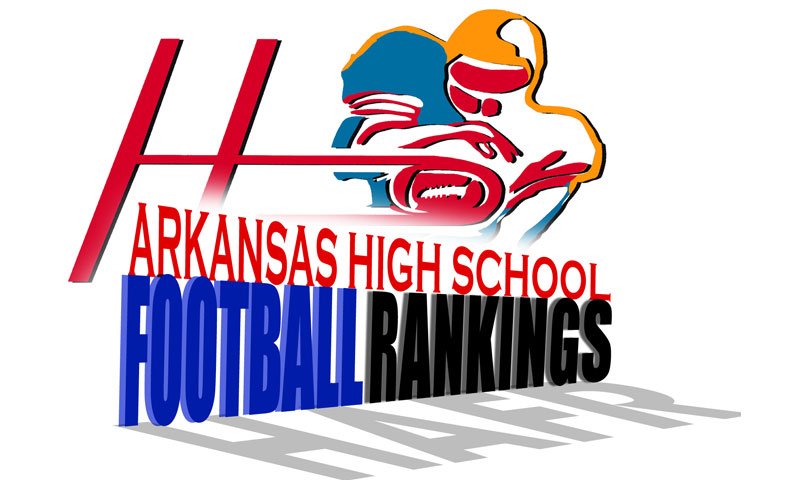 Hootens.com Class 4A Rankings
Week 13, 2022
Copyright Seventy Seven's Publishing
1. Arkadelphia (10-0)
2. Harding Academy (10-0)
3. Warren (10-1)
4. Malvern (9-2)
5. Elkins (10-1)
6. McGehee (8-2)
7. Nashville (9-3)
8. Rivercrest (9-3)
9. Star City (10-2)
10. Stuttgart (9-3)
11. Pocahontas (10-2)
12. H.G. Haskell (10-2)
13. Lamar (9-3)
14. Ozark (8-4)
15. Ashdown (7-4)
16. DeWitt (7-4)
17. Gosnell (8-3)
18. Lonoke (6-5)
19. Pottsville (6-5)
20. Clinton (7-4)
21. Bauxite (7-4)
22. Gravette (6-5)
23. Trumann (5-6)
24. Crossett (4-7)
25. Mena (5-6)
26. Gentry (7-4)
27. Blytheville (5-6)
28. Monticello (4-6)
29. Lincoln (5-6)
30. Mayflower (4-6)
31. Riverview (3-8)
32. Bald Knob (3-8)
33. Hamburg (3-7)
34. Heber Springs (2-7)
35. Jonesboro Westside (2-8)
36. Highland (3-7)
37. CAC (2-7)
38. Berryville (2-8)
39. LR Hall (1-8)
40. Waldron (2-7)
41. Huntsville (2-8)
42. Helena (1-8)
43. Cave City (1-8)
44. Dumas (1-9)
45. Dover (2-8)
46. Harrisburg (2-8)
47. Green Forest (1-9)
LAST WEEK

Hootens.com correctly predicted 6 of 8 games (75 percent) last week and has correctly predicted 256 of 292 games (88 percent) this season.
WEEK 13 PREDICTIONS (favored team highlighted in yellow and ALL CAPS)

BOTTOM OF THE BRACKET

HOOTENS.COM GAME OF THE WEEK
No. 4 Malvern (9-2) at NO. 3 WARREN (11-1): Warren beat Malvern 32-28 in the second round of the 2012 playoffs. The Lumberjacks have won 11 in a row this season, and last week avenged their only loss by beating Stuttgart 62-24. Senior quarterback Maddox Lassiter rushed for 4 TDs, including one from 88 yards out. Senior MLB Delfino Rivera and the offensive line were crucial a week ago, Coach Bo Hembree says.
Malvern scored on 3 consecutive possessions in the second half to put away Lamar last week 41-31. Senior QB Cedric Simmons (14-18 passing, 206 yards, 4 TDs) also rushed 13 times for 122 yards and 1 TD. Junior Jalen Dupree ran 68 yards for a TD on the first play, and tight end Kealon Juniel caught a 45-yard TD pass. Junior Angel Perez had 14 tackles. "It's a typical Warren team in November, and it's always hard to win at Warren in the playoffs," Malvern Coach J.D. Plumlee says.
No. 7 Nashville (9-3) at NO. 5 ELKINS (10-1): Nashville beat Elkins 48-6 in the second round of the 2020 playoffs. The Scrappers took down 3-4A champion Pocahontas 37-7 last week. Senior QB Sloan Perrin (8-9 passing, 102 yards; 15-200 rushing, 2 TDs), junior Tre Hopkins (105 rushing), and Alex Mediola (6-102 rushing, 2 TDs) accounted for 407 rushing yards.

Elkins held Ashdown to 6 points in the second half of last week's 63-27 victory. The game turned when Elkins junior DaShawn Chairs returned a kickoff 60 yards to set up a TD in the final seconds of the first half. Chairs (17-329 rushing, 6 TDs; 5-71 receiving, 1 TD) and junior QB Dizzy Dean (16-22 passing, 185 yards, 1 TD; 1 rushing TD; 6 of 8 extra points) led Elkins.
TOP OF THE BRACKET

No. 6 McGehee (8-2) at NO. 2 HARDING ACADEMY (10-0): Harding Academy beat McGehee 71-44 for the 2000 Class 3A state title. Harding Academy won at McGehee 62-33 in the 2012 quarterfinals and 62-36 in the 2019 quarterfinals. Harding Academy won the title each of those seasons.
Harding Academy sophomore QB Owen Miller threw 3 TD passes in the first half of last week's 45-7 win over DeWitt, while senior Kyle Ferrie kicked 6 extra points and 1 field goal. Kyler Hoover had 4 TDs, including a 65-yard catch. McGehee jumped on H.G. Haskell 22-0 in the first quarter last week, coasting to a 42-7 victory. Senior Nehemiah Barnes ran for 3 TDs. McGehee has held 4 of its past 5 opponents to 2 TDs or fewer.
No. 8 Rivercrest (9-3) at NO. 1 ARKADELPHIA (10-0): Rivercrest won its 8th game in a row last week, driving almost 70 yards in the final minute to down Star City 49-42. Junior Michael Rainer (204 yards, 5 TDs) scored the winning TD on a 15-yard run with 11 seconds left. The Colts forced 5 turnovers. Senior Jaden Stovall took an end around 56 yards for a TD late in the first half, and senior Koby Turner rushed 9 yards for a TD. 

Undefeated Arkadelphia beat Ozark 52-21. Senior QB Donovan Whitten passed for 261 yards 5 TDs, and sophomore Kyle Reed ran 10 times for 75 yards and 2 TDs. Senior WR Tripp Campbell caught 5 passes for 88 yards and 2 TDs, and senior Carter Babb added 5 receptions for 63 yards and 2 TDs.