Hogs: Bielema doesn't sound down on his DC; notes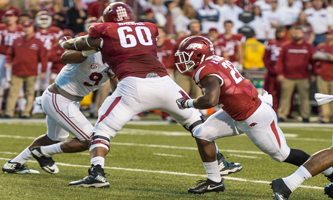 FAYETTEVILLE - For their parts in amassing an Arkansas record 661 yards in a SEC game, sophomore running back Rawleigh Williams and senior left tackle Dan Skipper were honored Monday by the SEC Office in Birmingham, Ala.
In Arkansas' 58-42 SEC West victory over the Mississippi State Saturday night in Starkville, Miss., Williams of Dallas carried 16 times for a career-high 205 yards, 191 in the first half. He  rushed for a career high four touchdowns and threw his first-ever Razorbacks touchdown pass, a fluttering but caught 1-yarder to redshirt freshman tight end Austin Cantrell of Roland, Okla.
Williams' performance earned him SEC Offensive Player of the Week honors for the third time this season.
Skipper, the senior four-year starter from Arvada, Colo., was named SEC Offensive Lineman of the Week for the third time in his career.
On all four of his TDs, Williams ran left behind Skipper.
Sack free, Skipper protected the blind side of junior quarterback Austin Allen as Allen completed 18 of 25 for 303 yards and two TDs with no interceptions.

RUNNING BACKS PRAISED
Talking skill players first, Arkansas coach Bret Bielema said Monday: "Offensively, Austin Allen took a step forward, and our two running backs, Devwah (Whaley, the freshman  amassing his SEC high 112 yards rushing on 19 carries with a touchdown) and Rawleigh. Rawleigh joins a crew of guys who are truly special players in the history of college football, so pretty good company for him."

BIG PRAISE FOR A BIG MAN
Bielema saved his highest accolades for Skipper, the tallest in college football at 6-10, 319, and the entire offensive line of junior center Frank Ragnow, Chanhassen, Minn.; guards Johnny Gibson, Dumas and Hjalte Froholdt, Denmark; and tackles Skipper and Brian Wallace of Florissant, Mo.
Wallace heads back to his home state as the Razorback (7-4 overall 3-4 in the SEC West) wrap up their SEC season in Friday's 1:30 p.m. CBS-televised game in Columbia, Mo., against the Missouri Tigers (3-8, 1-6 in the SEC East).

KUDOS FOR KURT
"We gave our five offensive linemen the MVP," Bielema said. "Really an exceptional job. So give a lot of credit to Kurt (Anderson, the first-year offensive line coach) in having the perseverance with those guys."
Skipper's play prospered this lone season with Anderson, Bielema asserted.
"The jump that Dan Skipper has made is an indication of how good of a football coach Kurt Anderson is," Bielema said. "To take a fourth-year player and take his level of play from here, it doesn't happen by chance. I'd say it's (strength coach) Ben Herbert as well. Skip's body is in as good of shape as it's been in."
Other than shutting out Mississippi State in the second quarter, it didn't seem the Razorbacks played much defense in Starkville.

Mississippi State amassed 533 yards total offense with Bulldogs quarterback Nick Fitzgerald, rushing 131 yards and four TDs on 17 carries and completing 23 of 33 passes for 328 yards and two TDs without an interception.

ELLIS BEST ON SHAKY D
However Bielema said senior middle linebacker Brooks Ellis of Fayetteville, six tackles, one behind the line, and breaking up a pass he nearly intercepted was the UA's Defensive MVP.
"He really played a pretty good game, did a lot of really good things," Bielema said. "He almost had a quick pick and was  trying to get our guys in the right position all the time. Good senior leadership."

DEFENSIVE EVALUATIONS
Bielema said in Starkville that the Razorbacks must change some things next year about a defense that has struggled to stop the run.
That doesn't necessarily mean a change of defensive coordinators.
Defensive coordinator Robb Smith impressed Bielema when both served on Iowa defensive staffs from 1999-2001. Smith drew national attention in his Arkansas 2014 debut, turning around a porous defense from the previous season.
"I think the thing about Robb and I, we share a very, very common defensive history and what we believe in," Bielema said Monday. "And that's why we've had success at different times.  We've gotta make sure that stays the mainstay of what we are. Whether it's how we align, how we support the football, the principles we believe in in coverage. I think we have the core and the makeup to be a very good defensive football team. That isn't happening right now all the time."

MIZZOU SUSPENDS CROCKETT
Damarea Crockett, Mizzou's freshman leading rusher with 1,062 yards and an alum of Little Rock Christian, won't play Friday against Arkansas.
Missouri coach Barry Odom announced Monday afternoon Crockett's suspension from the game.
Crockett was arrested on a possession of marijuana charge during Sunday's wee hours in Columbia, Mo., after rushing for 225 yards Saturday during Mizzou's 63-37 loss at Tennessee.
Junior running back Ish Witter, Mizzou's second-leading rusher, has started nine games and netted 738 yards and six TDs on 157 carries.

MONDAY NIGHT FOOTBALL
Usually off Monday, the Razorbacks practiced Monday night with the Friday game  short work week.