Hogs: coaches take heat, feel for their families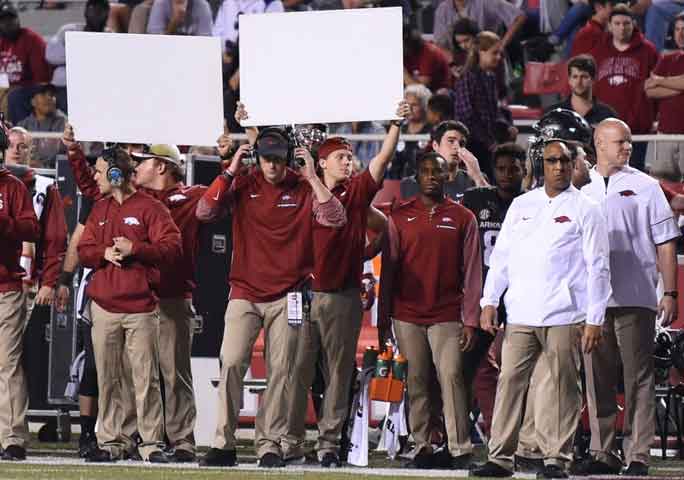 FAYETTEVILLE - As they prepare for the season-finale Friday, Razorback head coach Bret Bielema and coordinators Dan Enos and Paul Rhoads know this could be the season-finale for them at Arkansas.
The Razorbacks (4-7 overall, 1-6 in SEC) play host to streaking Missouri (6-5, 3-4) at 1:30 p.m. Friday. Mizzou has won five straight games. CBS will televise the game at Reynolds Razorback Stadium.

Arkansas fired athletic director Jeff Long last week, and the football coaches could be next after their Hogs lost last week to Mississippi State 28-21.

BIELEMA TO TCB
Bielema, completing his fifth year at Arkansas, intends to concentrate on preparing for and coaching Friday's game and then hit the recruiting trail.
"I know what we've been able to accomplish and where I know we can go," Bielema said. "Because recruiting is right around the corner. I'm scheduled to be in a home early Sunday, and that's what my intention is to do. And if things change that's obviously something I've got to deal with, but that's been my task. We had a great recruiting weekend this past weekend.
"My goal is to put our best performance on Friday, hopefully try to get ourselves a victory, Saturday regroup during the morning, hop on a plane and get recruiting on Saturday night and Sunday morning."
ENOS CITES FAMILY CONCERNS
Enos said he insulates himself in his work while preparing for Friday's game, but laments his family can't do the same.
"It's harder on the families than us,' Enos said. "I think it's really, really difficult on the kids and the wives because they're out in the community. Kids hear things at school and things like that. It's really a tough part of the business, it really is."
Enos says his family does not deserve the grief.
"That's what is hard," Enos said. "When you're 4-7, we know people aren't trying to have a parade for us or build statues of us in front of the stadium. We get all that. But it's tough to watch your family go through stuff. I just continually use it as learning moments for my children, as life's not always easy. Life's not always fair. There's going to be adversity in life, and you have to fight through it. As my dad used to always say, 'You have to keep your hands up, keep your chin down and just keep punching."
RHOADS WELL TRAVELED
With their children grown and having enjoyed great initial success but ultimately fired after seven years as Iowa State head coach, Arkansas defensive coordinator Rhoads and his wife, Vickie, have weathered enough coaching ups and downs to handle this one.
"I'm very fortunate to have a tremendous coach's wife who's been through it as well," Rhoads said. "She gets it. She understands it. She's able to block it out just as well as I am. I have two grown sons who lived it playing for me, when their old man got fired."

NANCE, WARREN QUESTIONABLE
Among the several Razorbacks injured during the MSU loss, junior wide receiver Jonathan Nance and freshman kick-returner/reserve receiver De'Vion Warren are in the most jeopardy of not playing against Missouri.
Nance did not drill during Monday's practice after injuring an ankle and a knee before exiting the Mississippi State game.
"We're kind of approaching it as he may be a guy who's questionable for Saturday," Bielema said.
Warren is undergoing concussion protocol from his injury Saturday. Bielema said Warren is progressing well but must pass all protocol before he can be cleared to play.
Junior left offensive guard Hjalte Froholdt and junior center Zach Rogers were injured during the Mississippi State game, but Bielema said he anticipates both will play against Missouri.