Williams, Hogs run past Miss. St. 58-42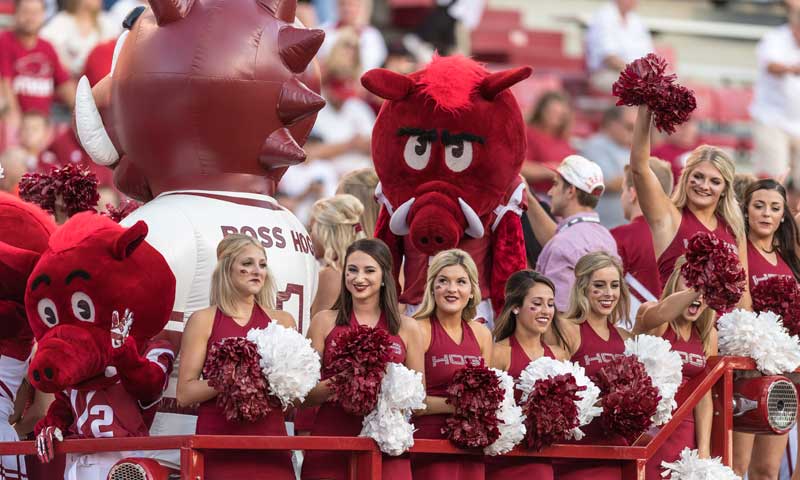 STARKVILLE, Miss. – Sophomore running back Rawleigh Williams had a career performance Saturday night, rushing for 205 yards and four touchdowns and passing for a touchdown to lead the Razorbacks to a 58-42 win over Mississippi State for its seventh win of the year.

Williams is the first Razorback player to rush for three or more touchdowns and pass for one touchdown since Darren McFadden against LSU in 2007. Williams' yards on the ground and rushing touchdowns were easily new career-highs, while his passing TD in the third quarter to Austin Cantrell was his first of his career.

With the win, the Razorbacks secured at least seven wins for the third straight season, and it gives them their 13th win in their past 18 games dating back to 2015. It's also Arkansas' first win over Mississippi State since 2011.

The Razorbacks complete the regular season at 1:30 p.m. Friday at Missouri. The game will be televised by CBS.

Overall, the Hogs were able to endure some success by Bulldogs' quarterback Nick Fitzgerald, who ran for four scores and passed for two, but with each Mississippi State TD, Arkansas responded.

TD or a field goal with Williams responsible for five of those scores. Arkansas didn't have to punt, either, for the second time this season.

As a team, Arkansas put up 661 yards of offense, the fourth highest in a game in school history and highest ever in an SEC game.

Junior quarterback Austin Allen was strong through the air, completing 18-of-25 passing for 303 yards and two TDs. Wide receivers Drew Morgan and Keon Hatcher combined for 10 catches for 156 yards and two TDs from Hatcher, but it was the run game that had the Hogs rolling all night.

The Hogs ground out 134 yards in the first quarter, 122 coming from Williams on four carries. The Dallas native broke through on the Hogs' second play from scrimmage to open the game, going for 72 yards for the TD. It was his longest run of his career and second longest run for Arkansas this season.

Arkansas and Mississippi State traded scores throughout the entire first frame as Williams had both of Arkansas' scores and Fitzgerald had both for Mississippi State. Williams' second TD of the game was another long run as he capped another two-play, 70+ yard drive with a 42-yard run.

The Hogs took control in second quarter.

Three times Arkansas found the end zone, twice on the back of Williams as the Razorbacks busted open a 38-14 lead at the break. In just the first half, Williams had already rushed for 122 yards and four touchdowns, giving him his sixth 100-yard game this season, seventh of his career.

Mississippi State tried mounting a second-half comeback, scoring four times in the final 30 minutes, but with each Bulldog score, Arkansas had a score of its own.

The Razorbacks utilized some trickery for their only score of the third quarter. In what was its longest drive of the game, the Hogs ended a 12-play, 79 drive with a touchdown throw from Williams. In what looked like a run play, Williams took the handoff from Allen and stepped back from the line of scrimmage before finding an uncovered Cantrell in the end zone.

It was the first time an Arkansas running back passed for a touchdown since Jonathan Williams achieved the feat against  Rutgers in 2013.

Hatcher and freshman running back Devwah Whaley provided the final Razorback TDs in the game. Hatcher caught his second touchdown of the game early in the fourth quarter to keep the Hogs in front by three scores. It was Hatcher's second game this season with two touchdowns and fourth of 60 yards or more.

For Whaley, he has two TDs this season and finished with 112 yards against the Bulldogs, his second highest total and second 100-yard game this year.