Hogs ready to silence cowbells, finally beat MSU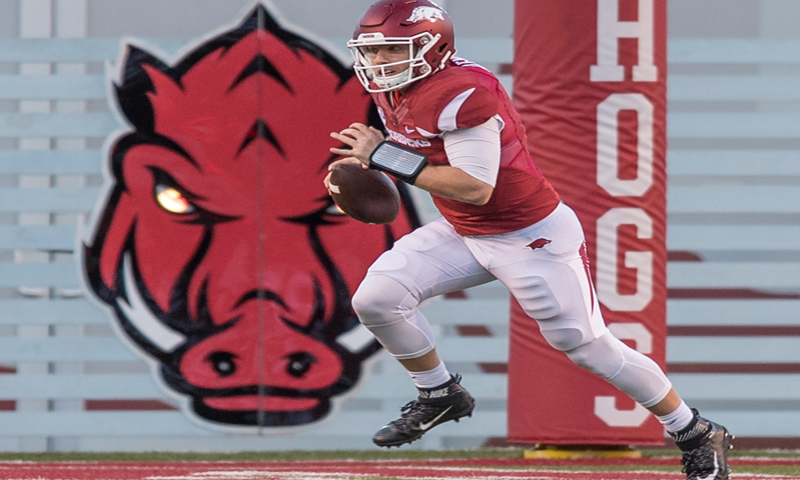 FAYETTEVILLE - The Razorbacks have heard enough cowbells in practice this week to make silencing them a goal Saturday night in Starkville, Miss.

Fans ringing cowbells are a tradition at Mississippi State (4-6, 2-4 in the SEC West), which plays host to Arkansas (6-4  2-4) at 6 p.m. Saturday on ESPNU at Davis Wade Stadium.

Arkansas senior linebacker Brooks Ellis and senior left offensive tackle Dan Skipper played through the cowbells' din in 2014 during a 17-10 loss to the Bulldogs.

Arkansas sophomore running back Rawleigh Williams has not been to Starkville, but he's among the partially initiated this week with the loudspeaker-pumped cowbell noise during practices.

"We had them going today," Williams said. "Not the best noise to hear, but hopefully we can quiet them down a little bit."

Will they affect the Arkansas offense calling signals?

"Not really," Williams said. "Our staff does a good job of teaching us how to handle it, and we practice with it all week so hopefully it won't be that big a deal for us Saturday."

It isn't an intimidating deal, just a nettlesome one, Ellis said of the ringing cowbells.

"It's just constantly loud and annoying," Ellis said. "It's not a fun experience to be down there."

Every SEC school has its own traditions, but Mississippi State's cowbells are one of a kind allowed in the league.

"Any time you're on the road you've got to be prepared for the noise," Skipper said. "That's their thing. That's what they bring to the table. So you can let it affect you or you can be mentally tough and not let it affect you."

Or even use it to motivate you.

"We are going to use it as motivation," Arkansas receivers coach Michael Smith said. "Hopefully we can all play well enough where there won't be a lot of cowbells ringing at the end of the day."

Truly, it's not the sound of cowbells but the taste of defeat that has annually galled the Razorbacks since 2012, whether playing in Starkville, Fayetteville or Little Rock.

Fifth-year senior Razorbacks or fifth-year senior receiver Keon Hatcher, who was granted a 2016 hardship because of a broken foot in 2015, can recall MSU routing the Razorbacks 45-14 at Davis Wade.

From 2013 on under Bret Bielema, the Hogs have not beaten Dan Mullen's Bulldogs. In 2013, Arkansas lost 24-17 in overtime at Little Rock, lost 17-10 in 2014 at Starkville and last year's epic 51-50 in Fayetteville.

"They've all been close but we haven't won," Bielema said. "So I would like to get that chip on our side for once."

Beyond that, Bielema and the staff focus on the fundamentals and X's and Os, knowing the elder Razorbacks have revenge as a motive.

"We're doing everything we can to get this win," Ellis said. "I haven't beaten them in three years, so this is one I definitely want to get. It's definitely time for Arkansas to beat Mississippi State. This is the year."

Despite the 38-10 battering the Razorbacks absorbed last week from LSU, they won't have anyone who played in that game unable to play in Starkville, other than possibly backup safety De'Andre Coley (recovering early in the week from a blow to the head).

"We are pretty healthy," Bielema said. "The good part about Saturday was the only thing that got bruised was our heart."

The Razorbacks lifted weights and met Thursday then practice Friday before heading to Starkville, Miss.