Playoffs: Piggott, S'side Batesville make historic runs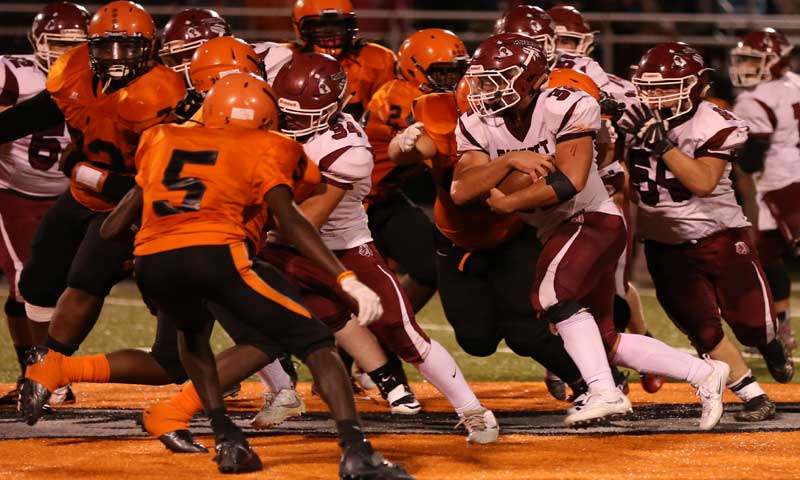 Winning playoff games can be difficult. Just making the postseason is a prize for some teams.
The opening week of the 2016 playoffs included a few teams doing what their predecessors could not.

For Class 7A start-up Bentonville West, there was no history to fall on. The first-year team was comprised entirely of juniors and sophomores. Yet, the Wolverines hosted a playoff game last week. Despite losing to Cabot 62-34, expectations are high for future Wolverines.
Two of the more intriguing story lines surround programs with little and no tradition.

MOHAWKS ON THE MOVE
Class 3A Piggott won its first game of the modern playoff era last week by beating Cedar Ridge 42-14, while Class 4A Southside Batesville won its debut playoff game at Booneville 21-13.
Piggott was mired in a losing mentality (six playoff appearances in 46 years) when 40-year-old Michael Harrell was promoted to head coach in 2014.
Harrell, a hometown boy, graduated from Piggott in 1993, then spent the next 10 years working for the city and eight years assisting with the pee wee football program. He got the coaching bug in 2000 and enrolled in Williams Baptist College. Four years later Harrell graduated, quit working for the city and started coaching Piggott's junior high.
"I'm living the dream," Harrell says. "To coach in your hometown and have success is a feeling like no other. Right now, our kids can't go in the store to get a coke or a gallon of milk without getting hugs and congratulations from everyone. Our town is electric."
But the feelings weren't so great three years ago when Harrell's first team went 3-7. He quickly realized a Spread or even a pro-style attack didn't fit Piggott's personnel.

Harrell harkened to his senior season as a Mohawk, when he ran a T offense under former coach Robbie Mosley. "We always ran the ball when I was playing and coaching, but I didn't know enough about the T system," Harrell says.
He phoned former Wynne coach Don Campbell in August 2015 and began implementing the Diamond T. Piggott spent last year learning the system.
"Coach Campbell has been amazing," Harrell says. "I reached out to him and travelled to his home in Vilonia. He's been up here to some practices and meetings, and at five of our games."
The second year in the Diamond T produced sparkling results. The Mohawks average 331 yards per game, churning out 299 on the ground.

Piggott, the 3-3A's No. 3 seed, is a few plays away from being undefeated. The Mohawks beat Rivercrest 27-13 in Week 5 (Rivercrest's only conference loss, and its only loss to a Class 3A opponent). They sandwiched losses at Newport (7-6 in Week 6) and at Walnut Ridge (14-13 in Week 8) around a one-point overtime win at Manila.
Four players have rushed for at least 600 yards, including senior workhorse Justin Goding with 133 carries for 978 yards 11 touchdowns. Juniors Cade Harrell (with ball in top photo by Rhonda Sharp), the coach's son, has 127 carries for 699 yards and eight TDs, while classmate John Jones has 103 carries for 653 yards and six scores.
"Our main hopes this year were to go to the playoffs and compete in the conference," Harrell says. "We are so close to being 11-0. But we've learned a lot of things from the losses."
Piggott's road to the playoffs began last December when Harrell took this year's team to Little Rock to watch conference rival Rivercrest play in the Class 3A state title game. Rivercrest lost to Harding Academy 33-18, but the Piggott Mohawks left with state title aspirations. The current juniors and sophomores beat Rivercrest in junior high.

Piggott faces its stiffest challenge this week with a five-hour trip to undefeated 5-3A champ Prescott. "Our guys believe they are supposed to be here," Harrell says. "This is because of a lot of hard work and dedication, not by chance or luck."

SURGING SOUTHERNERS
Southside Batesville's path to a playoff win is just as impressive as Piggott's.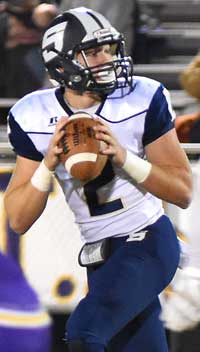 S'side QB MILLIKIN
The Southerners have struggled, and many in the area wondered why they started a varsity football program in 2005. Southside Batesville won just 22 games in their first 11 years.
Sixth-year coach Kenny Simpson believes the varsity program bottomed in 2014, going winless for the third time in seven years.

"I realized the errors I made," Simpson admits. "I had been a younger coach and was so caught up trying to turn it around that I neglected the junior high and seventh grade programs. In 2014, we started several sophomores (now seniors) and picked up a ton of junior varsity games. We moved around some coaches, changed some responsibilities, and I think we are now seeing the rewards."
Southside Batesville's 2016 season turned Week 4 with a seven-point loss at Stuttgart. Stuttgart had beaten the Southerners by a combined 440-72 the previous 10 years.
"Going in we just wanted to make it respectable," Simpson says. "With three minutes left, it's tied and we have the ball on the 30-yard line. They stop us, go down and score, but we go straight down the field and drop a touchdown pass in the end zone. Getting on the bus, I told our coaches and players that keeping it close isn't the goal anymore."
The Southerners beat league champion and top seed Heber Springs 24-20 Week 8, and finished tied for third in the conference.
They won at tradition-rich Booneville last week. Booneville has 61 playoff wins since the modern playoff era began in 1969, while Southside Batesville was making its playoff debut.
"We told our kids all week we weren't just glad to be here, that we were supposed to win," Simpson says. "Luckily, they were unaware of Booneville's past, and I was, too. It wasn't until we got on the bus headed home that I checked my phone and had 30 text messages from coaches around the state saying you aren't supposed to go into Booneville and win in the playoffs."
Southside Batesville 17-year old senior quarterback Josh Millikin (6-1, 175), one of only 10 seniors on the roster, has passed for more than 1,400 yards this season. Millikin threw two TDs in last week's playoff win. He's committed to play next season at Henderson State.
"I think he'll be a great college quarterback," Simpson says. "He's been our guy for three years."
Southside's top playmaker, senior Mason Anderson (5-6, 150), has more than 2,000 all-purpose yards. Anderson was held to a career-low 8 yards rushing last week at Booneville, but he changed the game at the end of the first half by hauling in the tying TD pass on fourth down.

Anderson also starts in the secondary, along with juniors Dawson Blevins (5-9, 145), Marshall Wyatt (6-2, 165) and sophomore Caden Huskey (6-0, 175). "They are our strength," Simpson says. "Even our linebackers are great in coverage." Huskey has six interceptions this year, second-most in the state.
Southside Batesville travels this week to No. 4 Joe T. Robinson. Robinson features three players with Division I scholarship offers, and at least five more who should get offers over the next year.
"We win games ugly," Simpson says. "We want to play defense and keep the ball away."

With the increased wins, Simpson's Southerners expect more accolades.
"Our kids are underrated because they've lost for so long," Simpson says, "but once you start winning, people take notice."