Hogs: QB Allen healthy, perfect in practice; notes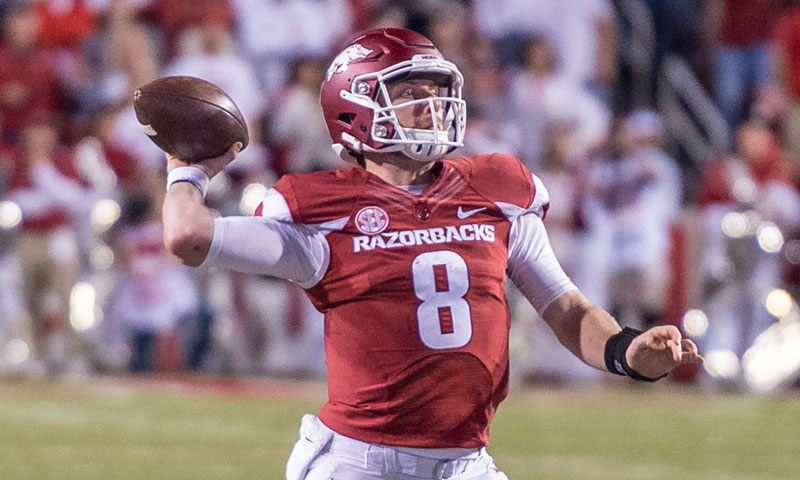 FAYETTEVILLE - It isn't just ESPN with 30 for 30 documentaries.

Arkansas starting quarterback Austin Allen passed 30 for 30 during Tuesday's practice, Arkansas receivers coach Michael Smith said after Wednesday night's practice.

Allen, not media available Wednesday for the first time this season, and the Razorbacks (6-4 overall and 2-4 in the SEC West) come off a subpar showing in last week's 38-10 loss to LSU and practice for Saturday's 6 p.m. game at the Mississippi State Bulldogs (4-6, 2-4).

"He's been great this week," Smith said. "He's been real sharp. I know it's something he took personally last week that he didn't play like he's capable of playing. He's come out these last two days, and he's firing the ball around. I am excited to watch him play Saturday."

So Allen looks back in sync? "He went 30 for 30 yesterday," Smith said. "So I think so."

SKIPPER, RAWLEIGH CONCUR
Senior left offensive tackle Dan Skipper and sophomore running back Rawleigh Williams concurred that Allen looks back in the excellent form of his first seven games that slipped after he  sprained his knee during the 56-3 loss at Auburn.

Allen was off form even while quarterbacking a 31-10 victory over Florida and he struggled, including throwing two interceptions, when Arkansas faltered on both sides of the ball against LSU.

"Yeah, he came back," Skipper said. "He's got his confidence back. Monday we had a 6:30 (a.m.) lift and he was in there are 5:45 ready to roll. He's just one of those guys that you're not going to get him twice."

Williams said Allen never stays down for long.

"Man, he's a leader," Williams said. "He bounces back from everything. He's one of the positive voices on our offense, on our team and he's pushed us to be better and it's on us as well. It's on the O-line. It's on the receivers. It's on the running backs. We have to protect him and we have to make plays for him."

RAWLEIGH'S HISTORIC 1,000
Williams, with 1,004 yards on 192 carries, continues Arkansas coach Bret Bielema's four-year run with at least one running back to rush for more than 1,000 yards.

"It means a lot," Williams of Dallas said. "That was a big reason I came here to play under Coach B and to play under the history that this school has and I wanted to add to it and hope to continue that this season."

Since 2000 Arkansas running backs Fred Talley, Cedric Cobbs, Darren McFadden, Felix Jones, Knile Davis, Alex Collins and Jonathan Williams all surpassed 1,000 yards rushing at least one season.

"It gives me chills when you even say those names," Williams said. "Those are legends in one way or another. Hopefully one day I can surpass them because my goal is to be the best."

AS RAWLEIGH GOES, HOGS GO
In Arkansas' six victories this year, Williams has topped 100 yards rushing five times and netted 96 yards rushing in the season opener.

The Hogs lost all four games when Williams netted 79 yards rushing or less.

"I feel like if I do well, the team does well," Williams said.  "We feed off the run. I put a lot of pressure on myself to get better and that's something I have to do this week. We have to be able to run the ball to establish our offense."

What went wrong against LSU besides running into a great LSU defense?

"A lot of mental errors," Williams said. "I missed a couple cuts Saturday. Just did some things, that's not my character. I've worked hard. I'm getting overtime this week and in practice. We've had a good week of practice. I'm excited about Saturday."

REED RESPONDS
Wednesday night Michael Smith was asked about Dominique Reed, the senior receiver from Camden Fairview. Reed, accounting for Arkansas' lone TD (a 44-yard bomb) against LSU, drew Bielema's publicly expressed ire for being late to a Sunday workout.

Apparently Reed took the ire to heart.

"He practiced his tail off the last two days, and he's going to get an opportunity on Saturday," Smith said.