Hogs: QBs Allen, Storey ready for MSU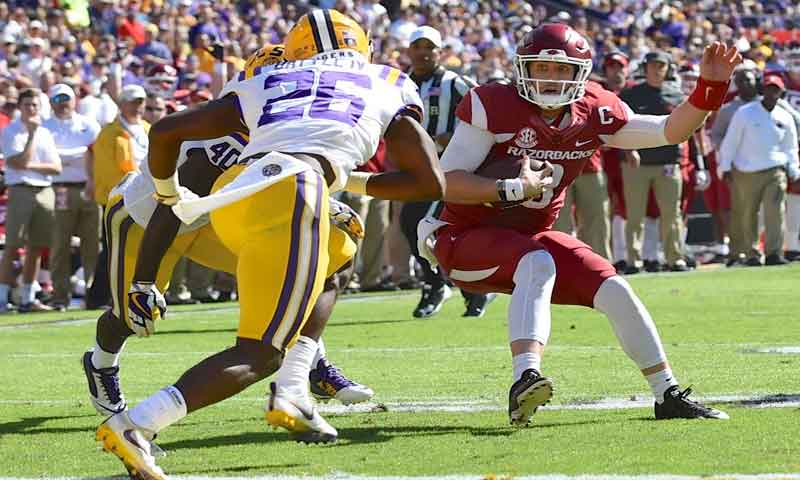 By OTIS KIRK
FAYETTEVILLE - Arkansas enters Saturday's game vs. Mississippi State  with no speculation about its starting quarterback, unlike last week at LSU.

Senior QB Austin Allen (in Craven Whitlow photo) will start his second game in a row since returning from a shoulder injury. Allen completed 13 of 23 passes last week for 140 yards before giving way to Cole Kelley the last two series of the game.
Arkansas plays host to Mississippi State at 11 a.m. on Saturday in Reynolds Razorback Stadium. The game will be televised on CBS.

With Kelley suspended indefinitely for his arrest on suspicion of driving while intoxicated and reckless driving, former Charleston standout Ty Storey, a third-year sophomore, will serve as the backup to Allen. Storey has completed one of four passes for 3 yards at Arkansas. Arkansas coach Bret Bielema talked about his confidence in Storey.
"Really good," Bielema said. "We started fall camp with he and Cole Kelley dead even. Every practice, every throw, every read, percentages of completions everything was dead even. And then Ty actually took a little bit of a lead. Two weeks out from the game, Ty was going to be our No. 2 guy. For the last (preseason) week it kind of swung the other way. We went with that for the beginning of the season and never really varied.
"But even when Austin went down, and we were going to put Cole into that position I brought them both in and explained where we're going and told them at the conclusion of fall and going into spring ball we would have open competition for the quarterback regardless what happened in Austin's absence. And I think Ty has bought into that. He had an exceptional day yesterday. I would say over the last two weeks he has really had his uptick from anywhere during the course of the season. We didn't know if Cole was going to be able to go last Saturday until game time. Obviously he went and we put him in there, but we were totally prepared to put a package in there with Ty Storey kind of handling the same things. So I'm confident. I know Ty is confident and I know the guys around him will be confident moving forward."
Wide receiver Deon Stewart hinted the Hogs might throw the deep ball more.
"Well it's one thing to throw the deep throw, but we've got to complete them, right?" Bielema said. "So, Deon I would say in the last month has probably grown as much as any player in our program during the course of the season which you love. Because he's a young player, a second-year player for us much like a group that is young, talented and continues to get better. But it's one thing to run a deep route. They've got to catch it. They've got to hold the line.
"Also with Austin coming back in the lineup, one of the harder throws to probably have consistently completed even just versus air let alone throw the defense in there is the deep ball. The timing of it, the throwing of it. Obviously when you are playing outdoors, but the wind or no wind. It's big. I really like the growth that Deon had. We haven't necessarily thrown more deep balls but maybe more just with an emphasis with him in the route and that kind of goes forward. But the timing is huge. We went from an offense that was going to have several multiple seniors starting to now the only guy that I believe offensively will start as a senior for us is Austin Allen. So it's just a lot of players that haven't played a lot of football together getting used to each other."
Mississippi State may have the best quarterback in the SEC in Nick Fitzgerald. He's second on the team with 867 yards rushing and a team-high 13 touchdowns. Fitzgerald has completed 146 of 258 mostly shorter passes for 1,617 yards and 13 TDs with interceptions.
Fitzgerald had a big game against Arkansas in 2016, but Bielema has been even more impressed with him this season.
"The one part that probably jumps out to me on Fitzgerald vs. when we played them a year ago is just the preparation, that he has so much a better understanding of everything going on around him," Bielema said. "He's been very, very much improved not just in running the offense but the simple tools of it. The run game that he's involved with they are a little bit more diversified. The throw game he looks to be very confident. His pre-snap reads are well executed and throwing the ball where he wants to go and as is the case with all good quarterbacks, his supporting cast.

"They've got an offensive line that is one of the better O-lines we have seen this year and overall probably a better O-line than we have seen in the past from Mississippi State. They are very big, very talented. Every one of them from left tackle to right tackle is a very high quality SEC lineman. And it all kind of fits together from what you see Saturday."
LONG GONE
Former Greenwood and Arkansas quarterback Tyler Wilson was the featured speaker at the Northwest Arkansas Touchdown Club. Wilson reacted to the  firing of Arkansas AD Jeff Long.

"I have nothing but positive things to say about Jeff Long and my time there," Wilson said. "I thought the way he handled the senior year (in 2012) while I was there was so difficult, and I think he did such a tremendous job during those times of difficulty. To my feelings, kind of surprised this morning when I heard the news. Obviously, there's been chatter and talk, but I didn't expect to hear the news today."
Wilson was heading into his senior season at Arkansas in 2012 when Long fired Bobby Petrino in the spring. Long eventually replaced Petrino with John L. Smith on an interim basis for the season. Arkansas imploded that year from a No. 8 ranking to losing to Louisiana-Monroe in Little Rock's War Memorial Stadium in the second week of the season.
"You know, it was such an unorthodox situation," Wilson said. "I felt like he was around but no more so than he was the year before. I certainly felt like he was the figure that everybody looked to during those times. And he's been that. I think he has been that anchor.
"He's done an incredible job. You look at the facilities, from the time that he stepped in and what you're looking at today, with the north end zone project and all those things. Arkansas is in a great position in terms of the structure that's in place and the facilities and those kind of things. Those will benefit whoever inherits the program from him."