Hogs: AD Long out; Bielema may be next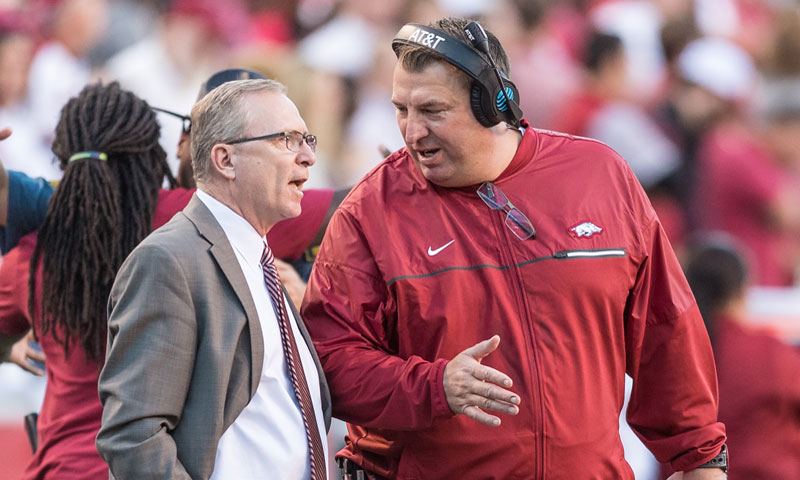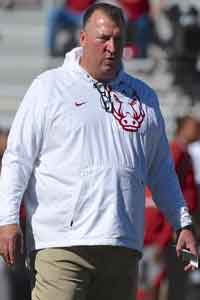 Hog HC Bret Bielema
FAYETTEVILLE - University of Arkansas chancellor Joseph Steinmetz has fired Jeff Long as Arkansas' vice-chancellor and director of athletics .
Steinmetz has appointed Julie Cromer Peoples, Arkansas' senior associate AD, as the interim athletic director. The UA fired Long out of convenience and will honor his contract through June 30, 2022.
"The decision to change leadership in our Athletics Department is not an easy one, and was made after great deliberation, discussion and thought, after consultation with the Board of Trustees and President Bobbitt," Steinmetz said in a statement. "Since coming to Fayetteville in 2008, Jeff has led our department with character and integrity and helped move us forward in so many ways.
"However, over the past year, Jeff has lost the support of many of our fans, alumni, key supporters, and members of the university leadership, support that I believe is critical in our pursuit of excellence. I want to thank Jeff for his commitment and service to our University and to the State of Arkansas and, on behalf of the Razorback family, I want to wish Jeff and his family all of the best in the future."
This decision comes less than a week after the latest UA Board of Trustees meeting, in which an executive session stretched longer than three hours with Long sitting outside the room. While no action was announced after that meeting, news continued to leak that Long was finished at UA.
Some had thought he would be allowed to stay until the $160,000,000 north end zone construction was finished in mid-2018 or until he could find a job. However, with the football team 4-6 (1-5 in the SEC) and an underdog the next two games, those options were deemed impossible.

The fan support has dwindled with attendance slipping at the Auburn and Coastal Carolina games. The second half of both of those games were played with in front of thousands of empty seats.

Rumors have persisted of a strained relationship between Long and Steinmetz. Long had an outstanding relationship with G. David Gearhart, the former chancellor. However, whispers voiced that Steinmetz had to remind Long of the order of command, that he expected to be informed of things related to athletics, including many of the details on the north end zone construction. Gearhart had allowed Long much more independence.
The news of Long's dismissal doesn't come at a good time for Bret Bielema in his fifth season as head football coach. Bielema has a UA record of 29-32 overall and 11-27 in the SEC. According to multiple sources, Bielema will retain his job through the Missouri game on Nov. 24. However, sources also indicate that an announcement could come sooner, if Mississippi State blows out Arkansas on Saturday. Arkansas plays host to MSU at 11 Saturday morning.