Hogs: MSU soph QB a big challenge; more notes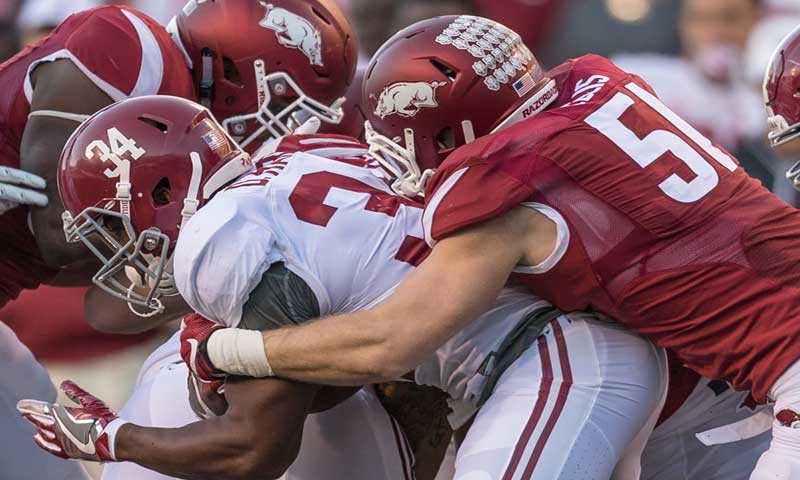 FAYETTEVILLE - Arkansas faces a bigger Mississippi State quarterback challenge Saturday night than it did last year in Fayetteville.
That's literally on size, not potential.
Dak Prescott, the Dallas Cowboys rookie QB sensation, was sensational last year in Fayetteville, completing 38 of 50 passes for 508 yards and five touchdowns. He rushed for two more in MSU's 51-50 epic win.
However, at 6-5, 230, sophomore Nick Fitzgerald is bigger than Prescott (6-2, 226), and he does present a big challenge to the Razorbacks in Saturday's 6 p.m. ESPNU televised game at Mississippi State's Davis-Wade Stadium in Starkville.
Fitzgerald is the leading rusher with 854 yards (5.8 yard per carry) and eight touchdowns on 152 carries. He has completed 152 of 285 passes for 1,850 yards and 16 TDs with 10 interceptions.
"Obviously their quarterback is the guy who makes everything go," Arkansas defensive line coach Rory Segrest said. "He's a big guy who can run. He's powerful, and he's got a great arm. We have our work cut out for us for sure."
How does Fitzgerald compare to the spate of run-pass quarterbacks that beset Arkansas earlier this season against Louisiana Tech, TCU, Texas A&M, Alabama and Ole Miss?
"This guy is probably a little bigger, a little stronger than those other guys," Segrest said. "In terms of speed, he can pull away from some guys and is a challenge for us." 
IN FASHION OF COLLIN KLEIN
Arkansas secondary coach Paul Rhoads, formerly coaching Iowa State in the Big 12, likened Fitzgerald to the Kansas State quarterback who played in Bobby Petrino's final game as Arkansas' coach in the 2011 Cotton Bowl.
"He reminds me a lot of Collin Klein, the old Kansas State quarterback (a 2011 Heisman Trophy finalist now in the Canadian Football League) who was very efficient at the quarterback run game," Rhoads said. "It's not just zone-read. It's designed quarterback runs with counter blocking and power blocking and sweep blocking and so forth. He's patient. He's physical. He's more than fast enough, and he's productive to the tune of 854 yards rushing."
Arkansas senior middle linebacker Brooks Ellis of Fayetteville was diplomatically asked that while Fitzgerald is good, isn't he elated not to be facing Dak Prescott?
"Dak was really good last year, but Nick does some good things, too," Ellis said. "So we've got to be ready for him. He's a really good runner and he's definitely something to game plan for. Obviously that (dual threat quarterbacks) is something that's given us trouble."
For senior Ellis, Saturday night marks the last chance to be on the winning side against Mississippi State, which has not lost  to Arkansas since 2011 when Ellis was a junior at Fayetteville High.
"I haven't beaten them in three years," Ellis said. "So this is one I definitely want to get. We're doing everything we can to get this win."
SOSA OK
Freshman defensive tackle McTelvin "Sosa" Agim of Hope, seen in a walking boot Saturday night following Arkansas' 38-10 loss to LSU, worked Tuesday, Segrest and senior defensive end Jeremiah Ledbetter said.
"He practiced today and we are expecting him to be fine," Segrest said.
Ledbetter, who two weeks ago swapped positions with Agim, concurred. "Sosa recovered from his injury," Ledbetter said. "He's doing good. Just healing his ankle and he's good enough to practice."
COLEY OBSERVES
De'Andre Coley, the top backup for starting safeties Josh Liddell of Pine Bluff Dollarway and Santos Ramirez, hasn't practiced since he removed himself from the LSU game with a hard hit.
"He was no-contact, but he was very much on the practice field," Rhoads said.
A PLACE FOR RAMSEY?
Coach Dan Mullen's Bulldogs operate a Spread offense which means more nickel packages with an extra defensive back and less time for strongside sophomore linebacker Randy Ramsey. Ramsey has been one of Arkansas' better defenders of late, including forcing a fumble and making five tackles and a QB hurry against LSU.
So defensive coordinator Robb Smith and linebackers coach Vernon Hargreaves are exploring roles for Ramsey against the Bulldogs.
"I think it could be his kind of game," Hargreaves said. "We're looking at it right now trying to figure out what direction we want to go to give us the best chance to have success."