Class 4A Week 12 Rankings, Notes & Picks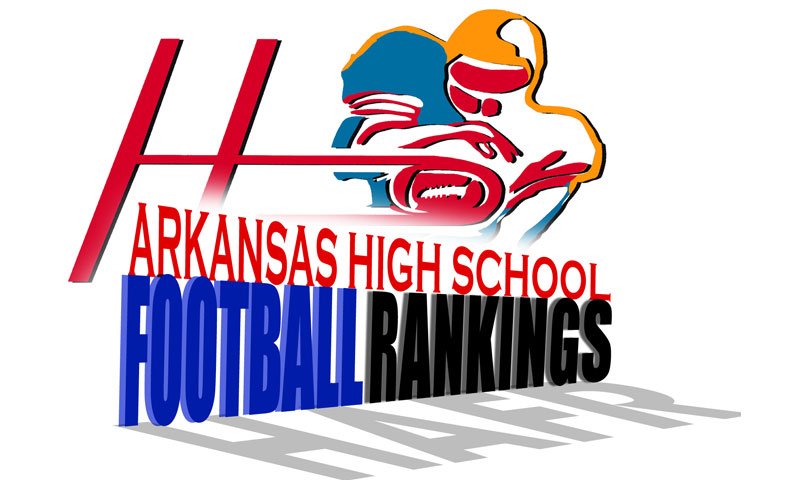 Class 4A Rankings
Week 12, 2022
Copyright Seventy Seven's Publishing
1. Arkadelphia (9-0)
2. Harding Academy (9-0)
3. Warren (10-1)
4. Star City (10-1)
5. Malvern (8-2)
6. Stuttgart (9-2)
7. Pocahontas (10-1)
8. Elkins (9-1)
9. McGehee (7-2)
10. H.G. Haskell (10-1)
11. Nashville (8-3)
12. Rivercrest (8-3)
13. Ashdown (7-3)
14. Ozark (8-3)
15. Lamar (9-2)
16. DeWitt (7-3)
17. Gosnell (8-3)
18. Lonoke (6-5)
19. Pottsville (6-5)
20. Clinton (7-4)
21. Bauxite (7-4)
22. Gravette (6-5)
23. Trumann (5-6)
24. Crossett (4-7)
25. Mena (5-6)
26. Gentry (7-4)
27. Blytheville (5-6)
28. Monticello (4-6)
29. Lincoln (5-6)
30. Mayflower (4-6)
31. Riverview (3-8)
32. Bald Knob (3-8)
33. Hamburg (3-7)
34. Heber Springs (2-7)
35. Jonesboro Westside (2-8)
36. Highland (3-7)
37. CAC (2-7)
38. Berryville (2-8)
39. LR Hall (1-8)
40. Waldron (2-7)
41. Huntsville (2-8)
42. Helena (1-8)
43. Cave City (1-8)
44. Dumas (1-9)
45. Dover (2-8)
46. Harrisburg (2-8)
47. Green Forest (1-9)
LAST WEEK

Hootens.com correctly predicted all 14 games and has correctly predicted 250 of 284 games (88 percent) this season.
WEEK 12 PREDICTIONS (favored team highlighted in yellow and ALL CAPS)

HOOTENS.COM GAME OF THE WEEK

BOTTOM OF THE BRACKET
No. 6 Stuttgart (9-2) at NO. 3 WARREN (10-1): Warren has won 13 of the past 17 meetings, but Stuttgart beat Warren 31-28 in Week 0 this season and 36-0 in Week 1, 2020. Warren beat Stuttgart twice last year (47-21 in Week 1 and 36-29 in the quarterfinals). Comparing scores against common opponents: Stuttgart lost at Star City 45-35 Week 1 and beat Crossett 48-21 last week. Warren beat Star City 28-27 Week 3 and Crossett 41-14 Week 5.
Stuttgart led Crossett 35-7 at halftime last week before winning 48-21. Versatile sophomore quarterback/receiver Deontae Clark caught 3 passes for 124 yards and 2 touchdowns, and ran 11 times for 173 yards and 3 TDs against Crossett. Senior Cedric Hawkins ran 9 times for 100 yards and Kendrick Hawkins intercepted 2 passes. Senior A.J. Higgins ran 6 times for 34 yards and 2 Ds. "Hawkins and Clark are dynamic and hard to tackle," Warren Coach Bo Hembree says. "(Defensive end) Kameron Harper has given us fits for three years."
Warren led Blytheville 21-20 in the third quarter last week before pulling away for a 21-point win. Senior QB Maddox Lassiter scored 6 TDs (2 rushing, 4 passing), and junior Ervin Rivera, sophomore Antonio Jordan and sophomore Neon'dre Thomas each caught TD passes. Warren RB Treylon Jackson returned last week for an early season injury, rushing for 46 yards. Jalin Lee and Lassiter were Warren's top tacklers "Special teams and turnovers will decide the game," Stuttgart Coach Josh Price says.
No. 13 Ashdown (7-3) at NO. 8 ELKINS (9-1): Ashdown recovered a botched punt snap in the end zone for TD, and senior Jayden Fricks sprinted 55 yards for the winning TD in the fourth quarter. of a 21-14 win over Lonoke The Panthers' 3 losses this fall are to teams with a combined record of 25-5. Elkins won the 1-4A title, winning the final 6 conference games by an average of 56-10. Junior Da'Shawn Chairs has 147 carries for 1,419 yards and 23 TDs, despite playing in only the first half of most games, while junior QB Dizzy Dean has completed 170 of 232 passes (73 percent) for 2,261 yards and 32 TDs with 5 interceptions. Senior DL Zanuel Martin has 50 tackles, including 11 TFL and 4 sacks. He's forced 4 fumbles (recovered 3 of them) and returned 1 interception for a TD.

No. 11 Nashville (8-3) at NO. 7 POCAHONTAS (10-1): Nashville has restored some of its glory. The Scrappers missed the playoffs last fall for the first time since 1990, but finished third in the 7-4A this season and beat Bauxite 28-7 last week in the first round. Senior QB Sloan Perrin (20-135 rushing, 3 TDs) and junior Tre Hopkins (23-129 rushing, 1 TD) against Bauxite. The Scrappers allowed 153 yards, including 60 in the second half. Pocahontas, 3-4A champion, manhandled Lincoln last week 56-14.  Senior QB Connor Baker ran for ran for his 100th career TD, finishing with 181 yards and 3 TDs. Baker also intercepted 1 pass at safety. Sophomore Reagan Womack (9-108 rushing, 3 TDs) recorded 4 tackles, including 3 TFL. Pocahontas Coach Charles Baty says linebackers Jack Privett, Regan Womack, Ty Menard (10 tackles vs. Lincoln), and Cooper Sorg (9 tackles) are playing well and will be vital this week.

NO. 5 MALVERN (8-2) at No. 15 Lamar (9-2): Lamar advances to the second round for the second consecutive season and 4th time in 5 years after handling Riverview 35-7 last week. The Warriors ran for 346 yards while freely substituting in the second half of the blowout. Senior Lee Harkreader ran for 183 yards and 3 TDs, while senior Damien Hendrix logged 14 carries for 55 yards and 2 TDs. Junior DB Gavyn Edwards had 6 tackles and 1 interception. Malvern racked up 470 yards last week against Pottsville. Junior Jaylen Dupree ran 19 times for 244 yards and 2 TDs, while senior QB Cedric Simmons had 11 carries for 131 yards and 2 TDs. Junior LB Angel Perez finished with 14 tackles. Comparing scores: Malvern beat Pottsville 34-14 a week ago, Lamar lost to Pottsville 27-21 in Week 7. 

TOP OF THE BRACKET

No. 16 DeWitt (7-4) at NO. 1 HARDING ACADEMY (9-0): Undefeated Harding Academy hasn't lost a postseason game since falling to Lamar 32-13 in the second round of the 2018 Class 3A playoffs. The Wildcats have sailed through their first season in Class 4A after winning 3 consecutive state titles in Class 3A. This season's 9 wins have come by an average of 42-16. Sophomore QB Owen Miller, thrust into the starting role when the returning 3-year starter quit in the summer, has completed 181 of 220 passes (state-best 83.2 percent) for 2,470 yards and 28 TDs. Senior receiver Landon Koch has 50 receptions for 759 yards and 8 TDs, while junior Kyler Hoover has 55 catches for 769 yards and 12 TDs. Senior DL Levi Mercer has 21 sacks and 43.5 in his career, and he needs 3.5 sacks to become the state's all-time leader. DeWitt senior QB Eli Ashcraft ran 22 times for 134 yards and completed 6 of 9 passes for 109 yards and 2 TDs in last week's 35-14 win at Gravette. Freshman Korri Graham led the Dragons with 12 carries for 112 yards, while the Dragons gave up 158 yards, including 65 on the final drive when the game was decided.
NO. 9 MCGEHEE (7-2) at No. 10 H.G. Haskell (10-1): Haskell's 35-0 win over Bald Knob last week was its first in the playoffs since 2017, and the Cardinals have never advanced past the second round. Sophomore Hagan Tyler caught a TD pass and intercepted 2 passes. The Cardinal have held 5 opponents to 6 points or fewer this fall. McGehee, with Tyrique Newman rushing for 4 TDs and 1 2-point conversion, advanced to the second round with a 28-16 victory at Gosnell.

No. 14 Ozark (8-3) at NO. 1 ARKADELPHIA (9-0): Ozark held Mena to 71 yards (68 rushing, 3 passing) in last week's 45-7 victory. Sophomore linebackers Eli Gilstrap (7 tackles) and Gunner Williams (8 tackles) thrived behind the defensive line's effort. Seniors Eli Masingale (17-156 rushing, 4 TDs) and Landon Wright (13-111 rushing, 1 TD) lifted the Hillbillies. Undefeated Arkadelphia clobbered Clinton 49-21, led by senior QB Donovan Whitten (10-12 passing, 155 yards, 4 TDs) and sophomore Kyle Reed (3-67 rushing, 1 TD; 1 receiving TD). Senior linebacker Marveon Berry and junior Chase Vantilborg each collected 8 tackles. Comparing scores: Ozark beat Mena 45-7 last week; Arkadelphia beat Mena 54-7 in Week 5.

NO. 4 STAR CITY (10-1) at No. 13 Rivercrest (8-3): Rivercrest beat Star City 28-14 in the 2002 quarterfinals. Rivercrest, which finished 2nd in the 3-4A this fall, beat Gentry 42-21 last week. Versatile junior WR/QB Michael Rainer ran for 4 TDs and caught a 2-point conversion pass as the Colts built a 36-7 halftime advantage. Star City trailed Trumann 7-0 in the second quarter last week before winning 35-7. Senior QB Mason Taylor ran for 2 TDs and threw 1 TD pass, while sophomore LB Kevin Johnson racked up 18 tackles. "Star City is the most athletic team we've played since Mills (50-34 loss Week 1)," Rivercrest Coach Johnny Fleming says. Comparing scores: Star City beat Trumann 35-7 last week; Rivercrest beat Trumann 42-32 in Week 9.