RECRUITING: Heber Springs blazes to 2nd round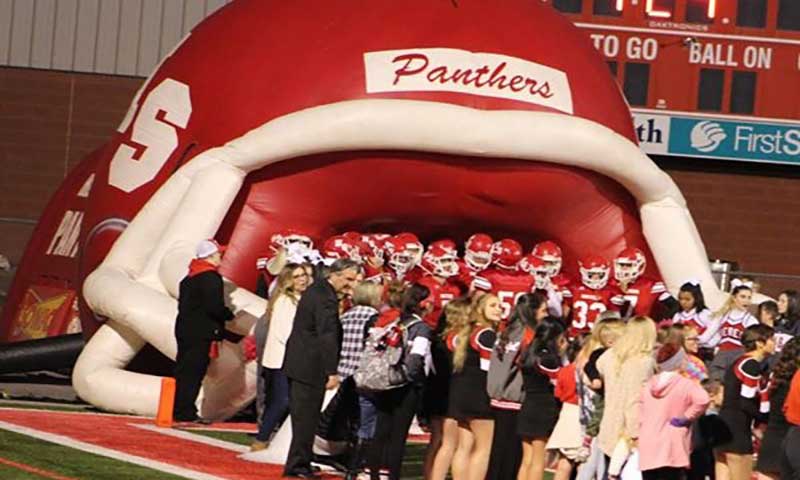 Not surprisingly, Heber Springs' hopes of upsetting 3-4A champion Rivercrest this week in the playoffs hinges on its quarterback and running back. 
Aptly named running back Blaze Nelson (5-11, 195), the state's second-leading rusher behind Class 2A Salem's Jordan Turner (2,630 yards), fuels the Heber Springs offense.
But Nelson's gaudy numbers isn't a result of padding stats against inferior competition.
He simply willed himself onto the field.
Nelson didn't play a meaningful snap in three years of junior high football. When he took a physical for his sophomore season, Nelson measured 5-4, 125 pounds. He never stepped on the field for the varsity as a 10th-grader.
"A lot of small kids, especially nowadays, would've given up on football a long time ago," Gowen says. "He's a student of the game, and you have to hand it to him, because he didn't quit."
Nelson sprouted after his sophomore season, growing eight inches and gaining 85 pounds over the past two years.
Nelson led the Panthers last season with 140 carries for 743 yards (5.3 yards per carry) and 11 touchdowns, and he caught 13 passes for 112 yards.
College coaches have noticed his breakout season of 2018. The durable Nelson has 242 carries for 1,901 yards (7.9 yards per carry) and 27 TDs this fall, and 17 catches for 137 yards. He's scored multiple touchdowns in eight games, starting with a 32-carry, 270-yard, four-TD effort Week 1 against Clinton.
In a midseason showdown at Stuttgart for the conference title, Nelson almost pushed the Panthers to a win (lost by three points) by rushing for 148 yards and two TDs. The following week against CAC, Nelson (4.6 speed) zoomed for 178 yards and four TDs.
But his best efforts are over the past two weeks. Nelson ran just eight times in a Week 10 mercy-rule win over Mills, but those limited first-half touches resulted in 204 yards and four TDs. He put on a clinic last week in the first round of the playoffs, torching Pocahontas for 305 yards and a TD in an 11-point victory.
On defense, Nelson paces the Panthers with 87 tackles and two forced fumbles as an inside linebacker. He only leaves the field for a break on special teams.
Every in-state Division II program inquired about Nelson over the past two months, while Division III Hendrix "is recruiting him hard," Gowen says. "We've sent three players to Hendrix in the past five years, and their coaches seem to like our guys. I guess we have a Hendrix pipeline."
For Heber Springs to pull off its first win over Rivercrest, Nelson and junior QB Adam Martin likely need career performances Friday night.
Martin supplanted the incumbent QB last year as a sophomore, completing 62 percent of his passes for 1,752 yards and 12 TDs and rushing for 343 yards and six TDs.
Preparing to slow down Martin has proven a nightmare for opposing coaches. "He makes them go," Stuttgart coach Josh Price says. "He's a true dual threat."
Martin has completed 92 of 160 passes this year (57.5 percent) for 1,500 yards and 12 TDs with three interceptions. He's rushed for 175 yards and five TDs and "could have more, but I'm scared of him getting hurt running so much," Gowen says. "I'm the one who is holding him back from putting up huge numbers."
Martin completed 11 of 17 passes for 96 yards and a TD and ran eight times for 49 yards and a pair of TDs Week 5 at Stuttgart. Martin completed 17 of 20 passes for 251 yards in a 28-point win over Bald Knob two weeks later. Martin was efficient in last week's playoff win over Pocahontas, completing four of six passes for 138 yards and a pair of TDs and adding another TD running.
"We put a lot on his decision-making skills," Gowen says.
Arkansas Tech, Harding, Henderson State and Ouachita Baptist are among the schools evaluating Martin, while Hendrix "is looking at him hard," the coach says. "He'll play in college because he's so smart."
Senior running back/defensive end Dalton Hall (5-11, 180) "has a desire to play college football," Gowen says. Hall has 48 carries this year for 327 yards (6.8 yards per carry) and three TDs, and he's stood out on defense with 73 tackles, including nine tackles behind the line of scrimmage and three sacks. "He's the type of kid who will walk on somewhere if he doesn't get a scholarship," the coach says. "He wants it that bad."
Heber Springs hasn't advanced to the quarterfinals since 2012, and the Panthers have never played Rivercrest. But Gowen remembers Rivercrest from the 2003 playoffs when he was offensive coordinator at Central Arkansas Christian. Rivercrest won 13-3 in the quarterfinals after CAC's hook and lateral was stopped at the 1-yard line as time expired. Rivercrest wound up playing for the state title two weeks later.
"I give us a chance," Gowen says. "We may not have a lot of guys who will play in college, but we have a lot of hard workers who want to win."