HOGS heal up, prep for Mississippi St.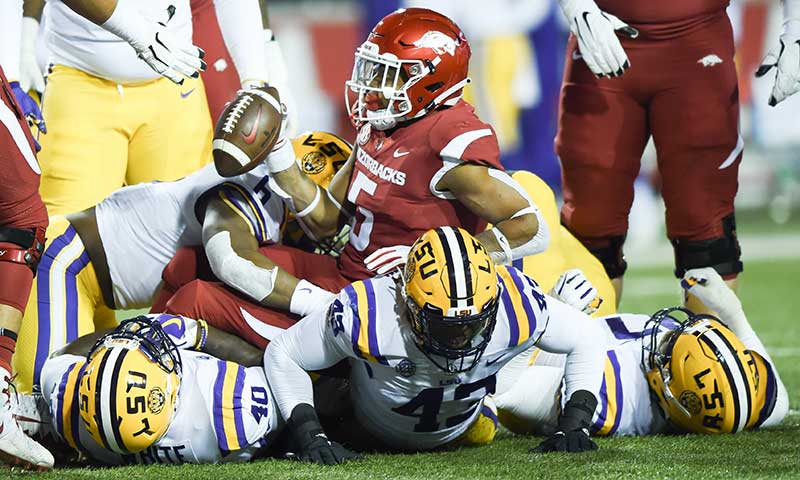 FAYETTEVILLE - Arkansas running backs Chase Hayden and Maleek Williams ran first and second team early Tuesday as the Razorbacks prep for Mississippi State.
Arkansas (2-8, 0-6 in the SEC) prep for Saturday's 11 a.m. ESPN-televised SEC West game against Mississippi State (6-4, 2-4) at Davis Wade Stadium in Starkville.
Arkansas' top running back Rakeem Boyd (in Craven Whitlow photo), injuring his ankle during the LSU game, and running back Devwah Whaley, out  since injuring his ankle during the Oct. 27 game against Ole Miss, are expected to play Saturday, Morris said.
Boyd, one of seven players media available Tuesday night, said, "Yeah, I should be back this week."
Defensive end Dorian Gerald, outside linebacker Hayden Henry and kick returner-receiver De'Vion Warren practiced Tuesday in restricted green jerseys.
O'GRADY TARGETED
It's not just because he's 6-4, 251 that junior tight end Cheyenne "C.J." O'Grady has established himself as Arkansas quarterback Ty Storey's favorite receiver.
Between the plays called by Arkansas offensive coordinator Joe Craddock, and Storey under duress finding a receiver fast, O'Grady was targeted for 14 passes during Arkansas' 24-17 loss last Saturday to LSU.
Fourth-year junior O'Grady of Fayetteville caught six passes for 75 yards, including the two fourth-quarter touchdowns from Storey, which revived the Razorbacks from a 24-3 deficit to down 24-17 with 5:27 remaining.
"I think some of it, probably the game dictated a lot of that," Morris said. "We were trying to get the bigger body guy matched up as much as we could, especially down in the red zone, and in some short yardage when we could. … You always like to distribute the ball all over the field as much as you can. but we were definitely trying to get the ball to him in some of the red zone calls."
O'Grady leads Arkansas in receptions this fall with 27, and TD catches with six.
Craddock also explained how O'Grady fit the game plan against LSU but noted that wide receivers La'Michael Pettway, a 31-yard catch igniting Arkansas' first TD drive, and Jared Cornelius, a 27-yard catch setting up Connor Limpert's 24-yard field goal before halftime, were integral to the offense.
"C.J. is a great target," Craddock said. "He's a bigger-bodied guy. They were mixing up their coverages. When they were in their man coverage, we obviously felt like C.J. gave us a good matchup. The two touchdowns he caught, they were in man coverage."
Storey also exploited LSU's second half zone coverage.
"You saw Cornelius and Pettway catch both of their big balls versus zone," Craddock said. "Jared did a nice job of finding the zone there over the middle, and Ty really did a nice job of finding his third target there, finding Jared over the middle. Same thing with Pettway. Early in the game, we tried the same thing with CJ a couple of times and we just couldn't quite get some separation. Later in the game, CJ was able to create that separation and you saw him catch some balls because of that."
O'Grady's big game came with a big lesson that no one can say he has learned until his next big catch.
Morris said he had warned O'Grady of approaching close to an unsportsmanlike conduct penalty for his end zone celebration on his first touchdown catch.
He got one for his celebration dance on the second touchdown.
"My exact words were you've got to be composed," Morris said. "I knew that if there was anything remotely close that he was going to be called. We weren't composed."
The penalty forced Arkansas' last kickoff from its 20 instead of the 35. It field position factored in LSU keeping the ball the final 5:27.
"At that point, I got a little too excited," O'Grady said. "Definitely out of control, and that's not going to happen again. It was just a very immature move on my part, and it's definitely not going to happen again."
Of course the Hogs would relish O'Grady's celebration composure repeatedly tested Saturday in a Davis Wade Stadium end zone.
FORMER MORRIS AIDE
Morris went into this week's practices knowing he would have to change some signals and tendencies since Van Malone, his defensive coordinator during Morris' 2015-2017 tenure as SMU head coach. Malone is an analyst on Mississippi State first-year coach Joe Moorhead's staff.
"Van's a great coach and does a great job," Morris said. "He's been around this game for a long time and he's very knowledgable. There will be some things that we'll change and be different with. But overall, you are who you are at this point and time of the year. You've just got to go and execute."